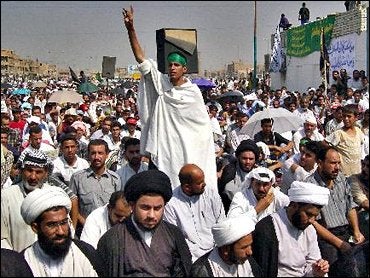 Bremer: Life Is 'Normal' In Iraq
The U.S. administrator in Iraq insisted Friday that life in that country was "basically quite normal" despite nearly daily attacks by organized extremists and widespread common street crime.
Speaking on ABC television, L. Paul Bremer also urged Congress to approve an almost $20 billion package for reconstruction to "help put Iraq on the road to complete recovery."
"We certainly still have attacks on coalition forces coming largely from organized extremists and there is certainly a problem of common street crime," he said. "You've got to remember that Saddam let 100,000 convicted criminals out of prison before the war."
But Bremer said there's lots of good news in Iraq, and "life is basically quite normal here."
Two U.S. soldiers were killed and four injured in an ambush late Thursday just hours after a suicide car bombing that killed 10 people, including the driver, in the same Baghdad neighborhood, the U.S. military said Friday.
But Shiite Muslims denied there was an ambush and said fighters loyal to a radical Shiite cleric battled U.S. troops Thursday night as the Americans approached their leader's headquarters.
In other developments:
The United States cannot count on broad approval for a new U.N. Security Council resolution on Iraq unless it is changed to give the United Nations a stronger political role in postwar affairs, the Interfax news agency quoted a top Russian diplomat as saying. The United States has been reconsidering whether to push a divided Security Council to vote on a resolution amid growing doubts about whether it would generate additional troops and money to stabilize and rebuild the country.
A study by the World Bank and other international organizations estimates that Iraq needs $55 billion in economic aid to finance its reconstruction until the country's oil industry gets on its feet.
Congressional Republicans plan to complete a nearly $87 billion bill for Iraq and Afghanistan within two weeks, hoping to strengthen President Bush's hand when donor nations meet in Spain to discuss aid for Iraq.
The U.S. military is detaining more than 5,000 Iraqi men and women accused of common crimes or of being security threats — people whose legal rights are in dispute and whose living conditions are hidden from public view. The Iraqi Lawyers League, under a new, elected leadership, is mounting a rights campaign on their behalf, and on behalf of the uncertain families they left behind.
The FBI has doubled the number of agents assigned to the probe into whether a Bush administration official illegally disclosed the name of a CIA operative married to a critic of the Iraq war, reports The New York Times. Four Democratic senators have complained that the probe is flawed because of delays in when documents were ordered preserved.

The U.S. military said troops from the 1st Armored Division were on patrol in Sadr City, the largest Shiite Muslim enclave in Baghdad, when they were ambushed about 8 p.m. Thursday.

Sheik Abdel-Hadi al-Daraji — an aide to radical Shiite cleric Muqtada al-Sadr — blamed the clash on the Americans, saying they opened fire first.

Outside al-Sadr's office, about 10,000 Shiites gathered for Friday prayers and mourners placed two coffins of Iraqis they said died in the clash with the Americans. Many of the worshippers carried portraits of al-Sadr and his father, a top religious leader who was killed in 1999 by suspected agents of Saddam Hussein.

The violence in Iraq on Friday was not confined to the capital.

An American patrol came under small arms fire near Beiji, about 120 miles north Baghdad, the U.S. military said. The U.S. troops returned fire, critically wounding three of the attackers while four escaped, said Maj. Josslyn Aberle of the 4th Infantry Division.

U.S. troops also detained 26 people and confiscated automatic weapons, a mortar, and other weapons in raids in the Tikrit region.

The trouble in Sadr City started Thursday when a bomber crashed a white Oldsmobile loaded with explosives into a police station, killing himself and nine other people and wounding as many as 45. Across town, gunmen — one dressed as a Muslim cleric — also shot and killed a Spanish military attaché.

Emotions among the Shiites here were running high in wake of the Thursday violence.

"We want peace but the Americans came last night thinking this is Fallujah," said Mahdi Abdel-Zahra, 32, referring to a city west of Baghdad where frequent clashes between Iraqis and Americans have taken place. "They are wrong. We've never hurt the Americans in Sadr City."

In Sadr city, al-Daraji denounced the American forces occupying his country.

"America claims to be the pioneer of freedom and democracy, but it resembles or indeed is a terror organization," al-Daraji told the congregation, which chanted "no to America and yes to martyrdom" as the coffins arrived. "The Americans may have forgotten that the real power rests with God and not with the wretched America."

Thursday's violence came six months to the day after Baghdad fell to American forces.

As he has in the past, Bremer blamed the continuing violence on "organized extremists" and the 100,000 criminals released by Saddam from the country's prisons before the U.S.-led invasion.

"Look at how far we've come, much further than anyone would have expected," Bremer told ABC. "We're back at prewar levels in power, we're back at prewar levels in water, the schools are open, the hospitals are open, and we're really making tremendous progress here."

Asked how long U.S. soldiers would stay in Iraq, Bremer said that was a question for the Iraqis to answer, once a sovereign government took hold.

"I don't know if they'll want to have American troops here after they're sovereign or not," he said. "My guess is they probably will."

Friday's deaths brought to 94 the number of U.S. soldiers killed in hostile fire since Mr. Bush declared an end to major fighting on May 1. A total of 323 U.S. soldiers have died in Iraq since the war began on March 20.

Thanks for reading CBS NEWS.
Create your free account or log in
for more features.