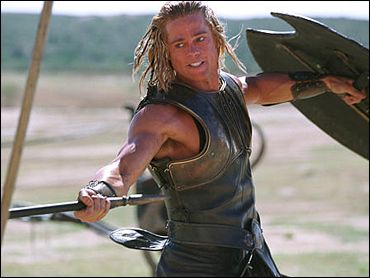 Brad Pitt On 'Troy' And The DVD
Brad Pitt has built a career on diverse roles. In "Troy" he plays Achilles, the Greek mythological hero considered to be the greatest warrior of all time.
The film took in close to $500 million at the worldwide box office and is now the first major DVD release of 2005. Entertainment contributor and People Magazine senior editor Jess Cagle talked to the actor for The Early Show's Home Theater.
"I've always wanted to go somewhere where I haven't been before. It's just my nature," Pitt says. "I want to see what I can do and there were themes in this thing that really, really spoke to me, and I thought were worth investigating."
Achilles' fate is sealed early on, when his mother, played by Julie Christie, predicts his greatness and burdens him with the pressure of expectations.
Says Pitt, "As far as storytelling, that's a great, great little complex idea right there, that if you set him up with that in the beginning, you can go this direction or that direction. Therefore, he's going to be wrestling with that -- whatever decision he's made all throughout the movie. So, it all automatically creates conflict."
Although the film is action packed, it does have quieter moments, including a scene in which Pitt shares the screen with legendary actor Peter O'Toole.
Pitt notes, "The better the person is you're sitting across from, the better the scene is going to be, you're going to be."
By all acounts it was a difficult shoot. The film had a reported budget of $200 million. Pitt says director Wolfgang Peterson is a visonary and credits him for pulling the film together.
"I had no idea it was going to be this big," Pitt says. "I did not see what he saw. And for him to wrangle, you know, you got to understand we got two sets shooting at once of 200-people crew - 200 here and then sometimes thousands of extras on both sets - and for him to keep track of this and keep track of this large scope and also the intimacy of the drama."
Filming also took its toll on Pitt who actually tore his achilles tendon, while playing Achilles.
"It's just wear and tear and all the jumping and fighting in that sand," he says. "It was near the very end and we'd been shooting and training for months at that point and it just said, 'I'm done. I need a rest.'"
But Pitt says it was all worth it. "Really anything tough turns out to be very rewarding in some way."
The two-disc special edition DVD includes hours of behind-the-scenes bonus features, a 3-D tour of Mount Olympus and background on the gods and goddesses of ancient Greece.

Thanks for reading CBS NEWS.
Create your free account or log in
for more features.