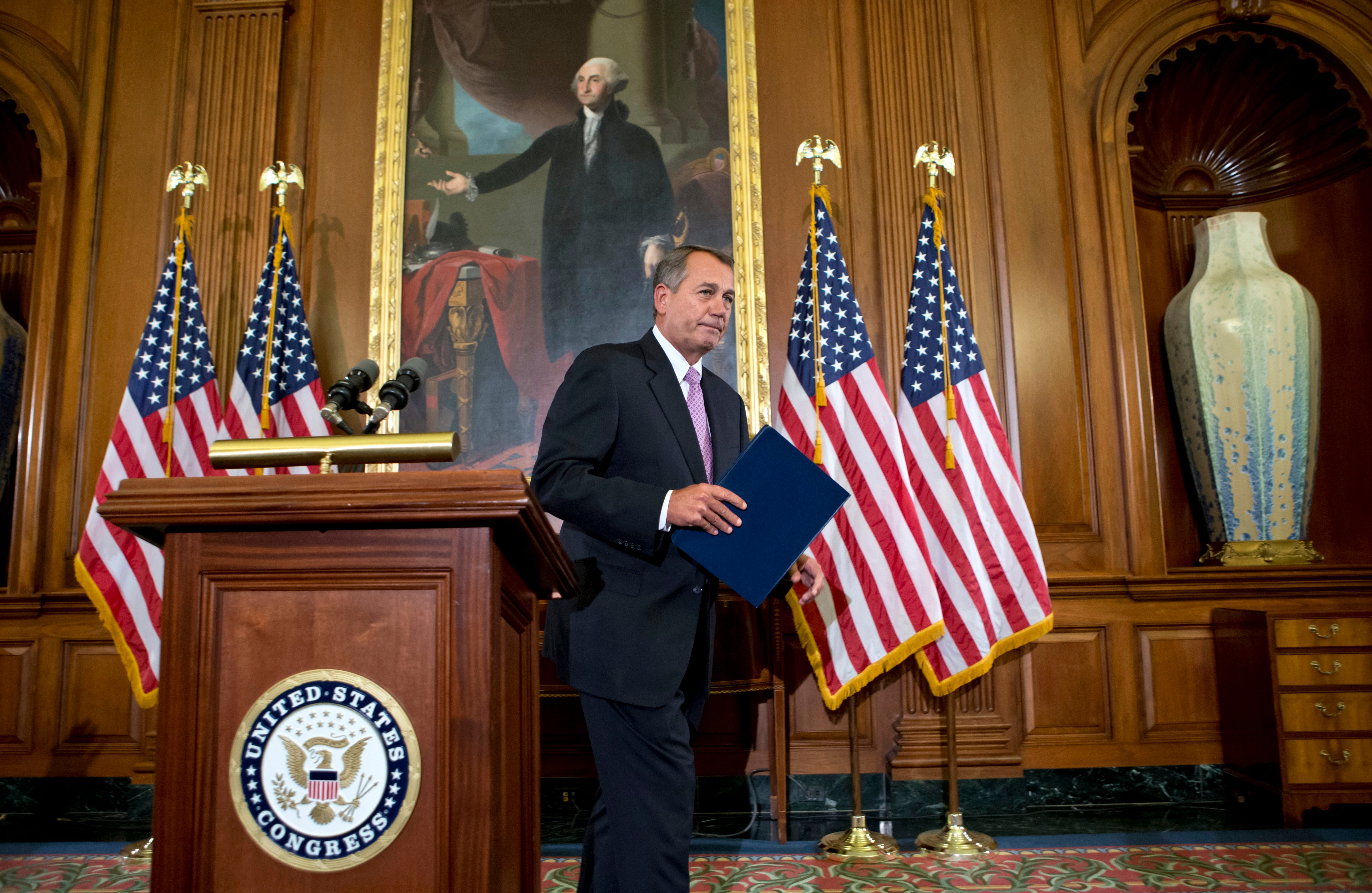 Boehner: We'll work with Obama to avert fiscal cliff
In his first press conference following yesterday's elections, House Speaker John Boehner Wednesday pledged his commitment to forging a bipartisan solution to the nation's economic woes, and even offered up the possibility of new revenues -- though he stressed that the GOP-led House of Representatives would not approve of tax hikes.
Boehner, who congratulated President Obama on his victory even while acknowledging that he had "hoped the presidential election would turn out differently," said Republicans are ready to work with the president in order to avoid going over the so-called "fiscal cliff," which he argued would cost the nation's economy hundreds of thousands of jobs.
"The American people this week didn't give us a mandate to do the 'simple' thing. They elected us to lead. They gave us a mandate to work together to do the best thing for our country," Boehner told reporters. "Just weeks away now looms the so-called fiscal cliff, a combination of automatic spending cuts and tax increases mandated by law. Within months of the fiscal cliff, Congress will be asked to raise the nation's debt ceiling. Around the same time, legislation will be needed to keep the government running, as the continuing resolution under which it is currently operating expires. Amid all of these short-term hurdles, we face the greatest challenge of all: a massive debt that is smothering growth, exceeding the size of our entire economy."
The House Speaker shunned the idea of employing "short-term, temporary policies" to delay a comprehensive solution to the fiscal cliff, arguing instead that Americans elected Mr. Obama, as well as House Republicans, to "to do the best thing for our country."
"We know what the best thing would be. It would be an agreement that sends the signal to our economy, and to the world, that after years of punting on the major fiscal challenges we face, 2013 is going to be different," he said. "What we can do is avert the cliff in a manner that serves as a down payment on - and a catalyst for - major solutions, enacted in 2013, that begin to solve the problem."
Boehner laid out the deal he envisioned, and acknowledged it would not solve the country's economics "overnight" - or "in the midst of a lame duck session." Instead, he argued that "By working together and creating a fairer, simpler, cleaner tax code, we can give our country a stronger, healthier economy."
"A stronger economy means more revenue, which is what the president seeks," he said. "Because the American people expect us to find common ground, we are willing to accept some additional revenues, via tax reform."
He emphasized, however, as he has done before, that "Feeding the growth of government through higher tax rates won't help us solve the problem."
Earlier in the day, Senate Majority Leader Harry Reid also pronounced his willingness to compromise with Republicans in order to stave off the consequences of going over the fiscal cliff.
"I'm not kicking the can down the road," he said.
But it's unclear where the two parties will find room for agreement after four years of bitter congressional partisanship, and it's unlikely they would be able to come up with a comprehensive tax code overhaul during the brief lame duck session.
Still, leaders of both parties emphasized their willingness to try.
"It's better to work together," said Reid.
Thanks for reading CBS NEWS.
Create your free account or log in
for more features.