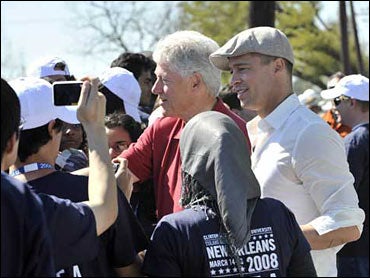 Bill Clinton's Image Damaged
This story was written by David Paul Kuhn.

---

Bill Clinton's reentry into the political arena appears to have come at some cost to his legacy. New polling now suggests that Clinton's involvement in the Democratic nomination battle between his wife, Hillary Rodham Clinton, and Barack Obama, has significantly tarnished the former president's image.

A Wall Street Journal/NBC News poll released Thursday found that more Americans view Bill Clinton negatively than positively, 45 to 42 percent. It marked the first time since January 2002 that a plurality of Americans disapproved of the former president. One month earlier, The Gallup Poll found that nearly as many Americans had an unfavorable as favorable view of Bill Clinton-for the first time in nearly five years.

Presidential historians said Clinton's return to partisan politics made it likely that public perception of the former president would suffer.

"There is a certain historical glow that surrounds a president as some of his historical battles become more distant. Clinton getting back in the mud again makes him a much more partisan figure," said Allan Lichtman, a presidential historian at American University. "And it's not like it's been an acclaimed experience for him."

After leaving the White House in January 2001 amidst controversy surrounding his last-minute pardons, Clinton reconstituted his public persona with a return to the world stage. He traveled to Gujarat, India, after a devastating earthquake, and in later years barnstormed Africa as an advocate for lower AIDS drug prices. He also began hosting an annual pre-United Nations General Assembly meeting for world leaders and tycoons.

America came to know a newer, less self-centered Clinton, an energetic statesman working to better the world. Public opinion polls showed about six in ten Americans held a positive view of the former president, reminiscent of the apex of his support in the White House.

His return to elected politics changed all that. In New Hampshire, he referred to Obama's early opposition to the Iraq war as the "biggest fairy tale I've ever seen," a remark that would come to be seen by many as an attempt to belittle Obama. He later accused Obama's staff of voter suppression in Nevada -- a sensitive charge in Democratic circles.

Clinton's low point came in South Carolina, where he drew criticism for comparing Obama's candidacy to Jesse Jackson, a remark widely viewed as an attempt to pigeonhole Obama as a candidate who appeals largely to black voters. Clinton also took on a much more adversarial role with the media, a posture unseen since his years in the White House.

By Super Tuesday, the former president himself had become part of the story. In the key competitive state of Missouri, 28 percent of Democratic primary voters had a negative view of Clinton, double the amount as in New Hampshire just weeks earlier.

"This guy's chronic lack of focus, lack of self discipline, and his tendency to make politics a short run political game his bottom line, these characteristics led him to make moves that were counterproductive both to his reputation and his post-presidential rating and damage his wife's campaign," said Princeton University presidential historian Fred Greenstein.

The public was reminded of the undisciplined president who "is very good at shooting himself in the foot," Greenstein added.

Since it became clear that the former president was doing as much harm as good, Clinton has taken on a much lower profile role, campaigning in small markets away from the crush of the national media.

Still, his earlier comments continue to haunt his wife's campaign. Last week, at a forum of more than 200 black community newspaper publishers, Hillary Clinton apologized for her husband's remark comparing Obama to Jackson. "I am sorry if anyone was offended," she said.

"Certainly since New Hampshire and then South Carolina and then a little bit beyond, what that will do for legacy is, it takes the rose colored glasses off, particularly for historians," said Kent Germany, a presidential historian at the University of South Carolina. "Historians now have this bit to say: 'here's the real pattern of the Clinton life.' Maybe he's not as brilliant a calculator as we had thought previously. Maybe he's good in the moment and sometimes it doesn't work out."

But if Clinton has indeed seriously injured his public standing, a presidential victory by his wife might go a long way toward reversing the damage.

"It would help his legacy enormously, nothing in politics succeeds like success," said American University's Lichtman. "And that would be just absolutely extraordinary considering the gamble he's taken."

By David Paul Kuhn
Thanks for reading CBS NEWS.
Create your free account or log in
for more features.