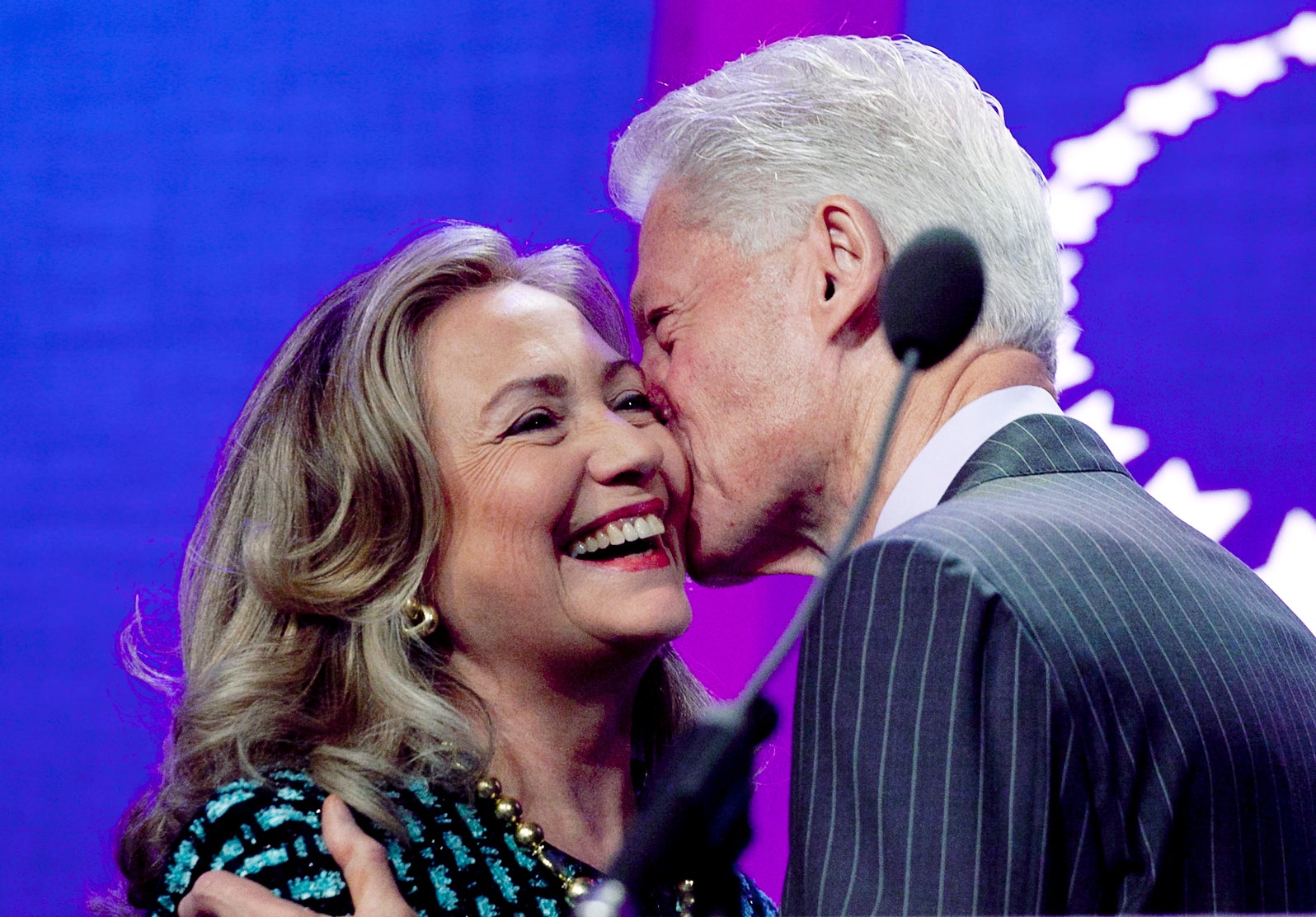 Bill and Hillary Clinton celebrate 40 years of marriage
The United States' ultimate political power couple, Bill and Hillary Clinton, celebrate 40 years of marriage today. It's been a rocky union at times, especially during the 1990s when the former president faced allegations of infidelity and then an actual affair with White House intern Monica Lewinsky. But the pair remained together and rededicated themselves to the Clinton Global Foundation, Hillary Clinton's political career, and, recently, a grandchild.
Here's a look at some of the ups and downs of their marriage:
1970: Bill Clinton and Hillary Rodham meet at Yale Law, where they are both students. They start dating by 1971.
1975: The couple marries in the living room of their new house in Fayetteville, Arkansas, at a house that Bill Clinton purchased in the hopes that his Clinton would agree to share with him. He had to propose three times before she said yes.
"I was terrified about losing my identity and getting lost in the kind of wake of Bill's force-of-nature personality," Clinton told actress Lena Dunham in a recent interview for Dunham's new website. "I actually turned him down twice when he asked me to marry him. He asked, we were in England on a trip after law school graduation. He asked me to marry him. I said, 'You know, I can't say yes. No, I can't do that right now.' And then, about a year later he asked me again, and I said 'No.' He said, 'Well, I'm not asking you again until you're ready to say yes.' And that was a large part of the ambivalence and the worry that I wouldn't necessarily know who I was or what I could do if I got married to someone who was going to chart a path that he was incredibly clear about."
1992: The Clintons appear for a joint interview on "60 Minutes" following allegations that Bill Clinton had a 12-year extramarital affair with a woman named Gennifer Flowers.
"I'm not sitting here some little woman standing by my man like Tammy Wynette," Hillary famously told Steve Kroft in that 1992 interview. "I'm sitting here because I love him and I respect him."
1998: President Clinton's affair with intern Monica Lewinsky becomes public. He has described the night he told his wife as his worst personal day at the White House.
"She was angry and she was mad, and she was as mad about me not telling her before. I think is - almost as mad, but that I hadn't told her about it as what I'd done," he told 60 Minutes.
"I was thinking, first of all, I felt sick that she was having to defend me one more time. And I felt terrible. So I was worried sick that Hillary was defending me. I also believe that she told the truth. Both things were true. I did a bad thing. I made a terrible, moral error," he said.
The former president spent months sleeping on the coach while then-first lady Hillary Clinton decided whether she wanted to stay in the relationship.
"The first thing we had to do is just get through the days, a few days. We had to let some time pass and Hillary had to decide whether she wanted to stay married to me. And then when she decided she was willing to try, that's when we agreed that we would work together -- we'd take a day a week," he said. Eventually, days turned into weeks. They also went to counseling.
2000: Hillary Clinton wins an election to become a senator from New York, shifting the political limelight of the marriage to her side.
In a 2014 interview with "BBC Newsnight" in India, Clinton said it amounted to a 52-year pact for the couple.
"We were married a very long time when she was always, in effect, deferring to my political career," he said. "I told her when she got elected to the Senate from New York that she'd given me 26 years, and so I intended to give her 26 years. Whatever she wanted to do was fine with me. If she wanted to know my opinion, I would tell her, but she had carte blanche to make whatever decisions she wanted, and tell me what I was supposed to do about it."
2010: The Clinton's daughter, Chelsea, marries Marc Mezvinsky.
"Today, we watched with great pride and overwhelming emotion as Chelsea and Marc wed in a beautiful ceremony at Astor Courts, surrounded by family and their close friends. We could not have asked for a more perfect day to celebrate the beginning of their life together, and we are so happy to welcome Marc into our family," they said in a statement that day. "On behalf of the newlyweds, we want to give special thanks to the people of Rhinebeck for welcoming us and to everyone for their well-wishes on this special day."
2014: The Clintons become grandparents for the first time when Chelsea Clinton and Marc Mezvinsky give birth to a daughter, Charlotte.
Thanks for reading CBS NEWS.
Create your free account or log in
for more features.