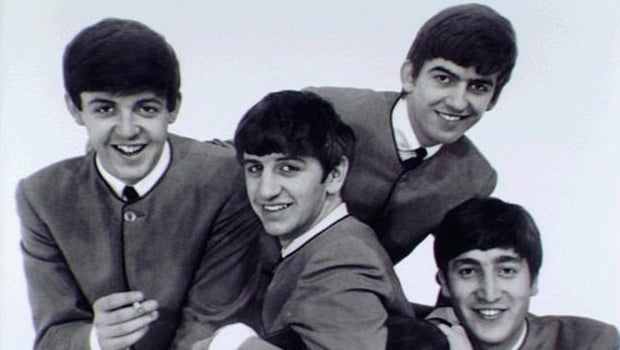 Beyond the ordinary: From mop tops to hippie chic
This piece by Devin McKinney is part of a series of essays to mark the 50th anniversary of the Beatles' first American television appearance on CBS's "The Ed Sullivan Show." It culminates with CBS News, 50 Years Later...The Beatles at The Ed Sullivan Theater: Presented by Motown The Musical, a live, interactive multimedia event at The Ed Sullivan Theater on Feb. 9.
"When we got here, you were all walking around in f***ing Bermuda shorts," John Lennon said of the Beatles' U.S. landfall on Feb. 7, 1964. "There was no conception of dress or any of that jazz. We just thought, what an ugly race."
He had a point. We were not stylish in '64. Apparently our post-war prosperity hadn't included a clothing allowance. The mostly white, middle-class kids who swarmed JFK Airport and surrounded the Plaza Hotel that first week of the Beatles' invasion were dressed like junior versions of their parents. "They came to bring us back to life!" says a character in Robert Hemenway's 1969 short story "The Girl Who Sang with the Beatles." Step two of that quick and painless process-after the music-was showing us how to dress.
Beatle style wasn't androgynous, except in the narrowest terms of the time, but it implied pansexuality. That spooked the fogeys: jokes about gender and wigs were made by TV comedians wearing mascara and Grecian Formula. But Beatle hair was the only fitting crown for the Beatles body: all four similar but each distinctively poised, dashing in dark fabric and high buttons, a hint of pinstripe or velour, the creased pant leg tapering sharply to the booted toe. Elements of the style were gathered from all over-London, Paris, Hamburg. But the Beatles kept only what was good. They pulled it together and brought it off, looked smashing and weren't shamefaced about it.
They made a kid want to try on clothes. The boy of '64, out of his Bermudas and braces, becomes three years later the high school hipster asked by TV host Dick Clark for his impression of the odd first Beatles promo film - "Strawberry Fields Forever." "It's great," the kid giggles, wonderstruck, wanting nothing but to score himself a paisley shirt.




His parents took longer to relax into the essential wisdom of Beatle dress, which said simply: Don't disappear. Be a spot of style in this gray world. So women got into miniskirts, wide belts, kinky boots, bell-bottoms. Eventually, even respectable Dad was dressing flamboyantly-fat ties, broad lapels, muttonchops-taking a bit of the peacock prerogative that writer Hanif Kureishi perceived in the "gloriously non-functional" clothing of the Beatles' psychedelic phase, when "like Baudelairean dandies they could afford to dress ironically and effeminately, for each other, for fun, beyond the constraints of the ordinary."

Fashion rolls on, but it's never rolled past the Beatles. Their trim matching suits have long been standard indie-band uniform; their irreverent formality is routinely revived as cutting-edge style. Beatles '64 is a classic look because it symbolizes today what it did then: style as freedom. Most of us still live, to some degree, within the constraints of the ordinary. But, thanks to the Beatles, the ordinary itself is a far more interesting and colorful place to be. We are no longer quite such an ugly race.

Devin McKinney is the author of Magic Circles: The Beatles in Dream and History. He co-founded and contributes to the Beatles blog Hey Dullblog.

Thanks for reading CBS NEWS.
Create your free account or log in
for more features.