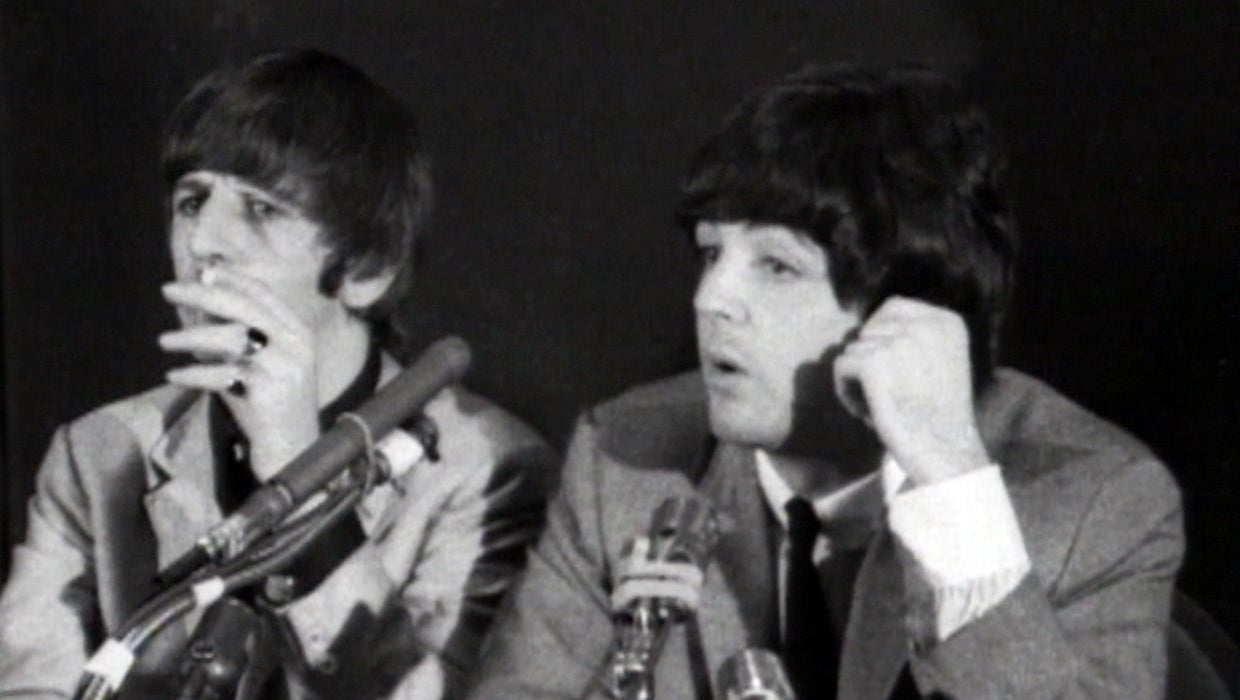 The Beatles: Where did you get that hair?
This is part of a series of essays to mark the 50th anniversary of the Beatles' first American television appearance on CBS's "The Ed Sullivan Show." It culminates with CBS News, 50 Years Later...The Beatles at The Ed Sullivan Theater: Presented by Motown The Musical, a live, interactive multimedia event at The Ed Sullivan Theater on Feb. 9.
"We didn't think they were a gimmick, but everyone else said, 'Oh, what a gimmick!' "
- Paul McCartney answering a CBS News question about the Beatles' least favorite subject: their haircuts, November 1963.
Little did the Beatles know the effect their "gimmick" would have on music and the broader culture. Their trademark moptops not only made possible the Ramones' bowl cuts, Justin Bieber's combover and an entire decade of hair metal, but it gave the Sixties its most iconic image: long hair. Thanks to the Beatles, follicle freedom soon flowed from the ports of Liverpool to the parks of San Francisco to the lights of Broadway in the form of a smash musical, naturally entitled Hair.
Some drew a line back to the nineteenth-century Irish writer Oscar Wilde as the man who inspired the Beatles' manes. The origin actually lies in the other direction -- across the English Channel. The trademark hair was German.
From 1960 to 1962, the Beatles honed their craft with frequent gigs in Hamburg. They befriended German art students Astrid Kirchherr, Klaus Voormann and Jurgen Vollmer. Kirchherr, a photographer, took soon-to-be-iconic shots of the Beatles and became romantically involved with then-bassist Stu Sutcliffe. Inspired by the bohemian style of Voormann and Vollmer, Sutcliffe asked Kirchherr to cut his hair like theirs. "Then," according to Kirchherr, "George came along and asked me to cut his hair that way." She would not get her hands on the others but, months later, while visiting Vollmer in Paris, Lennon and McCartney decided to copy his hairstyle.
Kirchherr remains ambivalent about her place in Beatles' history: "All these stories about how I invented this hairstyle is just a lot of rubbish, because in my art school ... all the boys used to have this haircut."
After the Beatles appeared on "The Ed Sullivan Show," all the boys in America did, too. "I'd come home from school the previous Friday looking like Dion,"(insert Dion circa 1960 here?) recounted Baltimore-born rocker Greg Kihn. "I went back to class on Monday morning with my hair dry and brushed forward. That's how quickly it happened."
In one of the biggest understatements of the last half-century, McCartney agreed with Kirchherr's account of moptop history: "We didn't start the fashion, but I guess we sort of popularized it."
Thanks for reading CBS NEWS.
Create your free account or log in
for more features.