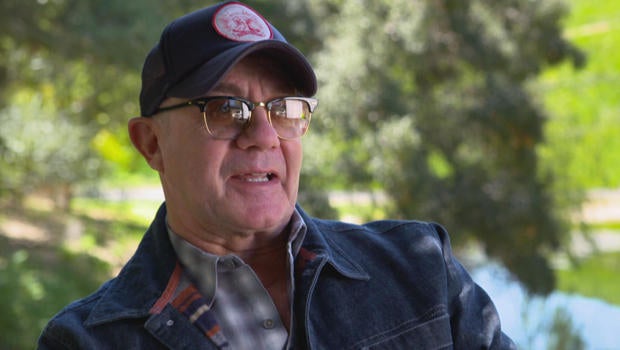 Bernie Taupin: A man of lyrics, and now art
Bernie Taupin has been been Elton John's musical collaborator for over 50 years, but his lyrics are only one side of his creativity, as Lee Cowan found out on a recent visit:
You'd be hard pressed to find any musician not influenced in some way by Sir Elton John, including Lady Gaga. She recently joined some other big-name artists for an upcoming Grammy salute to the legend who is, indeed, "still standing."
But it's not just Sir Elton's party. It's also for the man who has taken him down that Yellow Brick Road one word, one lyric at a time: Bernie Taupin, who generally prefers to stay out of the limelight. "I'm not the sort of person who sits around listening to my own music, or our own music," he said.
"How can you avoid it?" asked Cowan.
"It's hard to escape, right!" he laughed. "I mean, you're going to hear it in the supermarket and the elevator. But then I'd be a little upset if I didn't, I suppose."
In the last five decades Elton John and Bernie Taupin have created at least 35 gold and platinum albums together -- a collaboration that's outlasted almost everything, except their music's popularity.
How did they stay together for 50 years? "Keeping out of each other's hair, I think," Taupin said. "He's always proud of that, the fact that we've never really had a knock down, drag out fight."
"Is that true?" Cowan asked.
"That's true, yeah. I think we just found a bond of brotherhood and camaraderie that it was me and him against the world."
The secret to their longevity, he says, is that he and Elton are as different as they are alike.
Before they met, Taupin was working odd jobs in rural central England, where he grew up without electricity.
While Elton was knighted, Taupin left England and became a U.S. citizen, making his home on a 30-acre ranch near Santa Barbara. "I always wanted to have something that was indicative of a Western lifestyle," he said.
He started riding horses, and even began competing. His passion for horses was inherited by the eldest of his two daughters, who is now an accomplished barrel racer herself.
Taupin's wife, Heather, says it's a lifestyle that suits a man whose creativity has always needed some quiet isolation. "It never turns off; that's who he is," she told Cowan. "He's an introvert all the way. When he comes out of his shell, it's kicking and screaming!"
And he works in a very solitary way, up in what Taupin calls his crow's nest.
"I'm only really comfortable in my own environment when I write," he said. "No distractions. And the one benefit here, as you can imagine, is it's totally silent most of the time."
That's the way he's always worked -- separate from Elton, who doesn't play a note until he gets the words from Taupin first.
Cowan asked, "When you write something, do you tell Elton what the backstory is, or does he ask what the backstory is?"
"He never questions what I write," Taupin replied. "There are times that he doesn't understand the meaning of a song 'til a couple of years later.
"You should never over-think things. You should never have to explain things too much to people. Leave a little mystique, a little mystery, else it kind of spoils the whole game, I think."
That same kind of mystery extends to his other creative passion -- something you might have missed had you just walked by the Chase Contemporary Gallery in New York. Hanging on the walls are the visual extensions of Bernie Taupin's lyrical talents.
"I've lived in my imagination for 68 years," he said. "And this is the result of it."
He started painting back in the '90s, doing it quietly for the most part, until one of his pieces found its way in front of collector and exhibition curator Dana Yarger.
"I said, 'Who's the artist?' And they said, 'Bernie Taupin.' And I said, 'Who's that?'" recalled Yarger. "I had no idea."
But he immediately saw something that went beyond Taupin's celebrity, and Yarger finally convinced him to put some of Taupin's works on display.
Now, Taupin said, "I only write when it's time to make a record. Now, quite honestly I mean, this is definitely my day job."
One sculpture, called "American Burka," uses items found on his ranch -- twine, barbed wire and padlocks.
But recently the ingredient he finds most appealing is the American flag. He's got a box full of them in his studio at his home -- what used to be an old racquetball court.
"Hopefully at some point in the future, all of these [flags] will find a home, mounted some way," he said.
He uses them in his work in part, sometimes in whole, but he says, always with respect.
"I'm just in many ways just trying to show different ways that the flag can be reassembled and come back from adversity, which it has done all through history," he said.
He's incorporated both the American flag and the British Union Jack into his most recent work -- the cover art for a new album called "Restoration," released this past week. In it, Taupin picked country artists like Little Big Town to cover some of his favorites Elton John classics.
It joins a companion album called "Revamp," a separate collection of Elton John covers done by pop artists like Sam Smith, Florence + the Machine, Demi Lovato and Mumford and Sons.
Together, the two records celebrate two sides of one of the most successful collaborations in music -- a catalogue five decades in the making that has Bernie Taupin remembering what his fans have never forgotten.
"I've actually found myself walking around singing and humming our songs, which is something I've never ever done," he said. "It gives you a whole new appreciation for your work."
"Sounds like you're kind of surprised that you were that good!" Cowan said.
"I think you might be right! This has definitely made me sit back and think, you know, this is pretty good. We've done good!"
See also:

For more info:

Story produced by Alan Golds.
Thanks for reading CBS NEWS.
Create your free account or log in
for more features.