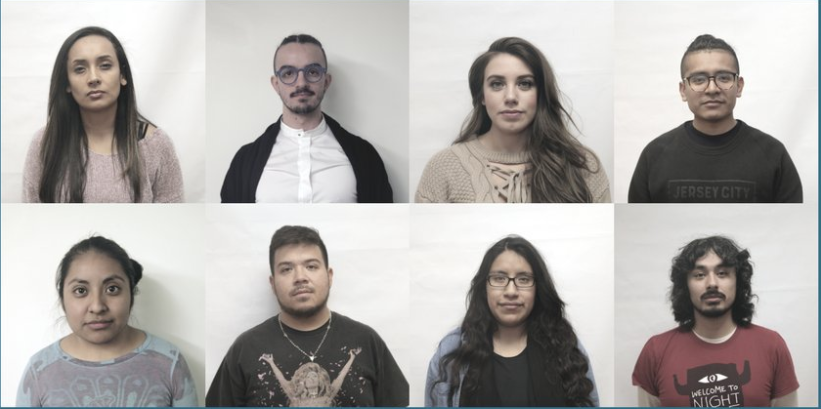 Seven Dreamers in jail are on hunger strike to press for vote on DACA
A group of Dreamers -- including a former Bernie Sanders' presidential campaign staffer, Erika Andiola -- have been on a hunger strike since they were arrested Friday after a sit-in at the Capitol, at the office of Senate Minority Leader Chuck Schumer. The Dreamers are vowing to continue their hunger strike until Schumer and GOP Rep. Carlos Curbelo, R-Florida win enough votes in the Senate and the House to delay a vote on the spending bill and force a vote on a clean DREAM Act. They're pushing for a vote on such a bill on Dec. 22, the date when lawmakers must pass a new spending bill in order to avert a government shutdown.
A spokesperson for Andiola, Candice Fortin, told The Slot that the group was arrested for staying at the building after-hours, technically for what was considered unlawful entry. Neither Schumer nor Curbelo was in his office during the protest.
Andiola, who was Sanders' press secretary for Hispanic media, is a native of Mexico. Over the weekend, she tweeted about the group's refusal to cooperate with law enforcement.
According to Andiola's Twitter account, she, along with six other Dreamers and one ally in their cause will be held in a Washington, D.C. jail until at least Tuesday. Andiola says that when they appeared in court, the government requested a hold "in response to their noncooperation." The Dreamers' attorneys, complying with their clients' wishes, didn't oppose the hold. The group of protesters also believes that ICE has been contacted about Andiola, and therefore faces the risk of deportation.
The eight say they will not leave jail without a clean DREAM Act, which seems unlikely to happen in the next few days. Rep. Henry Cuellar, D-Texas, who has been a vocal advocate for fixing DACA, told The Houston Chronicle that he doesn't think Republicans will consider DACA legislation until the new year.
"We're trying to put as much leverage on Republicans as we can, but they are saying early next year. I was hoping we could do it by the end of the year and maybe a miracle will happen, but I don't see it right now," Cuellar said.
Last week, DACA proponents saw the unusual alliance of Apple CEO Tim Cook and Koch Industries' Charles Koch on their behalf. The two, who say they both employ dreamers, penned an op-ed in the Washington Post calling on Congress to address their plight.
"We know from experience that the success of our businesses depends on having employees with diverse backgrounds and perspectives," the two wrote. "It fuels creativity, broadens knowledge and helps drive innovation. For our nation to maximize progress and prosperity, we need more, not fewer, talented people at the table."
President Trump officially rescinded the Deferred Action for Childhood Arrivals (DACA) program in September, concluding the 2012 order was an unconstitutional overreach of executive authority by President Obama. Under DACA, individuals who were brought to the U.S. as children and who met certain criteria were eligible for renewable two-year permits allowing them to stay in the U.S. to attend school or work.
Thanks for reading CBS NEWS.
Create your free account or log in
for more features.