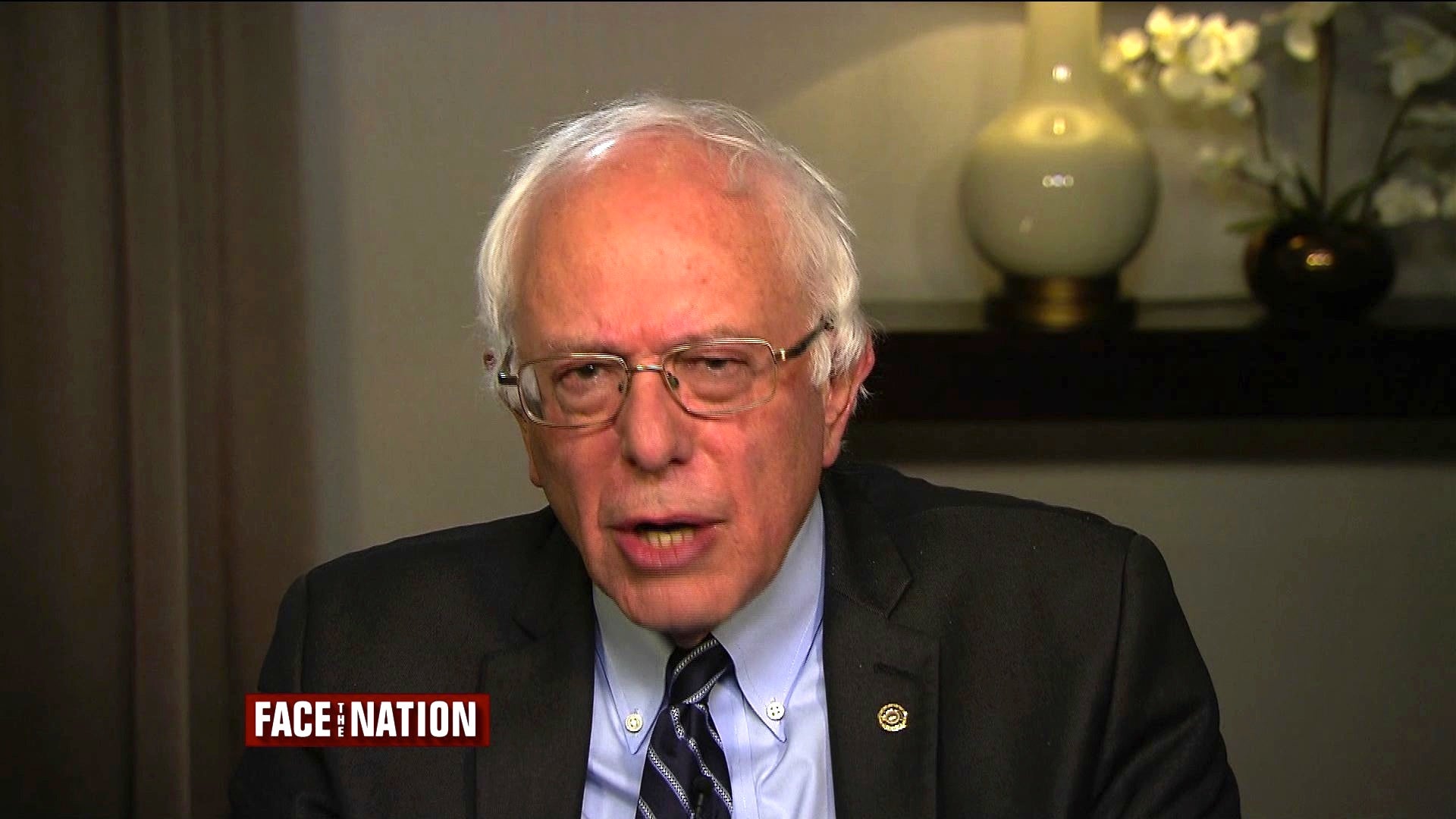 Bernie Sanders doubles down on climate change-terrorism link
Democratic presidential candidate Bernie Sanders doubled down on the link between terrorism and climate change Sunday in defense of his stance that global warming presents the greatest national security threat to the United States.
"If we are going to see an increase in drought, in flood, and extreme weather disturbances as a result of climate change, what that means is that people all over the world are going to be fighting over limited natural resources," the Vermont senator said Sunday on CBS' "Face the Nation," elaborating on an arugment he made during the CBS News Democratic debate Saturday night. "If there is not enough water, if there is not enough land to grow your crops, then you're going to see migrations of people fighting over land that will sustain them. And that will lead to international conflict."
Pressed by moderator John Dickerson over the explicit link between a drought and the Paris attacks this weekend, Sanders took the connection one step further.
"When people migrate into cities and they don't have jobs, there's going to be a lot more instability, a lot more unemployment, and people will be subject to the types of propaganda that al Qaeda and ISIS are using right now," he said.
Sanders spent much of the debate talking about income inequality and the dangers of big banks, two signature issues of his campaign. On that issue, he said, "good public policy is good politics."
"The six large banks have assets equivalent to 56 percent of the GDP of the United States of America. For me, it is obvious," he said. "We have got to break them up so that we don't go through another economic meltdown."
He rejected arguments that a Democratic president won't be able to make much headway on financial regulation because there will almost certainly be a Republican Congress re-elected in 2016. He argued once again that he is trying to create a "political revolution" of millions of people who have never been involved in the political process before or who have been "so alienated by big money and politics that they've kind of tuned out."
A new CBS News/New York Times poll showed that Democratic primary voters actually see former Secretary of State Hillary Clinton as the best candidate to bring about change. Sixty-two percent of those voters said she could bring about real change in the way things are done in Washington, whereas 51 percent said the same of Sanders.
Sanders conceded that he needs to draw the distinction with Clinton more starkly for voters. But he still believes his campaign has had great success so far.
"We started this campaign at something like 3 percent or 4 percent in the polls. We have come a long way in the six months that I've been in this race," he said. "I think the more people are familiar with Bernie Sanders and the programs that I'm advocating and what I've been trying to do in Congress, the better we are going to do."
In the CBS News/New York Times poll, 52 percent of Democratic primary voters said they want to see Clinton as the nominee. Thirty-three percent picked Sanders.
Thanks for reading CBS NEWS.
Create your free account or log in
for more features.