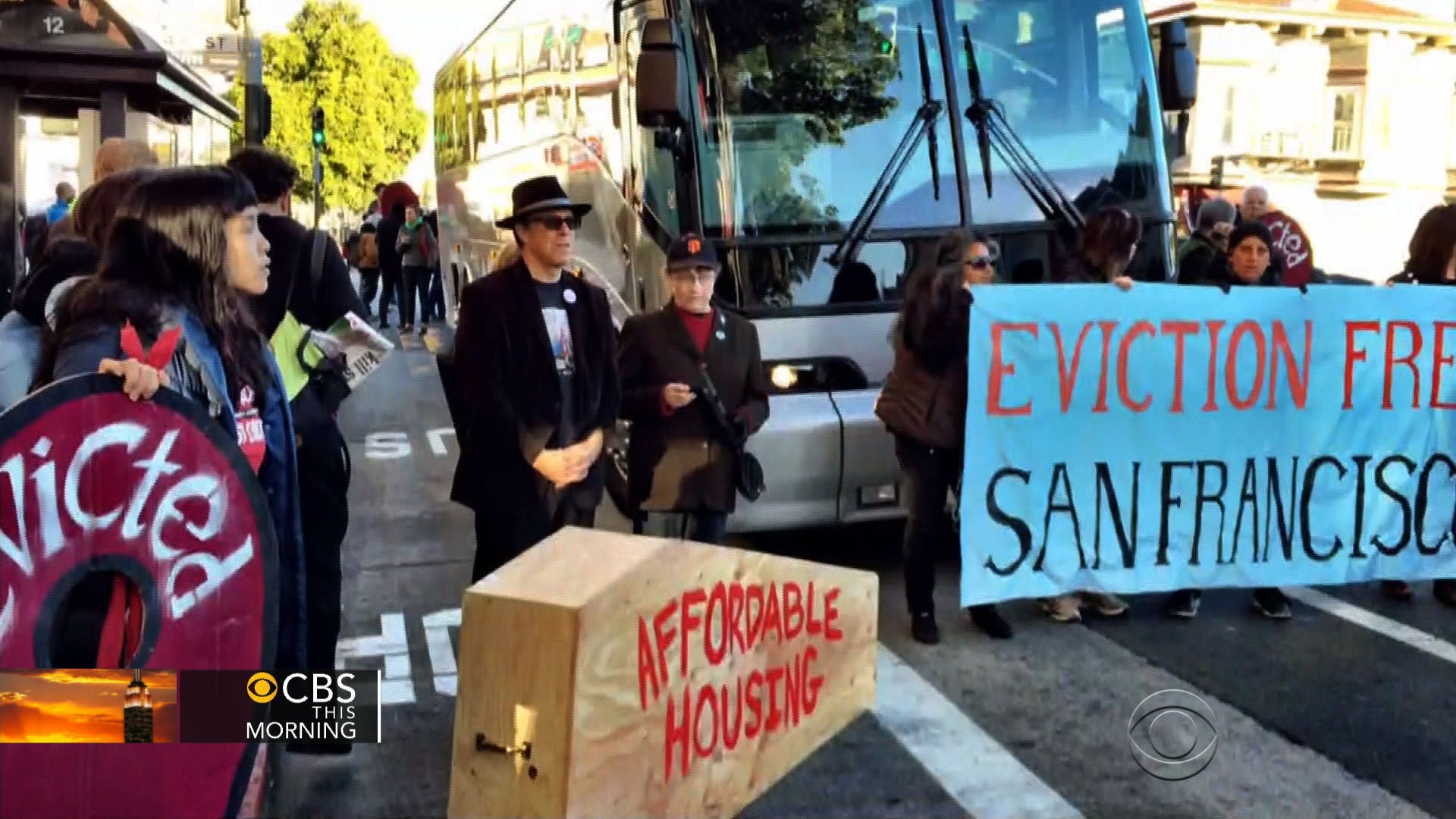 Battle over buses: San Francisco to charge tech companies fees for shuttles
San Francisco officials hope they have an answer to a growing controversy. The city approved new regulations Tuesday for private shuttle buses that are a crucial resource for Northern California's technology giants.
Critics say the buses clog narrow streets and demonstrators blocked private shuttle buses operated by Google and Facebook in San Francisco Tuesday. Several tech companies use the shuttles to transport workers to and from their jobs in Silicon Valley, some 35,000 passenger pickups a day.
Emotions ran high at a city hall hearing where the issue being debated was if the shuttles should pay a dollar to the city each time they use a bus stop.
"The shuttles - the tech companies are not paying their fair share," said resident Cynthia Crews.
Crews told CBS News' John Blackstone that $1.00 a stop is not that much and is "chump-change."
Google doesn't only run buses, it has also started a private ferry service for workers. The search giant did not send a company official to the hearing but a leaked memo to Google employees suggested points they could make. They wrote, for example, "I support local and small businesses in my neighborhood."
Crystal Sholts is a program manager at Google who spoke at the hearing.
"I just wanted to say that, not everyone at Google is a billionaire," said Sholts at the hearing. "Like many people, 10 years after the fact, I'm still paying off my student loans."
The private buses have become symbols of income inequality and the belief that well paid tech workers are to blame for steeply rising rents.
"It's really a frightening time to be an average- or low-income resident of San Francisco," said resident Sue Vaughan, who testified at the hearing.
Chuck Nevius, a columnist for the San Francisco Chronicle said the main issue is "we're pricing a lot of San Franciscans out of the city," but the answer is not stopping buses.
"We need to turn down the volume and quit yelling at buses," he said.
But, the buses will start paying. The transit agency approved the charge of a $1.00 a stop, which could cost some tech companies well over $100,000 a year.
Thanks for reading CBS NEWS.
Create your free account or log in
for more features.