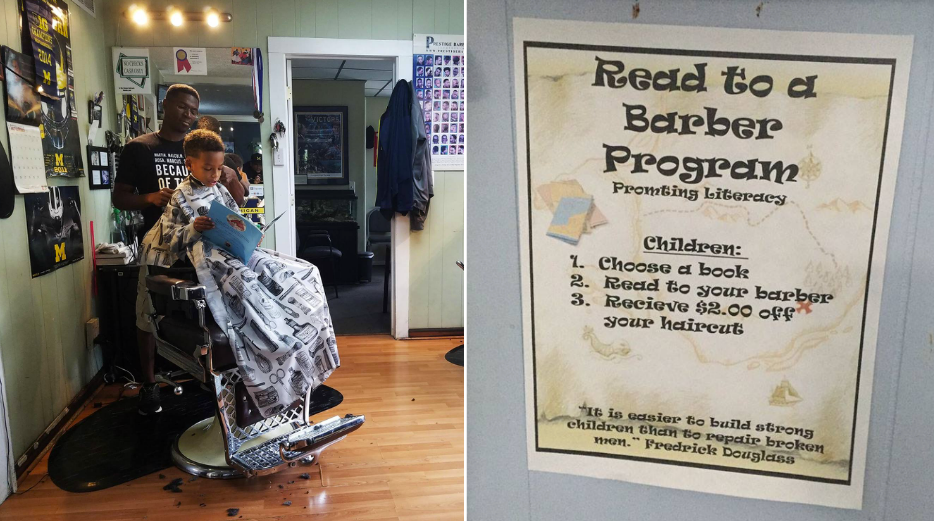 Barbershop gives special discount to kids who read aloud
In this small barbershop in Ypsilanti, Michigan, kids pick out a book and head to the chair.
It's like clockwork.
That's because children 12 and under who visit The Fuller Cut can get a $2 discount on their $11 haircut for doing a simple task: reading to the barber.
It's a program owner Alexander Fuller and barber Ryan Griffin started more than a year ago.
And parents can't get enough of it.
"We've been doing this for a long time," Fuller explained. "When it gets busy people take notice -- parents are really receptive of it; they love it."
The pair can't take credit for the idea. They just happened to hear about other shops around the country taking part in a "read to your barber program," and they decided to get on board.
Fuller and his wife started ordering some books and Griffin brought in a shelf. Customers even joined the cause by donating old and used books.
Before the pair knew it, kids were grabbing books off the shelf and hopping into the chair to start reading.
Roughly 90 percent of kids grab a book that's already on the shelf, Fuller says, but occasionally kids bring in books from home or school as well.
"It gives them confidence in reading and helps us understand their comprehension of reading," Fuller said. "The kids love it. It's one of the best things that has come along for them."
Another bonus, Fuller added, is that it helps kids socialize. Not only does it improve their reading skills, but their manners as well.
Whether you can read well or can't read well, the barbers will help you along the way, Fuller reminds his customers.
"It's been a great experience so far, Fuller said."
Thanks for reading CBS NEWS.
Create your free account or log in
for more features.