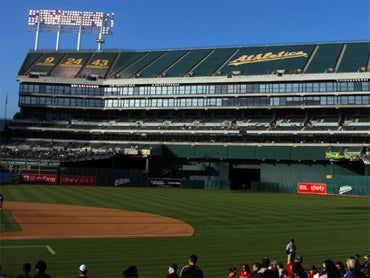 Ballpark Roadtrip: Oakland-Alameda County Coliseum
This story was written by CBSNews.com's Gordon Donovan, long-suffering Mets season-ticket holder and author of the blog Meet the Mess
Oakland Coliseum is a 1960's concrete donut, like many made in that era that were multiple-purpose stadiums. Like many of those stadiums, it's time has gone.
I arrived to pick up tickets by taking BART for $17 roundtrip from San Francisco. I went across an overpass and found myself in the back of the stadium.
I said hello to a security guard and asked directions to the will call window. The guard just pointed down a hill.
I said hello to another security person - no response. I found the will call window and walked up, said hello - no response. Signs were posted outside saying, "Have your ID ready."
I picked up my tickets through a metal slot much like from a liquor store in a bad neighborhood.
After having my bag checked, I walked around and was surprised that the stadium was in decent condition... from a distance. The place reminded me of Shea Stadium, an enclosed dump.
I asked the two ushers what's good to eat; both pointed me to a restaurant in the club level. I always seek out the food that is considered the ballpark's trademark. Both ushers suggested the coliseum hot dog or barbeque.
As I walked around I did find one staff member who seemed happy to working there. I teased her about wearing gloves on a 55 degree night with chilly 14 mph winds off the bay. I felt like I was at a Giants game at Candlestick Park.
The field is spacious, with plenty of foul territory. So if your seats are on the baselines, you're far away from the action.
I walked around the cramped corridors looking for a restroom. I managed to walk past two men's rooms before I actually saw one - the cinderblock walls had the word "MEN" stenciled in near the entrance. It was in bad shape with an old urinal trough. I'd hate to see this place when the Raiders are playing.
I tried to find something to eat and looked around in the narrow corridors, where you could not see the field. I found a concession stand and bought two hot dogs and a soda for $14.25. The concession stands don't take debit cards, cash only. ATM machines are situated throughout the stadium.
I made my way to my $55 seats behind home plate, 5 rows from the field on field level. Not bad, I thought at first.
The seats were cramped and uncomfortable, made for people in 1966. There was no leg room and people are coming in and out all game long. No one waits until a completion of at-bat.
I could not see the batter's box (which was less than 30 feet away) because of the heads in front of me. The seating did not descend down like newer ballparks.
So I tried to shoot photos in between people; this became easier when several people got up and left early on a cool night in July in Oakland.
The A's were playing Boston so the stadium had a fair amount of Red Sox Nation in attendance. When the BoSox scored early, a "Let's Go Red Sox" chant filled the stadium. A's fans did not exactly attempt to drown out the chant.
I chatted with fans on both sides of me, including a couple from Phoenix who were Red Sox fans who were trying to make it to every stadium.
To my right sat an A's fan frustrated by the young team's woes with rumors of the team moving to San Jose.
After 7 innings I got up to walk around. One fan sitting in the last row on the field level started chatting with me. To be polite I sat in the empty seat next to him, not to block anyone's view of the game.
A minute later a security guard came over and asked if I was visiting. I moved to a cheaper seat (the back of the seat was broken on one side on the field level behind home plate) in a ballpark that was pretty much empty in the 7th inning and this guard had nothing better to do. The fan said we are visiting while his friend laughed and said that you have two Met fans an A's game.
As I walked outside the Coliseum and headed to the BART, I noticed stacks of new green seats that appeared to be unloaded to a secured area. The seats looked as they would be installed for the football season.
The Oakland Coliseum is a dump, but it's their dump much like Shea Stadium was to Mets fans. The Athletics need a facility with a better staff for a more fan-friendly experience.
Thanks for reading CBS NEWS.
Create your free account or log in
for more features.