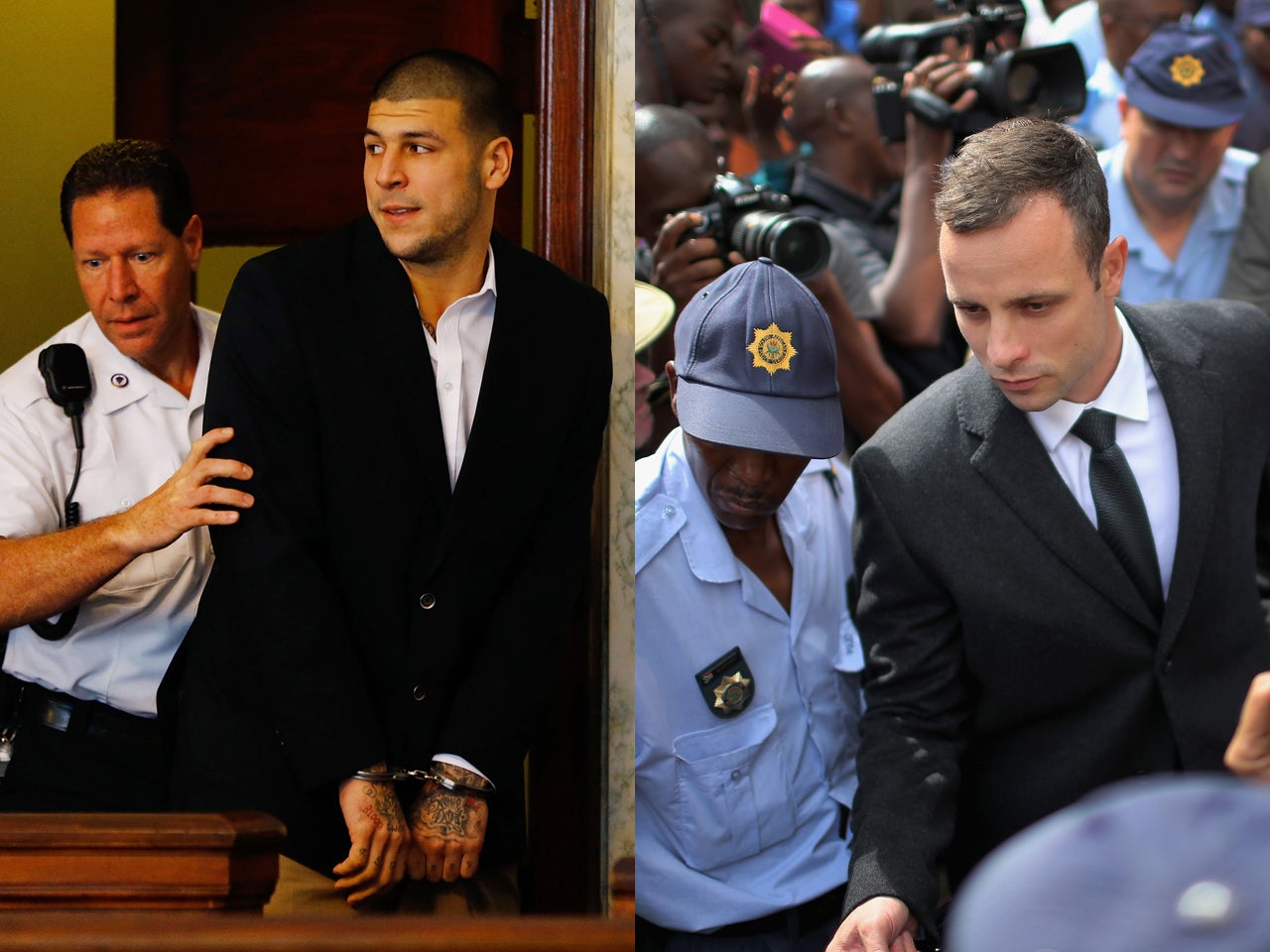 ​Bad sports: Violence by athletes off the field
Are some sports stars in fact BAD SPORTS? Or even criminals? A high-profile trial set to resume this Thursday in South Africa raises the question. Our Cover Story is reported now by Richard Schlesinger of "48 Hours":
They call him "The Blade Runner" -- Oscar Pistorius, the champion South African athlete who overcame the loss of his lower legs to perform at the highest level on high-tech prosthetic limbs.
But now he is also called "the defendant." Pistorius is charged with murdering his girlfriend, Reeva Steenkamp, in a fit of rage. He claims he shot her accidentally, fearing a home invasion. "Yeah, I believed that there was a threat that was on my life," he said.
His lawyers argue Pistorius was suffering from an anxiety disorder. But a court-ordered psychological evaluation found no evidence that Pistorius was mentally impaired.
Still, athletes and experts know that the kind of mass adulation a star athlete receives can change a person . . . for better or worse.
"You get treated differently," said Mike Golic, who has heard the roar of the crowd while playing defensive tackle for nine NFL seasons -- a position and a game that demand an element of rage.
"You get more things handed to you. And, you have a greater feeling of invincibility, that you can basically do anything you want and you're gonna get away with it."
"Did you have that feeling?" asked Schlesinger.
"Oh, absolutely!" he replied.
Golic and his sports journalist partner Mike Greenberg are co-hosts of ESPN Radio's "Mike & Mike."
"Sports is a microcosm of society," said Greenberg. "There are men out there who commit horrible acts when they put their hands on a woman. There are some of them who are professional athletes, and those wind up at the top of the newscast."
Such as Baltimore Ravens running back Ray Rice, who recently made news with video of his dragging his fiance after allegedly knocking her out. Rice was charged with aggravated assault, but the charges will be dropped if he completes counseling.
Rice's name is now added to a long list of pro athletes accused of abusing women, or worse.
Schlesinger asked, "How interested are people generally in athletes who get into criminal trouble?"
"Enormously so," said Greenberg. "Athletes have become far more than at any other time celebrities. Today, I think they are much more like movie stars and rock stars."
That's exactly the point, says Mitch Abrams, a sports psychologist and the author of "Anger Management in Sport." "I think that when we talk about professional athletes, we should be comparing them to celebrities, not to the average Joe.
"People often talk about athletes being a violent population," said Abrams. "Or they're more likely to be involved in criminal behavior. And there's really no research to support that."
Greenberg said, "Most players -- the overwhelming majority of football players and professional athletes in this country -- are like Mike, who have a full understanding of when that switch gets turned off."
Mike Golic added, "But the perception also is, 'Well, these guys are almost mental cases on the field, and they can't shut it off off the field. So we expect the gun charges, or we expect the abuse charges."
And when they do get charged, they get on page 1.
It's not surprising that Aaron Hernandez (left), a former tight end for the New England Patriots, has been splashed across the headlines; he's charged with three homicides.
"You start to hear about, you know, Aaron Hernandez, the new charges against him," said Golic. "Is it over spilled drinks? You're like, 'What's in these guys' heads?'"
That is the question still being asked by the friends and family of Kansas City chiefs linebacker Jovan Belcher, who in 2012 killed his girlfriend, before driving to the team's stadium and committing suicide in front of his coach and general manager.
"This was an enormous story in the United States," said Greenberg, "despite the fact that it was a player that most people had never even heard of prior to that incident."
Plaxico Burress, a star NFL receiver, became a tabloid star after he accidentally shot himself in a New York nightclub. He was in the headlines for weeks afterwards, said Greenberg. According to published reports, Burress was carrying an unlicensed weapon for protection.
Schlesinger asked, "How vulnerable are these guys to attacks on themselves?"
"I think judging from their own actions, they feel very vulnerable," said Greenberg.
And the fact is, some athletes ARE targets, and become victims. In 2007 Washington Redskins free safety Sean Taylor, just 24 years old, was mortally shot by an intruder in his house in Miami. "Sean Taylor was shot and killed in his house during a home invasion, so it does happen," said Abrams.
Oscar Pistorius has said he was armed because HE was afraid of a home invasion. And for a growing number of athletes, fear is part of fame.
"I don't know that there is a statistic on this that can be verified, but I would say that the percentage of professional athletes today who carry guns has probably jumped 50 percent from what it would have been 20 or 30 years ago," said Greenberg, "and I think largely because they feel they have to, because they feel they need it to protect themselves.
"You're going to have a whole separate argument of whether that's a good idea or a bad idea, but I think that -- forget about what they say, look at what they do. These guys are carrying guns. And they're not doing it for no reason."
But, Abrams says, frequently athletes are their own worst enemies -- too proud when faced with taunts or challenges off the field to just walk away.
"The people that I think are at greatest risk to snap," said Abrams, "are those full-blown narcissists, the ones that are so full of themselves, and when they engage in criminal behavior it often is a rage crime. Where does it start from? Someone took a shot at your manhood."
"How hard is it to walk away?" asked Schlesinger.
Golic said, "Oh, it's very difficult to walk away. It's very difficult when you get in that mode, in that mindset, to turn it off. And unfortunately, that's what can get a lot of guys in trouble."
Eventually the judge in Pretoria will have to decide, what was at stake for Oscar Pistorius: was it his safety, or was it his pride?

For more info:
Thanks for reading CBS NEWS.
Create your free account or log in
for more features.