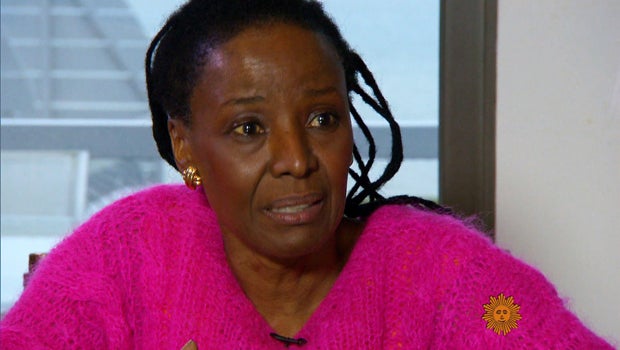 ​B. Smith and her diagnosis of Alzheimer's
In recent months, we've been looking at the "Longest Journey": reports on the impact of Alzheimer's disease on a growing number of older Americans. This morning, our story comes from Dr. Jon LaPook. It's about a woman whose name you may recognize -- and whose age may surprise you:
B. Smith and her husband, Dan Gasby, do a lot of cooking together at their Hamptons home in Sag Harbor, N.Y.
Cooking stirs up wonderful memories.
"You know, when I was growing up, olive oil went in the hair, it went on the skin, and it still goes on the skin," said Smith. "And it's good for you!"
The restaurateur, designer and decorator has spent a lot of time in kitchens.
LaPook asked, "Do you remember the first dish you made?"
"Uhm, pineapple upside-down cake," Smith said. "I was probably about ten years old."
It was a recipe she learned more than 50 years ago.
B. Smith was a sought-after expert for her knowledge of food and style. Some even thought she was on her way to becoming another Martha Stewart.
But even though she treasures her distant past, the present can be out of reach.
LaPook asked her, "Do you know the date today?" She responded "no."
"Do you know the month?" No.
"How about the year?" No.
"And what does that feel like?"
"It feels like crying," Smith said. "Things like that make me very sad."
Barbara Smith was born in western Pennsylvania, and became one of the first African-American models on the cover of Mademoiselle.
In 1986, she opened a restaurant in New York City, others followed. She hosted a TV program, and put her name on home products. (She and Dan, married 22 years, are also business partners.)
She knew something was wrong, but it would be years before she got a diagnosis: early Alzheimer's.
"I don't know how long it was, but I guess I would say it was maybe two or three years," she said. "And I would sing sad songs: 'You've abandoned me. Love don't live here.'"
Whom did she think was abandoning her? "Well, I would think maybe [Dan] was."
"She was just turnin' me totally off, because of the responses I would get," Gasby said.
For nearly four years, B. was repeating things, or not being responsive to a question. There were misunderstandings. Fact is, she told her doctor how severe it was before she told Dan.
Eventually, she saw a team of experts at Mount Sinai Hospital in New York, including neurologist Dr. Martin Goldstein. Brain scans and tests of her ability to think and remember were abnormal.
"There seems to be a greater degree of atrophy, shrinkage of the hippocampus here," said Dr. Goldstein.
Then, last October, a special scan was done to look for amyloid, a sticky protein that damages nerves. Dr. Goldstein showed LaPook the scans: "It's everywhere," he said.
Of the more than five million Americans with this illness, only about 200,000 are under the age of 65.
LaPook asked Gasby, "When you heard the word Alzheimer's, what went through your head?"
"Shock," he replied. "I mean, she's got the blood pressure of an athlete. You know, she's 64 years old. I mean, she can wear a bikini.
"And you curse God. You get angry. You say, 'Well, how could this happen?'"
"We typically see Alzheimer's as a disease of old age, of frail, weak people near the ends of their lives," said Dr. Goldstein. "That's not B.
"B. is bright, dynamic, active, energetic, engaged, eloquent. B. sharing her story can change the game in terms of how people see Alzheimer's."
Gasby said, "She has it. We have it. We gotta deal it. More people are gonna have it. And you know what? If you don't talk about it, you're not going to make a difference."
Now, B. Smith is a patient, and Dan is one of more than 15 million unpaid caretakers for people with Alzheimer's.
Dan plays memory games with B., because doctors say it's important to keep her brain stimulated.
"Do you remember when I first met you?" he asked.
"What day of the week?"
"It was a holiday that-when we first met. . . . It was Thanksgiving."
There is no cure for Alzheimer's.
And because of the degenerative nature of the disease, the Alzheimer's Association says it's important for families to discuss care plans sooner rather than later, so loved ones aren't left to make important decisions on their own.
Which is why LaPook asked B.: "What would you want for him 10 years from now if you get to the point where you really need care all the time?"
"What I would want for him is, I would want for him to have good health. I would want for him to be able to not have to take care of me. And if I had to have somebody else take care of me, that would be hopefully fine, too."
Gasby told her, "I'll be there."
Her symptoms have progressed. But B. has the same positive outlook that's made her famous.
"Even with Alzheimer's, I think that things are gonna work out," she said. "I'm gonna do my best to make it work out for me, and for as many people that I can possibly help, too."
But enormous challenges await her, even as she puts a beautiful face on a terrible illness.
Gasby told Smith, "I love you."
"I love you, too," she cried. "I'm lucky to have you as my husband, and best friend."
"I'm lucky to have you, too."
For more info:
Thanks for reading CBS NEWS.
Create your free account or log in
for more features.