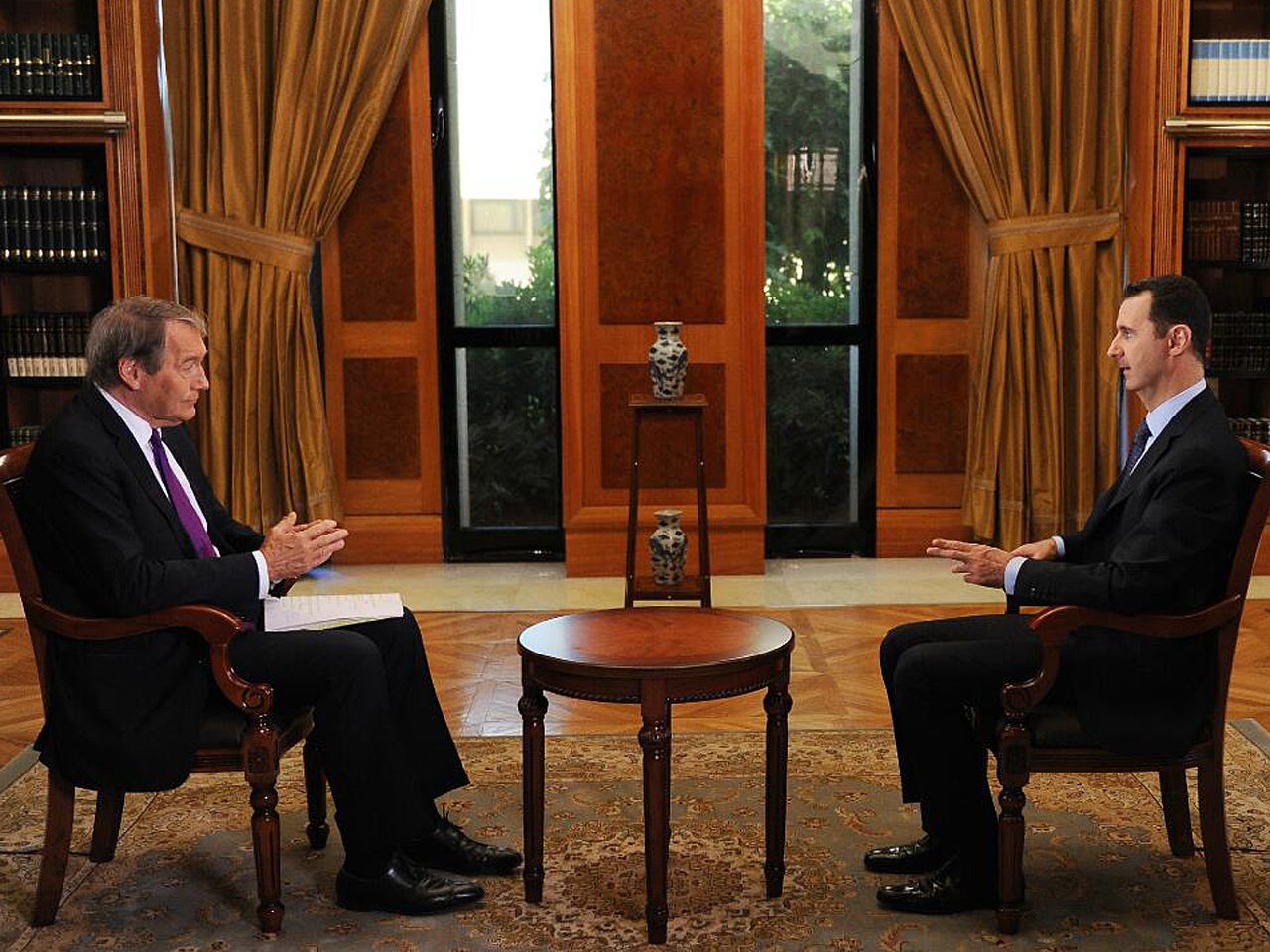 Assad says any U.S. strike on Syria "is going to support al Qaeda"
(CBS News) In an exclusive interview with CBS News' Charlie Rose, President Bashar Assad said he is "disappointed" in the Obama administration for pursuing a strike against Syria, claiming faulty intelligence and a foreign policy comparable with the policy of former President George W. Bush. He also said any U.S. involvement in Syria's two-year-old civil war would only embolden America's enemies.
At first offering a more tempered argument against a U.S. strike, Assad explained it would not serve U.S. security interests.
"The first question that they should ask [themselves], what do wars give America?...Nothing. No political gain, no economic gain, no good reputation. United States' credibility is at...[an] all-time low. So this war is against the interests of the United States," Assad said. "Why?"
Assad: I'm no "butcher," I'm like a doctor who saves lives
Assad: U.S. does not have "a single shred of evidence" of chemical weapons attack
Bashar Assad tells Charlie Rose U.S. should "expect every action" in response to Syria strikes
Complete CBSNews.com coverage: Syria crisis
The Syrian president again called on the U.S. and Congress to present hard evidence proving a chemical attack was launched within Syria and warned that a strike against Syria would only foster the growth of al Qaeda within his borders.
"First of all, because this is the war that is going to support Al Qaeda and the same people that kill Americans in the 11 of September. The second thing that we all want to tell to the Congress, that they should ask and that what we expect, we expect them to ask this administration about the evidence that they have regarding the chemical story and the allegations that they presented," Assad said.
President Assad said he and the Syrian people are "disappointed" by President Obama's behavior, and compared his foreign policy to that of former President George W. Bush.
"We expected this administration [to be] different from Bush's administration," he said. However, "they are operating the same doctrine with different accessories. That's it. We expect if...[this administration] to be strong to say that 'We don't have evidence, that we have to obey...the international law, that we have to go back to the security council at the United Nations.'"
If he found himself face-to-face with President Obama, Assad told Rose, he would simply tell him:" "Present what you have as evidence to the public. Be transparent."
"He didn't present because he doesn't have have [it]," Assad said. "Kerry doesn't have it."
Responding to Charlie Rose's claims that evidence has been presented to Congress, including satellite footage and intercepted messages, Assad repeated several times, "nothing has been presented," eventually adding that even if the U.S. did present seemingly credible evidence, he would doubt its veracity.
"We have the precedent of Colin Powell ten years ago when he showed the evidence, it was false and it was forged," Assad said. "You want me to believe American evidence and don't believe the indication that we have? We live here."
Thanks for reading CBS NEWS.
Create your free account or log in
for more features.