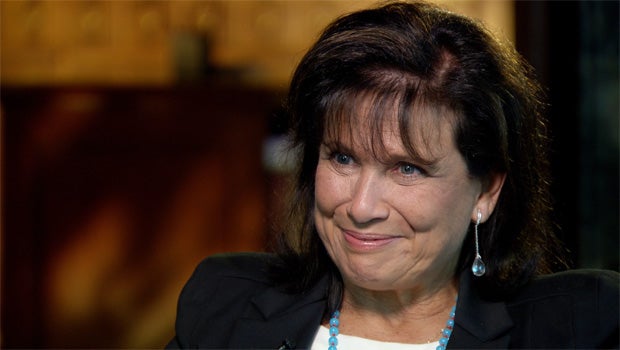 ​Art and family history with Anne Sinclair
In 2011 the arrest in New York of Dominque Strauss-Kahn for sexual assault was a media sensation, and an excruciating ordeal for his then-wife, the TV Journalist Anne Sinclair. Her fascinating new book is not about her ex-husband, but about her famous grandfather. For some questions-and-answers she met recently with our colleague Erin Moriarty of "48 Hours":
Last fall, the journalist considered the Barbara Walters of France spoke inside a packed auditorium at New York University. Anne Sinclair's name and face are instantly recognizable in Paris, where she has interviewed top newsmakers for over 30 years, but here she is known more for something else.
In May 2011, Sinclair was the wife of Dominique Strauss-Kahn, the head of the International Monetary Fund. She was in New York after he had just been accused of the attempted rape of a maid at a Manhattan hotel.
Sinclair, reportedly one of the wealthiest women in France, put up $6 million in cash and insurance to bail him out of jail.
"So we had to stay in New York because he had an electronic bracelet," Sinclair said, "and all the journalists was on the sidewalk in front of the house. It was very painful for me and for my family, as you can understand."
Sinclair, believing her husband was innocent, was relieved when the criminal charges were dropped.
"Justice was violent," she said, "but in America I must recognize that when justice goes wrong they recognize it quite well. And very quickly the prosecutor said there was no case."
Later came more accusations. And now, Strauss-Kahn is awaiting a verdict in France, where he recently stood trial for involvement in a prostitution ring.
Sinclair's marriage did not survive; the couple divorced in 2013.
When she returned to New York recently, it was to talk about another member of her family: her grandfather, Paul Rosenberg. He was the exclusive dealer for Pablo Picasso long before Picasso (or other modern artists like Braques or Matisse) became international superstars.
In "My Grandfather's Gallery" (Macmillan/Farrar, Straus and Giroux), Sinclair tells the story of how Rosenberg, who was Jewish, was forced to flee France in 1940 after the Nazis confiscated his gallery and much of his art collection.
"He was so grateful to the American people to have welcomed him here, to have saved his life and his family," she said.
Moriarty and Sinclair visited New York's Frick Collection, where chief librarian Steven Bury showed them the museum's extensive collection of her grandfather's catalogues, many of which Sinclair had never seen.

Rosenberg and Picasso were the same age and became such close friends, they lived next door to each other in Paris. Picasso gave his dealer a priceless gift -- he painted Rosenberg's family: Anne Sinclair's grandmother and her mother as an infant. Years later, Sinclair made a decision she now regrets: she actually turned down a chance to pose for Pablo Picasso.
"When I was 14, I remember that Picasso said to my mother, 'Well, your daughter is becoming bigger and I like her eyes, and I see eyes all over her face, so I should paint her once!'" Sinclair recalled.
"And so I was terrified. A 14-year-old girl -- imagine her twisted face, with eyes everywhere and nose everywhere! And so I said, 'No!' and ran into the garden, which was very intelligent of me!"
In her book, Sinclair describes the events that forced her grandparents to flee France. In 1937, Adolf Hitler denounced the art that Paul Rosenberg loved as ugly -- degenerate art. When the Nazis confiscated the offending paintings and sculptures in Germany and offered them for sale, Rosenberg convinced other dealers to boycott the auction.
"He said, 'We won't buy anything from the Nazis, even if it is a wonderful piece, because each cent we give to them will come back in a bomb on our head,'" said Sinclair. "So he was on the blacklist, and he knew that. So the minute the Nazis invaded France, he had to flee."
Adding insult to injury, the Nazis used her grandfather's Paris gallery during the war to house an institute charged with spreading anti-Jewish propaganda in France. Rosenberg never set foot in those rooms again.
Instead, he made a new life in New York. Rosenberg started over in an elegant New York townhouse that is still owned by members of Sinclair's family.
Moriarty asked, "What do you remember of your grandfather's gallery here?"
"Well, there was a statue of 'The Thinker' of Rodin, which I think was on the right of the steps."
Sinclair herself was born in the U.S., but raised in Paris. As a child, she returned to New York nearly every winter to see her grandfather until he died when she was 11 years old. "And so New York was, for me, an enchanted city. I was so happy to come here."
And she felt that way until those painful weeks in 2011. The journalist who made a name for herself in France with tough interviews, suddenly found the tables turned on her in New York. Sinclair believes that she, as the wife of the accused, should have been off-limits.
"I am curious," asked Moriarty. "If this had happened in France, as a journalist how would you have covered the story?"
"If you talk about me, I always thought that our joys and sorrows are our most private intimate belongings. And I don't like people digging those things," she replied. "I am not the type of journalist who do that."
But like her grandfather, Paul Rosenberg, Anne Sinclair has created a new life for herself. She still lives in Paris, where she now runs the French edition of the Huffington Post, and once again enjoys the trips to New York.
Moriarty asked, "Is this book, then, a way to have Americans see Anne Sinclair as she really is?"
"I don't know -- you tell me!" she laughed. "I can't say. But I am happy to be here for what I did, what I write, what I feel, what I am, and not about being part of a headline story."

READ AN EXCERPT: "My Grandfather's Gallery" by Anne Sinclair

For more info:
Thanks for reading CBS NEWS.
Create your free account or log in
for more features.