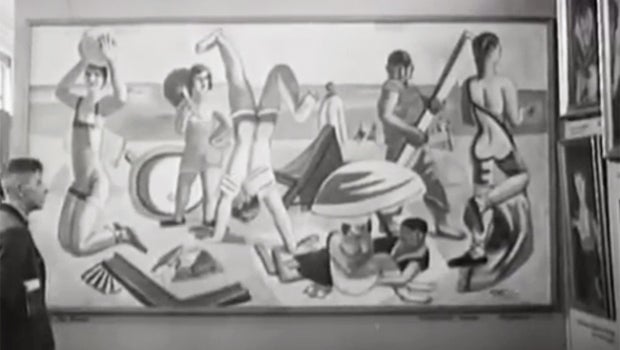 Degenerate Art: How the Nazis attacked modernism
"Degenerate Art" is the term Adolf Hitler and his henchmen used to describe works they simply did not like. The Nazis are long gone. Much of the art they denounced has survived, and is now on view. Here's Erin Moriarty of "48 Hours":
In the cultural capital that was Berlin in the early 1930s, art and politics often clashed, with modern artists like George Grosz leading the charge.
"Grosz was fearless, and whether it was his art or politics, he spoke his mind," said Jonathan Petropoulos, a history professor at Claremont McKenna College in California. "He was probably the most famous Communist artist in Germany at the time, and he used his art as a weapon."

A weapon to lampoon those in power, through political cartoons and graphic, sometimes grotesque, paintings. Grosz even dared to caricature lampoon Adolf Hitler.

"George Grosz poked fun at almost everyone, but especially the Nazis," Petropoulos said. "He threatened the Nazis in a way that -- well, they were never going to forgive him."

Grosz' youngest son, Marty -- now 84 -- recalls a story his father told about Nazi thugs coming to his studio: "They're banging on the door: 'Where is that pig Grosz? We want him. We'll take care of him.' And [Grosz] said, 'Oh gee, I'm sorry, he's not here. I'm just the guy who cleans up.' They believed him! And he got out of it that way."

So it's no surprise that when Adolph Hitler decided to wage war against modern art, George Grosz became enemy number one.

His art -- and the works of other contemporary artists, including Paul Klee, Otto Dix, Max Beckmann, Ernst Kirchner, Wassily Kandinsky and others -- were denounced, confiscated from museums, and then put on public display as examples of "Degenerate Art."

The exhibit, Petropoulos said, was clearly "very ideological. It was a way of articulating the Nazi worldview."

A worldview that saw modern art as vulgar and a threat to the German identity.

The original Degenerate Art show opened in Munich on July 19, 1937, and was seen by an estimated two million Germans.
Now some of that art has been brought together again, at the Neue Galerie in New York City.
"It is like a condensed form of what was the historical moment in Munich in the summer of 1937," said the exhibition's curator, professor Olaf Peters.
What makes this new exhibit so unusual is that, for the first time, both the condemned art and art sanctioned by the Nazi Party are on display, side by side.
Even artists who were members of the Nazi Party, like Emil Nolde, weren't spared.

In the case of Nolde's painting of a young girl, explained Peters, what was considered degenerate was "the intense color. It is more the portrait of a girl, not showing us the accurate physiognomy of a girl, but more interpreting her by color."

Also considered to have a "negative influence": A painting of cows, which "in the eyes of the Nazis, was sort of ridiculing what was going on," said Peters.

But it's not difficult at all to recognize the sanctioned art, highlighting the virtues of the German people in a style called romantic realism.
One painting -- Adolf Ziegler's triptych of Aryan women, titled "The Four Elements" -- was personally bought by Adolf Hitler, said Peters. "And it was placed over his fireplace in the Fuhrer's building in Munich. So really the history of the painting is directly linked to the history of Adolf Hitler and what he appreciated in terms of style and image of a woman."
Compare it to George Grosz's highly realistic portraits, warts and all.
By 1937, Grosz had already packed up his family and moved to the United States -- Marty Grosz said his father had been threatened. And of the Degenerate Art show, Grosz told Moriarty, "I do know that he was kind of depressed about the whole thing."
Grosz, like most of the degenerate artists, was not Jewish. "You didn't have to be Jewish to be disliked by the Nazis," Marty Grosz said. "He was an enemy of the state. And that meant he lost his citizenship, his German citizenship. He lost his bank account. They garnished, they took everything."
He got a job teaching at the Art Students League in New York, and also worked as an illustrator.
"He wanted to become American in the worst way," Marty Grosz laughed. "He said, 'If I am going to go to America, I'm going to become an American!'"
As for the other denounced artists? Their self-portraits tell the story: Oskar Kokoschka was defiant; Ernst Kirchner, devastated -- he committed suicide in 1938.
Much of the denounced art was later simply sold off by the Nazis, lost, or even destroyed -- leading them on a path to even greater atrocities, says professor Petropulous.
"I don't think one can separate the Nazis' art policies, their campaign against Degenerate Art and their plundering programs later, from the ideological, the genocidal project," he said.
George Grosz died in 1959. He was never quite able to recapture his place in the world of modern art, but his son Marty says his legacy endures.
"I'm proud of him, that he was considered a bad person by Hitler. In a sense it's a badge of honor."
For more info:
Thanks for reading CBS NEWS.
Create your free account or log in
for more features.