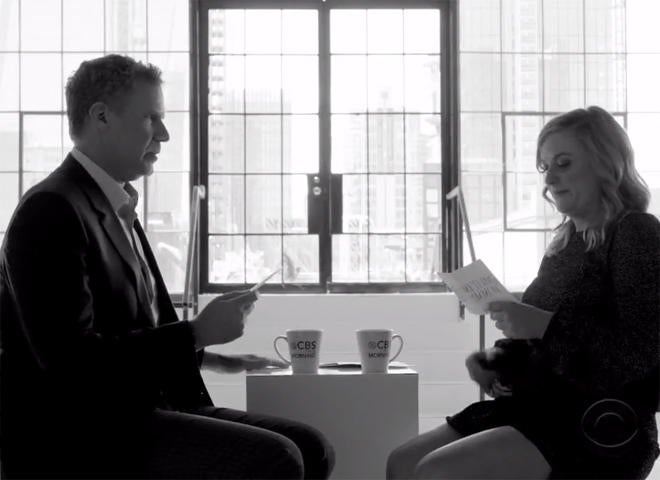 Are Will Ferrell and Amy Poehler funny? Their kids may tell you no
Former "Saturday Night Live" stars Will Ferrell and Amy Poehler are, by anyone's estimation, hilariously funny. Just don't ask their kids, though.
As part of the "CBS This Morning" series "Something in Common," the comedians -- now starring in the comedy "The House" -- interviewed each other on parenting, advice to grads, and whether their children are funny, too.
When asked if his kids think he is funny, Ferrell says he gets flack when he reads stories in a funny voice. "A lot of times I'll get, 'Stop with the voices, let's get back to the story. Like, I appreciate what you're trying to do but you're taking away from the story.'"
Poehler said her children disabuse her of the notion that she can sing: "It was like, 'Mom, please don't sing anymore to our favorite songs! Don't sing out loud!' And I was like, 'Why?! I'm nailing it!'"
When asked if his children inherited his sense of humor, Ferrell offered that they've all got "a little glimmer in their eye."
He learned that his oldest son, Magnus, got out of swimming by telling the coach that he was having his period. "I thought that's shocking, but that's kind of funny!" he said.
Ferrell asked Poehler when she realized that she was funny; she looked embarrassed. "I've been playing it straight," she admitted. "And it's not been going well."
In their new comedy, "The House," Ferrell and Poehler play a couple that has some trouble funding a college education for their daughter.
Their characters are not necessarily the most savvy investors; for example, they think their 401(k) account actually contains $401K. (Spoiler alert: It does not.) To make up for the education shortfall, they operate an illicit casino.
Ferrell said he paid for his own college education through student loans and an athletic scholarship: "I was on the equestrian team," he said. "I got $200 a year … every little bit helps!"
Watch the full interview with Ferrell and Poehler by clicking on the video above.

For other entries in the "CBS This Morning" series "Something in Common":
Thanks for reading CBS NEWS.
Create your free account or log in
for more features.