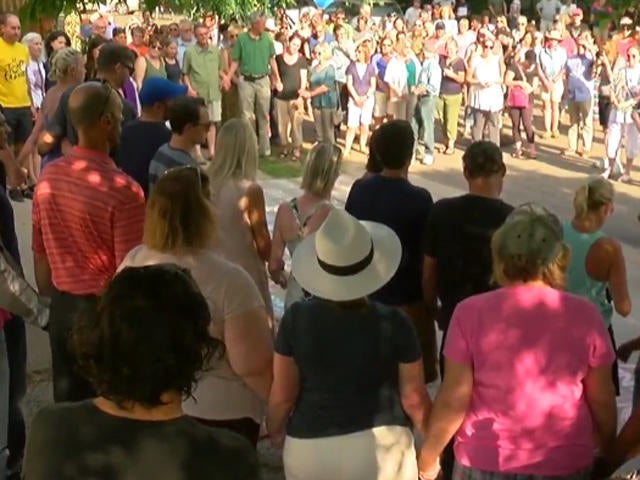 Answers demanded after Minneapolis cop shoots woman dead with body camera off
MINNEAPOLIS -- Family, residents and this city's mayor are demanding to know why a woman was fatally shot by a police officer over the weekend and why the officer's body camera was off at the time, reports CBS Minnesota.
"I mean ask anybody here, they're shocked," said Corey Birkholz, a student of Justine Damond, a south Minneapolis woman who taught meditation classes and spiritual healing at the Lake Harriet Spiritual Community. "It doesn't seem like she'd be the kind of person to get shot in an alley," Birkholz said.
His feelings were shared by more than 200 people who gathered for a vigil Sunday near the spot where Damond died hours earlier.
"A woman who you met her -- was just peaceful," a neighbor at the vigil said.
Investigators with the Bureau of Criminal Apprehension (BCA) said that at around 11:30 p.m. Saturday, a 911 call was made about a possible assault in the area.
They said a Minneapolis police officer fired his or her weapon, killing a woman.
A man who identified himself as Damond's son said in a Facebook video that she's the one who called 911 after hearing a noise in the alley near their home.
"She thought something bad was happening and next thing I know, they take my best friend's life," the man, named Zach, said in the video.
Investigators said the officers involved had body cameras, but they weren't turned on.
"I don't know anything about the law or police work to that extent but to me, it seems really stupid. You have a body camera, aren't you supposed to use them?" asked a visibly upset and confused Birkholz.
Minneapolis Mayor Betsy Hodges voiced similar sentiments at a news conference, saying, "I share the same questions other people have about why we don't have body camera footage of it, and I hope to get answers to that in the days coming."
Investigators said the squad car video was on but didn't capture what happened at the scene. The detectives said they're trying to figure out if any video evidence of what happened exists.
As the grieving community in south Minneapolis waited for answers and more information on the incident, they also focused on honoring Damond.
According to her website, Damond moved to Minneapolis from Sydney, Australia. The former veterinarian became a yoga instructor, personal health and life coach and meditation teacher.
Neighbors and friends described her as an animal lover, a mother and a warm spirit ready to help others.
Birkholz said through her classes, Damond could help people work their way through illnesses and other life problems with the help of meditation.
"A very conscious, loving person and you wouldn't associate that with a gunshot in an alley," he said.
The two officers involved in the shooting are on paid administrative leave, which is standard procedure.
Thanks for reading CBS NEWS.
Create your free account or log in
for more features.