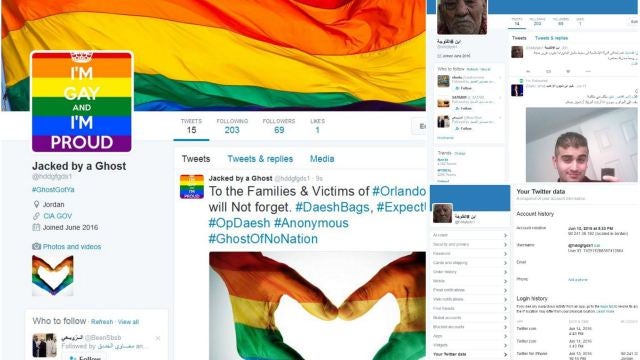 Anonymous hacks pro-ISIS Twitter accounts, fills them with gay pride
SAN FRANCISCO -- In response to the Orlando mass shooting, the hacker-activist group known as Anonymous has hacked into dozens of pro-Islamic State of Iraq and Syria (ISIS) Twitter accounts and infused them with gay pride, CBS San Francisco reported.
While San Francisco-based Twitter did not admit that the accounts were hacked, images of the hacked accounts and the Twitter account responsible for the hacking suggest otherwise.
"We condemn the use of Twitter to promote terrorism and the Twitter Rules make it clear that this type of behavior, or any violent threat, is not permitted on our service," a Twitter spokesperson told CBS San Francisco on Wednesday. "Since the middle of 2015 alone, we've suspended over 125,000 accounts for threatening or promoting terrorist acts, primarily related to ISIS."
Anonymous hacker @WauchulaGhost has been hacking pro-ISIS accounts since at least March 2016, but possibly earlier. Around June 7, the @WauchulaGhost account was posting pornography-related images and slogans such as "I love porn" and Anonymous to pro-ISIS accounts.
The Anonymous hacker, or group of hackers, claimed on June 10 to have hacked into about 1,500 pro-ISIS, also referred to as Daesh, Twitter accounts and posted pornographic material. Anonymous also frequently tweets the pro-ISIS accounts' IP addresses, which included users in Turkey, the United Kingdom, Iraq, Jordan, Oman and elsewhere.
On June 12, the hacker account @WauchulaGhost said that Twitter had deleted the accounts after they were hacked into and altered by Anonymous.
Following the shooting at a gay nightclub in Orlando -- which the FBI is investigating as both a hate crime and an ISIS-inspired terror attack -- the Anonymous hacker started to infiltrate pro-ISIS accounts and then post images of rainbow flags, non-graphic gay pornography and slogans such as "I'm gay and I'm proud."
The pro-ISIS accounts that were hacked were all renamed "Jacked by a Ghost" and most linked to CIA.gov. While some of the hacked accounts have been suspended, some still exist, according to CBS San Francisco.
As of Wednesday afternoon, the Anonymous hacker Twitter account appeared to still be at it, tweeting its successful takeover of the Twitter account @islamsunna111, with an IP address in Oman, and peppering that account with slogans such as "Make love, not war" and "#MoreSex #LessDeath #ISIS #ISIL #IslamicState."
Thanks for reading CBS NEWS.
Create your free account or log in
for more features.