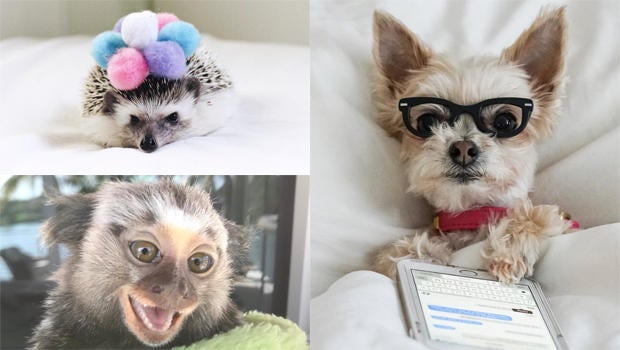 Animal influencers: How popular pets on Instagram launch careers
One woman's pet project has turned into a project with legs. Here's our Richard Schlesinger:
Loni Edwards is an unusual agent with peculiar clients. Take Ella Bean: "She travels all over the world. We recently did a campaign within the Ritz Carlton."
Ella Bean is a dog. "She's the fashion blogger in dog form, So she's always traveling," said Edwards. As when Ella Bean posted pictures from Paris.
Edwards' owns The Dog Agency. The name is a little misleading -- she represents all sorts of animal stars of Instagram, like Atticus the hedgehog.
Edwards has gotten Atticus starring roles in Instagram ad campaigns for Stainmaster carpet cleaner and Olympus cameras. When each one of the 117,000 people who follow Atticus logged on, they saw pictures like this:
And Stephanie Zheng (and her hedgehog) were in business.
"There were definitely a lot of benefits of getting an agent," Zheng said. "The biggest thing is the fact that they can read over the contracts for you and negotiate on your behalf."
Tens of thousands, hundreds of thousands, even more than a million people follow some of the animals whose pictures are posted on the social network. A popular animal becomes what's called a Pet Influencer, and few pets have as much influence as Diddy Kong and Yeti Kong, two monkeys from Miami.
Gabriella Katia and her boyfriend Matt Crown started posting pictures of Diddy and Yeti for her friends. And then, the monkeys went viral.
"We had no idea they were going to become so famous," Katia said. "And it's exciting -- I mean, we've never seen a famous monkey like this on Instagram!"
Laugh if you will, but sponsors are willing to pay for pets -- and the eyeballs they attract.
Turns out Loni Edwards has the perfect pedigree to figure out how to make good money off of them. She is a graduate of Cornell University and Harvard Law School.
Schlesinger asked, "Is this what you envisioned doing when you were in Harvard law school? And I don't mean any disrespect. It's just so unusual."
"No. Not at all. At the end of the day I wanted something more fun and more creative," she replied. "I got the entrepreneurial bug."
This business is not just creative -- it's lucrative. "Just ballpark numbers, influencers with millions of followers are getting around $10,000 to $15,000 per piece of sponsored content," Edwards said. "Some campaigns have many pieces of sponsored content."
Just this month, the Miami monkeys became paid spokes-primates for Two Hats Beer.
It's their first sponsorship … and it could be the start of something big.
"Campaigns definitely with Diddy Kong could go into the hundreds of thousands for sure," said Katia.
Edwards had a party recently at her office in Manhattan. It was a raucous affair for some of her more popular, less exotic clients -- like the French bulldog named Walter Cronkite, who has 90,000 followers.
And that's the way it is for Loni Edwards, who is doing just fine a world away from her roots at Harvard.
Schlesinger asked, "You think your Harvard Law School fellow students are jealous?"
"Probably!" she laughed.
"Think they're laughing?"
"Not any more."

For more info:
Thanks for reading CBS NEWS.
Create your free account or log in
for more features.