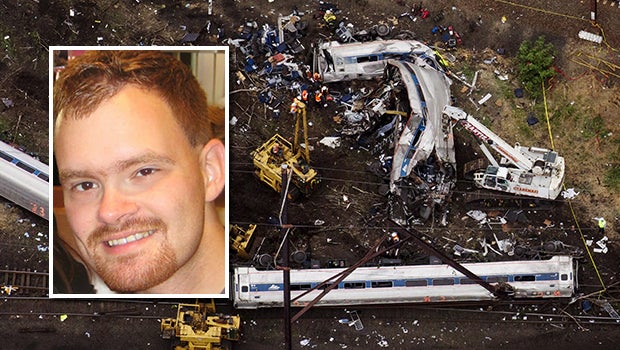 Speeding Amtrak engineer charged in deadly 2015 derailment
PHILADELPHIA -- The state's top prosecutor on Friday charged a speeding Amtrak engineer with causing a catastrophe, involuntary manslaughter and other crimes in a deadly 2015 derailment that came after he accelerated to 106 mph on a 50 mph curve.
Prosecutors said they were in talks with engineer Brandon Bostian's attorney to have him surrender on the charges.
The Philadelphia District Attorney's Office had announced Tuesday, as the two-year deadline to bring charges loomed Friday, that it couldn't prove Bostian acted with "conscious disregard" when he accelerated the train to 106 mph on a 50 mph curve, CBS Philadelphia reports.
That judgment call prompted civil lawyers representing the family of a technology executive killed to seek a private citizen's complaint. They believe Bostian should be held accountable.
Otherwise, veteran lawyer Richard Sprague said, "it's almost like inviting drivers of vehicles and cars to drive recklessly."
Pennsylvania Attorney General Josh Shapiro expanded on charges a Philadelphia judge approved a day earlier. The judge had signed off on two misdemeanor charges over Rachel Jacobs' death in the May 12, 2015, derailment. Shapiro approved a felony charge of risking or causing a catastrophe and a string of misdemeanors, including eight counts of involuntary manslaughter and reckless endangerment.
Lawyer Thomas R. Kline, who had sought the private complaint on the Jacobs family's behalf, said the charges wouldn't have happened "had a courageous family, the Jacobs family, not stood up against the decision of a local prosecutor not to press charges."
"That was clearly wrong, as evidenced by the attorney general not only reversing course but adding charges," he said.
The crash killed eight people and injured about 200 others.
The criminal case is sure to bring new scrutiny to the National Transportation Safety Board finding that Bostian had lost "situational awareness" on the curve in North Philadelphia. The speed limit climbs from 50 mph to 110 mph about a mile and a half after the curve.
The NTSB said it found no evidence that Bostian was impaired or using a cellphone during the Washington-to-New York run.
Bostian, in a lawsuit against Amtrak, said he was left disoriented or unconscious when something struck his train before it derailed. He had heard through radio traffic that a nearby commuter train had been struck by a rock. However, the NTSB concluded that nothing struck his locomotive.
"The best we could come up with was that he was distracted from this radio conversation about the damaged train and forgot where he was," NTSB chairman Christopher Hart said at a May 2016 hearing.
Victims' lawyers have questioned why Bostian would have sped up, rather than slow down, if he had been startled by something striking the train.
"One thing he has never recollected is how or why he accelerated before the curve," said lawyer Robert Mongeluzzi, who with Kline represents about three dozen victims.
Other lawyers have called last year's NTSB report on the crash a "whitewash" and a "quantum leap."
Philadelphia prosecutors concluded this week that there was insufficient evidence to prove that Bostian acted with intent or "conscious disregard" for the passengers' safety. But Mongeluzzi said that should be an issue for a jury.
Court records list addresses for Bostian in New York City and in Somerville, Massachusetts, near Boston. Bostian's lawyer has rarely commented and did not return messages seeking comment this week.
Amtrak has taken responsibility for the crash and agreed to pay $265 million to settle claims filed by victims and their families. Kline and Mongeluzzi, prominent Philadelphia plaintiffs' lawyers, helped negotiate the settlement.
Jacobs, a technology executive, was a 39-year-old wife and mother. Her father, a Michigan lawyer, had urged Williams to press charges, according to CBS Philadelphia.
"I just feel that my daughter's death needs to be vindicated. Here is a woman who died and nobody's being punished," the father, John Jacobs, told The Associated Press this week. "Somebody should be held responsible."
The other people killed included Justin Zemser, a Naval Academy midshipman; Jim Gaines, an Associated Press software architect; and Derrick Griffith, a college dean.
Thanks for reading CBS NEWS.
Create your free account or log in
for more features.