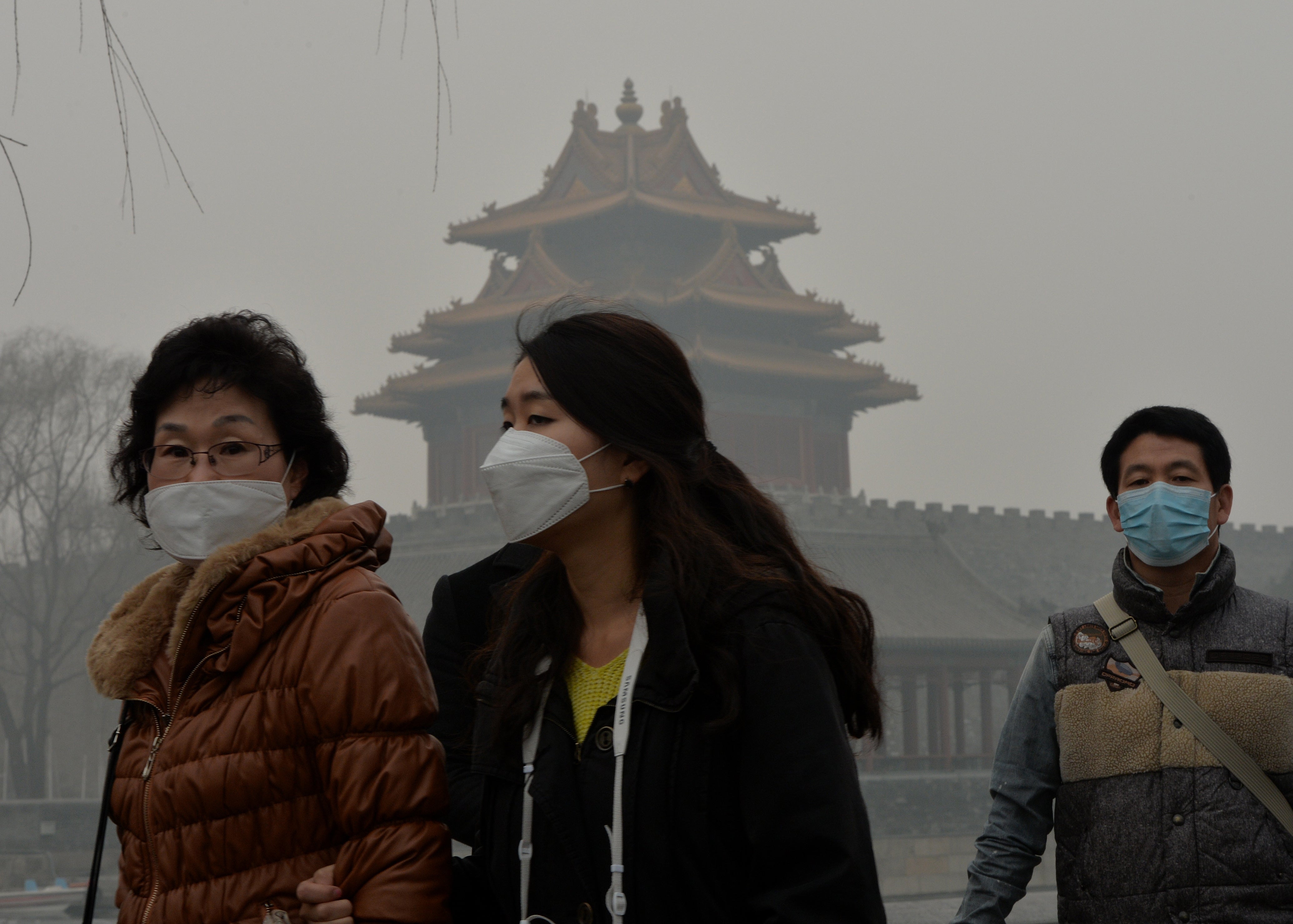 Air pollution takes a deadly toll
The numbers are sobering -- more than 5.5 million people die prematurely each year as the result of household and outdoor air pollution, according to new research presented Friday at the 2016 annual meeting of the American Association for the Advancement of Science (AAAS).
What areas are most at risk? The study found more than half of these deaths occur in China and India, two of the world's fastest-growing economies.
"Air pollution is a major global health issue that is probably something that many people experience, but that is not as well-recognized by the health sector in general," Michael Brauer, professor at the University of British Columbia's School of Population and Public Health in Vancouver, Canada, told CBS News.
Brauer participated in a press briefing to announce the findings.
Common sources of air pollution are the likes of power plants, industrial manufacturing, burning coal and wood, and vehicle exhaust. The particles shot up into the atmosphere from these causes pose long-lasting health threats, Brauer stressed. While efforts have been made in recent years to curb harmful emissions, the study shed light on the fact that the number of premature deaths tied to pollution will continue to increase over the next two decades unless more aggressive actions are taken.
Brauer is part of a global team consisting of researchers from Canada, China, India, and the United States. This work is an extension of the broader Global Burden of Disease Study, which is spearheaded by the Institute for Health Metrics and Evaluation at the University of Washington. That study analyzed health and risk factors such as air pollution that impacted 188 countries between 1990 and 2013.
"More than 85 percent of the world's population lives in areas that exceed the World Health Organization's 'safe level' of air pollution," Brauer said. "Most people live above that. That's not really a good picture."
Brauer said that while air pollution from big urban centers posed a threat, small rural areas in low-income countries had to deal with pollution from cooking with fuels, coal, wood, or dung, for instance. He said that air pollution is poses the fourth biggest risk factor out of 80 factors determined by the Global Burden of Disease Study.
At the AAAS meeting, the researchers presented that 55 percent of the world's annual deaths caused by air pollution occurred in China and India. In China, coal burning was the big culprit that contributed to poor air quality. In 2013 alone, it was estimated that coal-based air pollution led to an estimated 366,000 deaths in China, according to a press release.
In India, wood, dung or similar sources of "biomass" burned for cooking were big contributing factors to air pollution.
"In Asia, you have countries with very large populations that happen to be heavily polluted. You see trends in India, Bangladesh, and Pakistan where the air quality continues to worsen. In China, maybe things have stabilized, but they are very high," Brauer added. "Also, in those countries the populations are aging. People are getting older, so you have this greater prevalence of chronic diseases -- heart and lung disease and cancer that are affected by air pollution."
Is there any good news to report? Brauer said that positives rest in the fact that steps have been taken to improve conditions in areas most affected by air pollution. Successful policy changes in high-income nations like Japan and countries in Europe and North America have resulted in "improved air quality and improved health," he added.
"Everybody breathes the air and everybody benefits," Brauer stressed. "Cutting back on air pollution is an efficient way to improve the health of the whole population."
One of the big positives living in a post-Paris climate talks world -- where 188 nations pledged to the United Nations that they would cut back on carbon emissions -- is that decreasing the release of harmful materials into the Earth's atmosphere is on everyone's minds.
But what about developing countries that are still playing industrial catch-up to their more affluent counterparts? Will their desire to create economically successful industrial systems contribute to more pollution? Brauer said that we now have the benefit of hindsight -- we can learn from the mistakes of past industrialization to create a more efficient future.
"Look at China, one of the things that's going on right now, the air quality starts to improve after target regulations are set," he said. "You see this pattern, we've gone through this in high-income countries. Just start using better technologies that are not always the most expensive."
One of the main benefits of releasing this kind of study is that it makes sometimes-intangible concepts like the impact of pollution relatable to the average person.
"Nobody actually goes to the hospital and goes to the physician to be treated for 'air pollution disease,'" Brauer said. "All understanding of air pollution and its effects has to be done in a statistical modeling framework. When you feel pretty good about the numbers then you can compare them to others to see what the problem is. You'll never know for sure if somebody died from air pollution. Having these numbers actually quantifies it, it makes it a health issue that has not in most cases been considered that much before."
Moving forward, Brauer stressed that the goal is to figure out how to manage the air pollution crisis.
"In China and India, with these big and important populations that have high level of pollutants, you have to start to tease out the impacts of sources of air pollution. How much of these deaths in 2013 is due to 'source X' and how much to 'source Y?' " he mused. "One of the things we are focused on is coal. We know coal is important and that it is one of the drivers for global warming. If you shift away from coal you get the double benefits of reducing air pollution which is a big benefit from the climate perspective and then it is a big benefit from the health perspective."
Thanks for reading CBS NEWS.
Create your free account or log in
for more features.