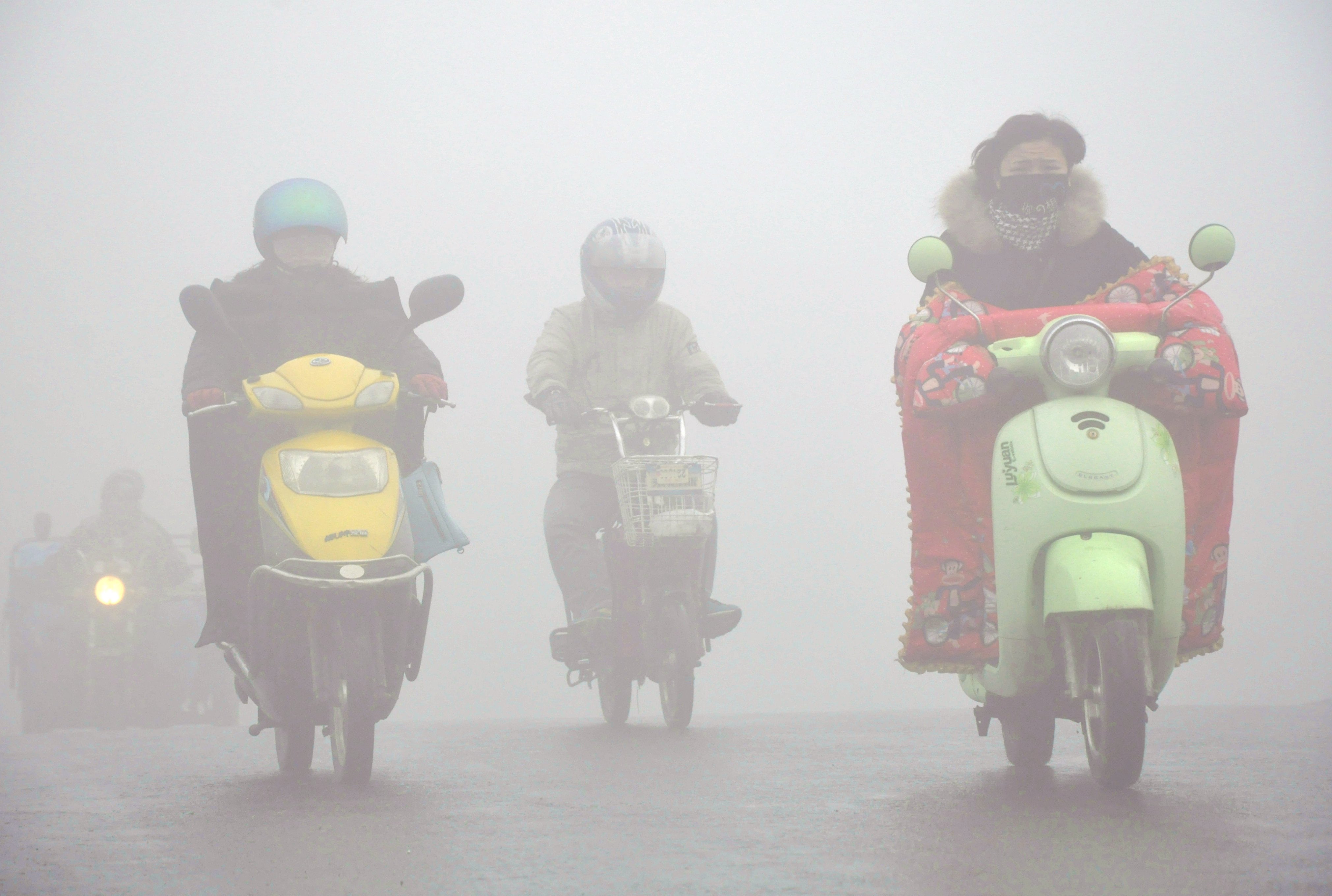 Greenpeace says China city air pollution drops by 10 percent
BEIJING -- Average concentrations of air particulates in 189 Chinese cities fell by 10 percent in 2015, according to a new Greenpeace report, a sign that pollution overall was decreasing even as catastrophic levels of smog this winter in northern China effectively shut down schools and roads.
Overall pollution levels in Beijing were down for the second consecutive year but skyrocketed in December, when a thick gray soup enveloping the capital prompted the government to issue a first-ever "red alert" warning, limiting automobile use and closing schools.
The Greenpeace study released Wednesday found the northern Chinese region surrounding Beijing has seen concentrations of microscopic PM2.5 particles drop by a quarter since 2013. Similar improvements were seen in the Yangtze and Pearl river delta areas around Shanghai and Guangzhou.
Still, 80 percent of Chinese cities did not meet national air quality standards, the group found, pinning blame on coal consumption. China, the location of the vast majority of coal power plants added in the last decade, has been the world's largest emitter of greenhouse gases, although the United States far exceeds it on a per capita basis.
Chinese leaders have vowed in recent years to seriously confront pollution and the trail of environmental damage left by decades of runaway growth. The central government has passed a series of legislative measures since Premier Li Keqiang declared a "war" on pollution at China's annual parliament meeting in 2014 and continued to push renewable energy technology, but changes have not always trickled down to local authorities under pressure to meet economic output targets.
China said in September it would put a price on greenhouse gas emissions under a cap-and-trade system during a White House summit, a year after it pledged to cap emissions before the year 2030.
Researchers at Germany's Max Planck institute have estimated that smog has led to 1.4 million premature deaths in China every year, while the non-profit group Berkeley Earth in California had a higher figure, 1.6 million.
Thanks for reading CBS NEWS.
Create your free account or log in
for more features.