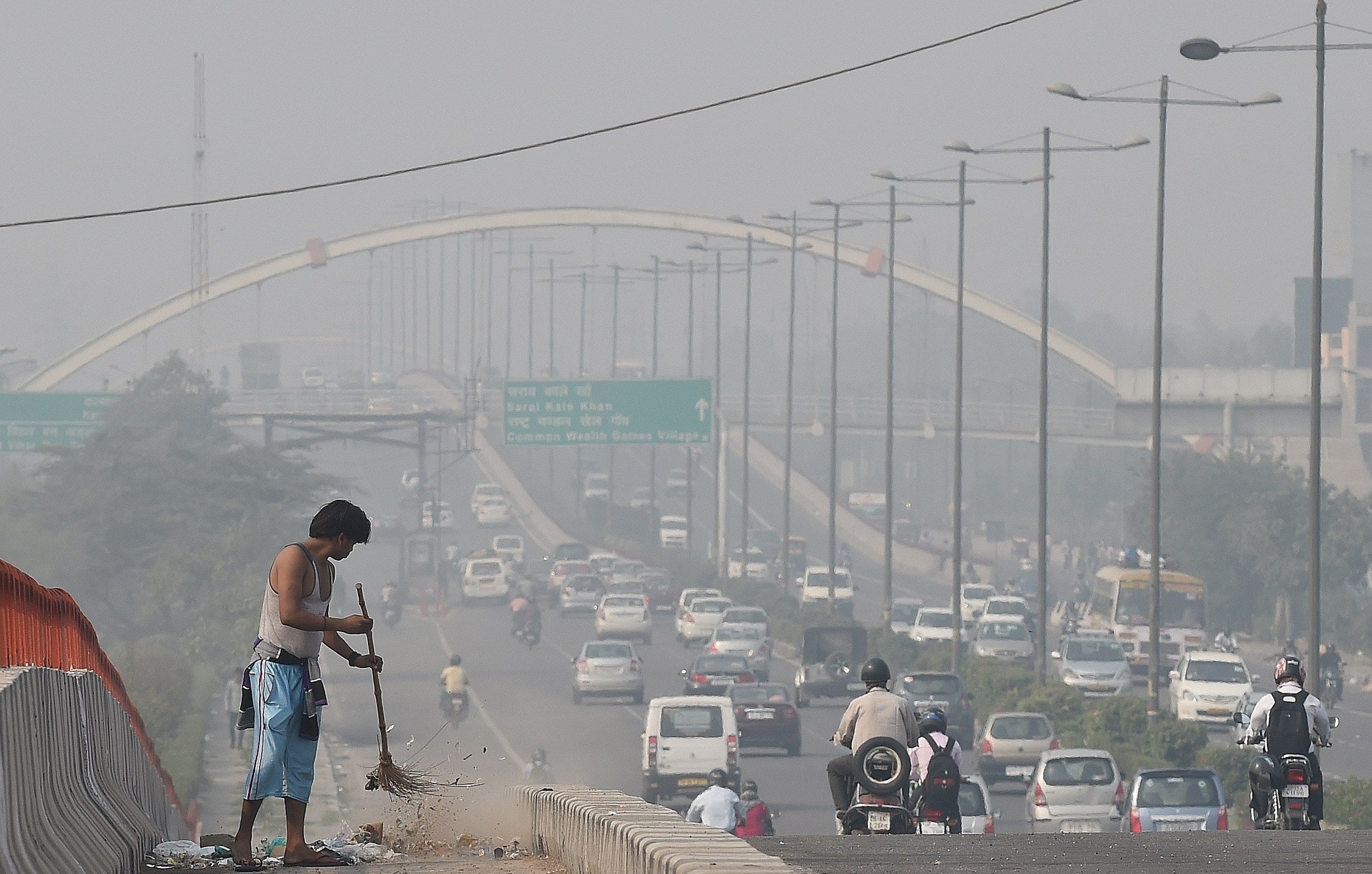 Millions dying around the world due to air pollution
Premature deaths from outdoor air pollution could double by 2050, with the largest increases expected to occur in the emerging economies of Southeast Asia and the western Pacific, according to a study released Wednesday.
The authors of a Nature study found that air pollution based on 2010 figures is killing over 3 million people a year, mostly in Asia. Ozone and tiny particles that reach deep into the lungs contribute to causes of mortality such as strokes, heart disease and lung cancer. The findings follow a World Health Organization report last year that found up to 7 million people die prematurely from both outdoor and indoor air pollution, based on 2012 figures.
China, by far, had the most premature deaths with 1.36 million deaths, with India a distant second at 645,000 and Pakistan third with 111,000 deaths, according to the study. China and India have some of the world's worst air pollution, due to their growing economies and dependence on coal.
The biggest source of the this particulate pollution known as PM2.5, according to the study, is from heating and cooking, since meals are prepared and homes heated by mostly cow dung, wood or other biomass.
Agriculture is the next biggest contributor to premature deaths from air pollution. Ammonia from livestock and fertilizer cause the formation of ammonium nitrate and sulfate particles, which contribute to air pollution.
Agriculture is the leading source of premature deaths from air pollution in the eastern United States, Russia, Turkey, Korea and Japan and Europe, according to the study. Some of that is due to the fact that farms are often near population centers in places like the East Coast, allowing the agriculture sources to mix with other emissions from traffic and power generation to form the dangerous particles.
The remaining sources, in places like the Western and Central United States, comes from power generation and traffic.
"Our study clearly shows it's important to reduce pollution emissions from residential energy use especially in Asia and, by reducing agriculture emission, air quality would improve in Europe and the eastern United States," Jos Lelieveld, a co-author on the paper from the Max Planck Institute for Chemistry, told reporters.
In an article accompanying the study, Michael Jerrett, of the Center for Occupational and Environmental Health at the University of California, Los Angeles, called the results "surprising and potentially important for protecting public health globally." And while there remain questions over the toxicity of ammonium and sulfate, Jerret called the findings on agriculture important.
"The finding is highly valuable, however, because agriculture has generally not been seen as a major source of air pollution or premature death, and because it suggests that much more attention needs to be paid to agricultural sources, by both scientists and policymakers," Jerrett wrote.
Overall, the United States has far fewer deaths than China because of poor air quality, according to the study, and ranked seventh with 55,000 premature deaths.
But another study found the United States isn't without problems when it comes to air quality.
Writing in the journal Environmental Health Perspective, scientists from NYU Langone Medical Center, the University of California, Berkeley, and other institutions found that chemical particles that we breathe - most of them invisible to the naked eye - increase the risk of death from all causes by 3 percent. That number goes up to 10 percent for heart disease, and among nonsmokers, the risk of death due to respiratory disease increases 27 percent.
The authors said the study was the largest of its kind, involving a survey of a half million Americans.
"Our data add to a growing body of evidence that particulate matter is really harmful to health, increasing overall mortality, mostly deaths from cardiovascular disease, as well as deaths from respiratory disease in nonsmokers," George Thurston, the study's lead author and a professor of population health and environmental medicine at NYU Langone, said. "Our study is particularly notable because all the data used in our analysis comes from government- and independently held sources."
Globally, the Nature study found the number of premature deaths is expected to double to 6.6 million due to a worsening pollution and a sharp rise in population from 3.6 billion in 2010 to 5.2 billion in 2050. Much of that population growth will be in megacities, where the authors project that 65 percent of the premature deaths will occur.
The authors of the Nature paper suggested instituting air quality control measures including providing cook stoves in developing nations with the worst air and making farming more efficient could save 1 million lives each year.
"If this growing premature mortality by air pollution is to be avoided, intensive control measures will be needed especially in South and East Asia," Lelieveld said. "You can't ask people to stop eating and cooking but you can provide better technology. There are projects and they are quite energy and cost efficient. The most difficult thing is acceptance."
Lelieveld said that another solution would be a global climate agreement expected in December, in which world leaders meeting in Paris are likely to agree to keep global temperatures from rising more than 2 degrees C (3.6 degrees F) over what they were in preindustrial times.
"It will be a win-win situation in both directions," he said. "If you reduce carbon dioxide emissions, you usually have to introduce clean technology, for example, replace fossil fuel generated energy with wind energy or solar energy. So that will definitely reduce air pollution emissions."
A separate study in Nature Geoscience also on Wednesday offer one other solution. It found that reducing forest fires - a key source of haze in Southeast Asia - could help.
The study examined fires in the Brazilian Amazon and found that roughly 400 to 1,700 premature deaths per year might have been avoided as a result of large reductions in blazes lit to clear forest for farming and other agriculture activities like plantations. By combining satellite and ground-based measurements with chemical transport models, they found that concentrations of particulate matter dropped about 30 percent during the dry season when fires were reduced.
"This finding suggests that wider efforts to reduce tropical deforestation as a climate mitigation may have air quality co-benefits," the authors wrote. "To maximize these benefits, policies aimed at reducing deforestation must also minimize fire across moist tropical forests."
Thanks for reading CBS NEWS.
Create your free account or log in
for more features.