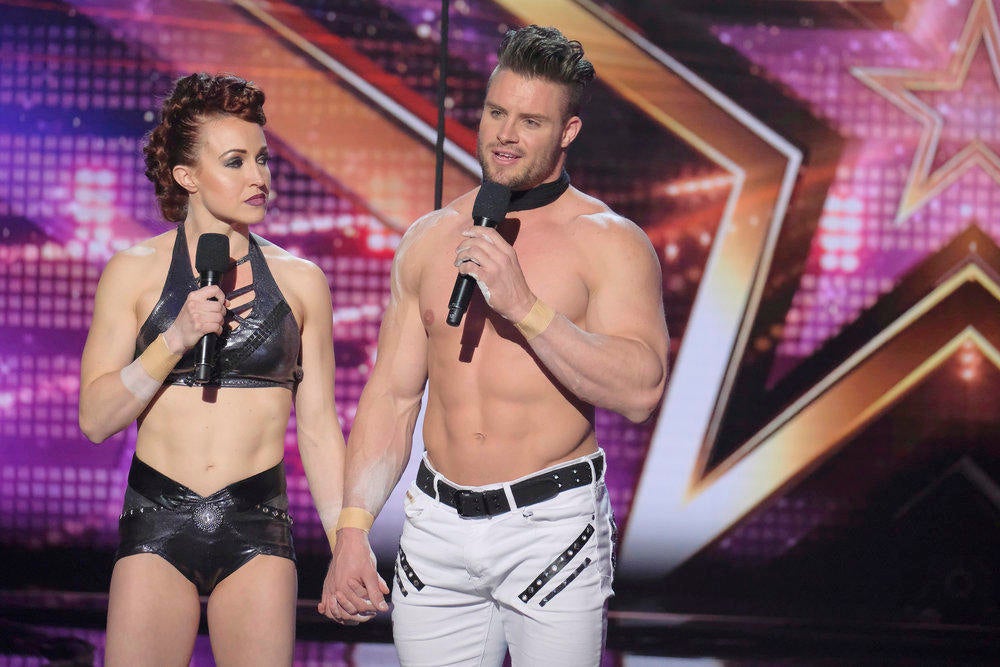 Fiery stunt goes wrong on "America's Got Talent"
A trapeze artist couple gave the audience and hosts of "America's Got Talent" a true scare when their stunt went wrong. On Tuesday, acrobatic couple Mary and Tyce of Duo Transcend were performing a death-defying stunt while hanging from a flaming bar suspended over a fiery stage when Mary fell to the floor. The couple's 2-year-old son was in the audience in the arms of his grandmother, who covered her eyes as the audience gasped.
Tuesday marked the first night of the season's Judge Cuts round. Married couple Mary and Tyce, who aced their audition round, took the stage for their shocking performance. The two spun and flipped in the air, until a blindfolded Tyce was hanging upside down with Mary on top of him. Mary slipped past him and fell on the floor as he tried to grab her, to the alarm of judges and audience members. Adding even more tension to the performance, it was revealed that Tyce is nearly blind due to a progressive eye disease.
As soon as Mary dropped to the floor, "AGT" cut to commercial. But when the show returned, it was revealed that since Tyce and Mary had covered the floor with a thick protective mat, Mary was OK.
She got to her feet and waved to the audience to with a reassuring smile. Tyce got down to hug her and give her a kiss.
The embarrassed couple asked if they could do a repeat performance to make up for their slip-up. But Mel B yelled, "No! It's fine!"
Guest host Ken Jeong also reassured them, saying, "This is not 'America's Got Perfection.' It's 'America's Got Talent.' Nobody can do this. I mean, it's OK!"
Even tough judge Simon Cowell said, "I don't think there's ever been a singer on any of our competitions who's been note-perfect. It doesn't make them not amazing, it makes them human." He also pointed out how "incredible" it was that Tyce was able to do the performance even though he is nearly blind.
The couple still moved onto the next round at the Dolby Theater in Hollywood, causing Mary to tear up as she said, "It means so much to us."
---
Watch the terrifying stunt in the video player at the top of this page or click here.
Thanks for reading CBS NEWS.
Create your free account or log in
for more features.