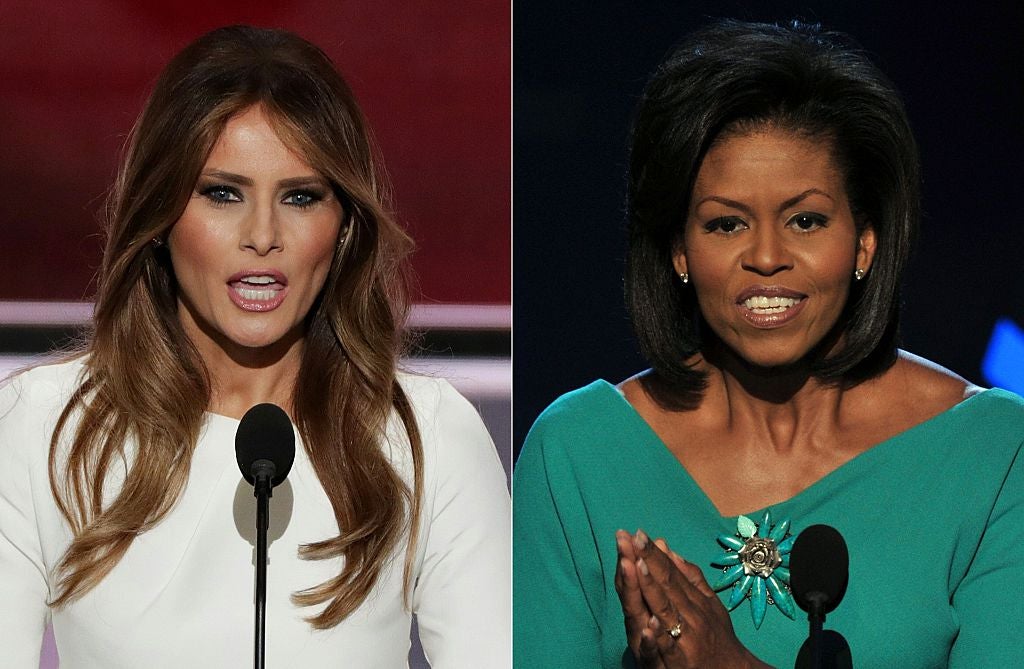 After Melania Trump's speech, a brief history of political plagiarism
The biggest headlines out of the first day of the Republican National Convention weren't about presumptive GOP nominee Donald Trump--but instead focused on the fact that his wife, Melania Trump, delivered a speech Monday night that included plagiarized lines.
Several lines and passages from Melania Trump's speech were lifted directly from First Lady Michelle Obama's 2008 convention speech, a fact Trump and his campaign have vehemently denied since the similarities were first pointed out.
But Trump is hardly the first political figure to lift speech lines from somebody else. Here's a quick guide to others who have been accused of plagiarism:
Barack Obama, 2008
Back during the height of the 2008 Democratic primary, Hillary Clinton's campaign accused then-Sen. Barack Obama of plagiarizing Massachusetts Gov. Deval Patrick.
The speech in question was one Mr. Obama delivered in Milwaukee during the primary that responded to Clinton's claims his campaign was "just words."
"Don't tell me words don't matter! 'I have a dream.' Just words. 'We hold these truths to be self-evident, that all men are created equal.' Just words. 'We have nothing to fear but fear itself.' Just words, just speeches," Mr. Obama said in that speech.
Back in 2006, Patrick's phrasing was similar: "We hold these truths to be self-evident, that all men are created equal'--just words. Just words. 'We have nothing to fear but fear itself'--just words. 'Ask not what your country can do for you, ask what you can do for your country'--just words. 'I have a dream'--just words," he said.
At the time, Clinton spokesman Howard Wolfson said Mr. Obama had "lifted rhetoric" from Patrick, with Clinton herself later saying: "If your whole candidacy is about words, then they should be your own words."
Mr. Obama admitted the mistake and said he should have cited Patrick specifically, but that he didn't "really think this is too big of a deal." "Deval and I do trade ideas all the time, and you know he's occasionally used lines of mine," he said. "I would add I've noticed on occasion Sen. Clinton has used words of mine as well."
Joe Biden, 1987
The vice president, too, was in the midst of a presidential campaign when New York Times columnist Maureen Dowd pointed out strong similarities between a 1987 speech of Biden's and one by U.K. Labour Party Leader Neil Kinnock. For Biden, the accusations ultimately helped sink his campaign.
Biden said this during a speech at the Iowa State Fair that year, which he reportedly said he had thought of "spontaneously" on the way there: ''I started thinking as I was coming over here, why is it that Joe Biden is the first in his family ever to go to a university? Why is it that my wife who is sitting out there in the audience is the first in her family to ever go to college? Is it because our fathers and mothers were not bright? Is it because I'm the first Biden in a thousand generations to get a college and a graduate degree that I was smarter than the rest?''
And here's what Kinnock said: ''Why am I the first Kinnock in a thousand generations to be able to get to university?'' Then pointing to his wife in the audience, he continued: ''Why is Glenys the first woman in her family in a thousand generations to be able to get to university? Was it because all our predecessors were thick?''
Campaign journalists Jack Germond and Jules Witcover quoted Biden later, saying, "All I had to say was 'Like Kinnock.' If I'd just said those two words, 'Like Kinnock,' and I didn't. It was my fault, nobody else's fault.
After he dropped out of the race, he visited Kinnock in 1988, according to Reuters, and presented him with a bound copy of his own speeches. ''I told him he was welcome to use them whenever he liked, with or without attribution," Biden said.
Rand Paul, 2013
The Kentucky senator and former 2016 hopeful was in hot water back in 2013 when he was found to have plagiarized both in speeches and in his book published that year.
One of them was pointed out by MSNBC's Rachel Maddow, who noted he had given a speech quoting from the Wikipedia page for the movie "Gattaca." BuzzFeed and Politico then noted he'd plagiarized from other sources in another recent speech. On top of those allegations, BuzzFeed found that Paul had plagiarized three pages of his 2013 book, "Government Bullies," from a report by the Heritage Foundation.
Paul eventually admitted that he should have attributed things to his sources, but said he was being targeted by "hacks and haters."
"If it's required, I'll do it, but I think I'm being unfairly targeted by a bunch of hacks and haters," he said that November. "And I'm just not going to put up with people casting aspersions on my character."
Ben Carson, 2015
The retired neurosurgeon and another former 2016 hopeful also had some issues with lifted material from multiple sources, all with regard to his 2012 book "America the Beautiful."
According to BuzzFeed, which broke the story, Carson took passages from sources including a website called SocialismSucks.net, a press release from the Liberty Institute, CBS News, and multiple other books.
In a statement from spokesman Armstrong Williams, Carson apologized for lifting the material.
"I attempted to appropriately cite and acknowledge all sources in America the Beautiful, but inadvertently missed some. I apologize, and I am working with my editors to rectify the situation," he said.
John Walsh, 2014
Walsh, the former appointed senator from Montana, was running a competitive race in 2014 to win a full term in office when the New York Times reported that he had plagiarized huge sections of his master's thesis at the Army War College.
It wasn't just a line here or a line there: as much as three-quarters of the thesis was lifted verbatim from other sources, according to a side-by-side comparison from the Times, with no footnotes on wide swaths of that information.
The candidate was ultimately forced to drop his reelection bid as a result.
Thanks for reading CBS NEWS.
Create your free account or log in
for more features.