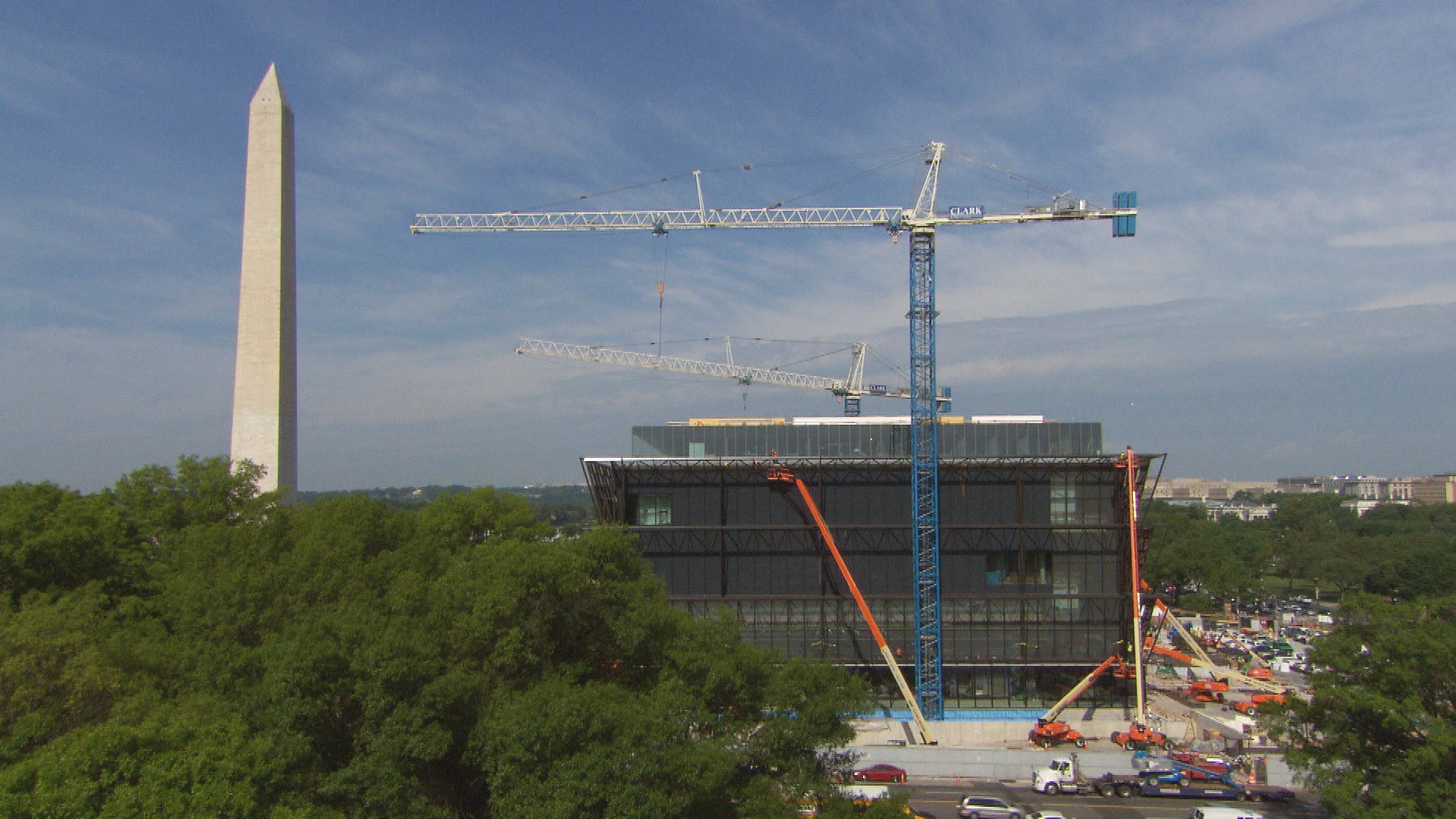 The following script is from "A Monumental Project" which aired on May 17, 2015. Scott Pelley is the correspondent. Nicole Young, producer.
Four hundred years have past since America's original sin and still riots are ignited in the friction between race and justice. As this debate continues the Smithsonian is completing a monumental project, the $500 million National Museum of African American History and Culture. The idea was authorized by an act of Congress which called it, quote, "a tribute to the Negro's contribution to the achievements of America." The words are jarring because the act was written in 1929. Building the museum has been a long struggle, just like the story it hopes to tell.
Beside the monument to Washington, a slave-holding president, the museum is breaking free of the ground on the mall's last five acres. Eight decades after Congress framed a museum on paper and then failed to fund it, the dream is being written, this time, in steel and stone. Ten floors. Five above ground, five below. Its complexion, rendered in shades of bronze, a building of color against history's white marble.
Scott Pelley: You've been at this nine years now. It's a big job.
Lonnie Bunch: Well, as I tell people, at eight in the morning I have the best job in America. And at two in the morning it's the dumbest thing I've ever done in my life.
[Lonnie Bunch: This is a Romare Bearden from the 1950s.]
Sleepless nights are all in a day's work for the museum's founding director Lonnie Bunch, a scholar of the 19th century.
[Lonnie Bunch: Clearly this is ought to be one of those moments where people are going to sort of reflect, pause.]
[Lonnie Bunch: What does it mean once we open? What does it mean in terms of development opportunities...]
"America will have a place that allows them to remember, to remember, how much we as a country have been improved, changed, challenged, and made better by the African-American experience."
In 2003, President Bush signed the law creating the museum. Congress put up $250 million. And, Bunch has raised most of another 250.
Lonnie Bunch: I knew that this is where this museum would have to be. That this is America's front lawn and this is the place where people come to learn what it means to be an American and this museum needs to there.
Scott Pelley: So, we're on the ground floor, this is where the visitors will come in. This will be their first experience in the museum. So, what's going to be here?
Lonnie Bunch: They will walk in either from the mall or from Constitution Ave and they will run in to amazing pieces of African-American art.
Scott Pelley: When all of this is finally complete what will America have?
Lonnie Bunch: America will have a place that allows them to remember, to remember, how much we as a country have been improved, changed, challenged, and made better by the African-American experience. They'll have a place that they can call home but they'll also have a place that will make them change.
But even this place is only space until you fill it.
[Smithsonian staff: Oh my goodness. Now did somebody already look at some of these things for you?
Woman: No.
Smithsonian staff: No?]
Seven years ago the Smithsonian began rummaging the attics and basements of America.
[Smithsonian staff: This may have marked a milestone in his life. And, what we don't know is what that was.
Woman: But at least it gives me something I can investigate.]
Three thousand people brought their family history to 16 Smithsonian events across the country.
[Mary Elliott: And this is the early free black family based out of Baltimore?
Donor: Yes.]
Scott Pelley: It sounds like "Antiques Road Show."
Nancy Bercaw: It is like "Antiques Road Show."
Mary Elliott and Nancy Bercaw are curators.
Mary Elliott: We have experts from across the museum field. Experts in conservation. Experts who understand about paper, about metals, about you-name-it, fabrics, textiles. And they come in and they review objects for the public.
[Smithsonian staff: The coating on this is in pretty good condition.
Smithsonian staff: Some of that looks like it's dried out a little bit.
Smithsonian staff: And don't put it near the air-conditioning unit because that will dry it out too much.]
Scott Pelley: How do you convince someone to give up a priceless family heirloom?
Nancy Bercaw: Do you know what? Our museum pitches itself. All we have to do is tell the absolute honest truth. People have been waiting for us. People in America have been waiting for this moment. And so, literally they just hand us things.
Mary Elliott: And we're very excited like you are.
Thousands of relics were examined. But only 25 will be in the collection. This is one of them.
Renee Anderson: This was actually a connection we made with the family. Mr. Jesse Burke was an enslaved man and he was charged with playing this violin and entertaining the slave holder and his guest.
This is the Smithsonian's warehouse in Maryland where the story is being written. And these are a few of the lines.
"Received by Grigsby E. Thomas, the sum of three hundred and fifty dollars in full payment for a Negro boy by the name of Jim, about ten years old...this 31st day of December, 1835."
Jim would have been familiar with these, shackles dating before 1860, bondage that might have been broken if the keeper of this Bible had succeeded in his bloody rebellion. Nat Turner had said that God commanded him to break the chains. His Bible was taken away before his execution. Paul Gardullo is a leader of the curating team.
Paul Gardullo: I think many of us who know the story of slavery, know about Nat Turner; know about Nat Turner from the perspective of perhaps a freedom fighter, perhaps a murderer. Well, we know this is a religious person. We know this is a person who can read. And when you begin with that, and those ideas, suddenly, the person of Nat Turner and your understandings of Nat Turner take on a whole new light. And I look to do that again and again. Ways that we can see well-worn stories, stories we think we know, in a new light.
You may think you know the story of a boy murdered for whistling at a white woman until you are confronted with his casket.
Lonnie Bunch: The story of Emmett Till is a crucially important story in terms of what it tells us both about sort of reinvigorating the Civil Rights movement, but also it's a story of his mother, Mamie Mobley, who was really one of the most powerful people, who said that her son's murder should not be in vain, that it should help to transform America.
No one was punished for the murder of Emmett Till. His body was exhumed in a later investigation. And the original casket was neglected.
Lonnie Bunch: But then the question was: Would we ever display it? Should we ever display it? And I wrestled a lot with it, but then I realize I kept hearing Mamie Mobley in my head. And she said, "I opened this casket to change the world, to make the world confront the dangers, the power, the ugliness of race in America."
Scott Pelley: A lot of the things that you intend to put on display are gonna be hard to look at.
Lonnie Bunch: What I'm trying to do is find the right tension between moments of sadness and moments of resiliency.
One resilient moment came out of the blue. Air Force Captain Matt Quy and his wife Tina rebuilt an old crop duster and in curiosity they sent the serial number to an Air Force historian.
Matt Quy: And he said, "Are you sitting down? Because I have some news for ya."
Turned out the 1944 the Stearman trained America's first black squadrons, the Tuskegee Airmen, who flew to fame in World War II.
Tina Quy: I had never really known much about the Tuskegee Airmen. I'd seen a P-51 plane but I'd never really, truly, understood what it meant.
[Matt Quy: Take your time.]
Before donating the plane, known as a PT-13, the Quys carried the last of the airmen back to the air.
Matt Quy: And it was just great to sit back in the back seat and look at this real Tuskegee Airman in a real Tuskegee airplane. Just magical.
Tuskegee Airman: The greatest thrill in my life was sitting in the seat where you are and watching the ground drop out from underneath me.
Lt. Col. Leo Gray: The PT-13 was the baby that we used to learn how to fly.
The Smithsonian collected the thoughts of Lieutenant Colonel Leo Gray in 2010.
Leo Gray: They said we couldn't fly. But we had the best record of any fighter group in the 15th Air Force and probably in the Air Force itself. We stayed with our bombers. We brought them home as best we could. And we proved that we could fly.
Time is the enemy of history. So, Smithsonian conservationists have been working for years restoring America's heritage from textiles to trains. This 1920 railcar had two sections "white" and "colored." The same number of seats but "colored" was compressed in half the space -- physical, touchable, Jim Crow confinement just like the guard tower from the prison in Angola, Louisiana; notorious for cruelty.
Carlos Bustamante: It's about 21 feet tall. And this is cast concrete, so it's an enormous object.
From monumental to miniscule, Carlos Bustamante is the project manager building a place for 33,000 moments in time.
Carlos Bustamante: So when you had the railcar, the railcar pieces, the guard tower, and all the support equipment, we had a convoy of about 12 semi-trucks traveling down the road across six states to get here. And it took them about three days.
Scott Pelley: How do you get those things into this building?
Carlos Bustamante: So we set up two very, very large cranes. And these cranes are rare. There's not a lot of them this size. And we picked up these two objects, and basically brought them over the site and lowered them down about 60 feet below grade.
Scott Pelley: The answer is, you don't move these objects into the building, you put these objects in place and you build the building around them?
Carlos Bustamente: Exactly. There's no other way, there's no other way.
Paul Gardullo: Oftentimes what I'm drawn to are some of the smaller things; shards of glass that were picked up after the bombing of the 16th Street Baptist Church in Birmingham, Alabama, and it's finding the balance between the big and the small, Scott, that makes this work a challenge and so wonderful.
Scott Pelley: What is something that you desperately want and have not been able to find?
Paul Gardullo: I want Willie Mays' mitt.
Which would be quite a catch to display along with Louis Armstrong's horn, and Chuck Berry's horn behind the chrome of his '73 Cadillac. There's the welcome of Minton's Playhouse which resonated to Miles, Monk and Dizzy. Ali's headgear, pristine condition. And this firemen's head gear, a revolutionary invention in 1914 by mechanical genius Garrett Morgan.
Scott Pelley: Do you think the country's ready for this now?
Lonnie Bunch: I don't think America is ever ready to have the conversation around race based on what we see around the landscape, whether it's Ferguson or other places, that people are really ready to shine the light on all the dark corners of the American experience. But I hope this museum will help in a small way to do that.
Scott Pelley: This is not the American Museum of Slavery?
Lonnie Bunch: This is not the Museum of Tragedy. It is not the Museum of Difficult Moments. It is the museum that says, "Here is a balanced history of America that allows us to cry and smile."
Thanks for reading CBS NEWS.
Create your free account or log in
for more features.