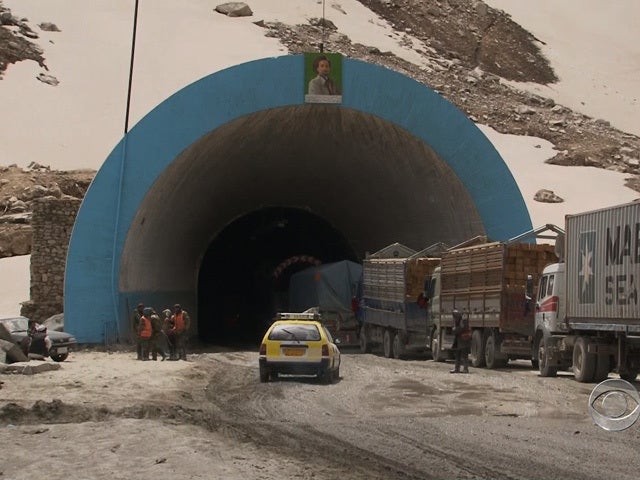 Afghanistan tunnel carries risks for NATO
(CBS News) SALANG, Afghanistan - Since Pakistan closed the Khyber Pass border-crossing late last year, NATO has had to supply its forces through the Salang Tunnel, a 1.6-mile long Soviet-era relic with unforgiving dimensions and a deadly history.
With only inches to spare, a huge tanker squeezed past a bus and through the Salang Tunnel.
The badly rutted road can jam trucks against the rocks or tip them over. Drivers can wait for more than a week to get through this dangerous mountain pass.
Despite the risks, coalition troops rely on the tunnel for 85 percent of their fuel. This is the best route available since Pakistan closed its borders to NATO trucks seven months ago.
Since then, a tunnel built for 1,000 vehicles a day has 10 times that traffic.
Afghan Gen. Mohammad Rajab is in charge of maintenance on the pass. "It's just one accident away from disaster," he said. "And unless something is done soon, it will be impossible for the tunnel to function."
The tunnel has no lights. And the ventilation system doesn't work. The air is choked with such high levels of carbon monoxide that some passengers get sick.
While there are other routes through the Hindu Kush mountains, the Salang Tunnel is the only one that is protected. So drivers have to make a choice: take your chances on this road, or risk being attacked by insurgents.
Like many here, this driver hauls fuel for U.S. troops. "I have been stuck for days on this road," he said. "It's very dangerous."
The Salang Tunnel was built by the Soviets in 1964, but never completely finished. Almost 1,000 Soviet troops died of asphyxiation in 1982 when an explosion trapped them in the tunnel. Since then, hundreds of travelers have died in accidents and avalanches.
Coalition forces wouldn't comment on the tunnel, but Gen. Rajab told CBS News NATO should pay for the repairs the added traffic has caused.
"Their convoys destroyed the road," he said, "and they have a responsibility to help us rebuild it."
So far, there are no plans to rebuild. The Salang Tunnel remains a critical artery for coalition supplies.
Thanks for reading CBS NEWS.
Create your free account or log in
for more features.