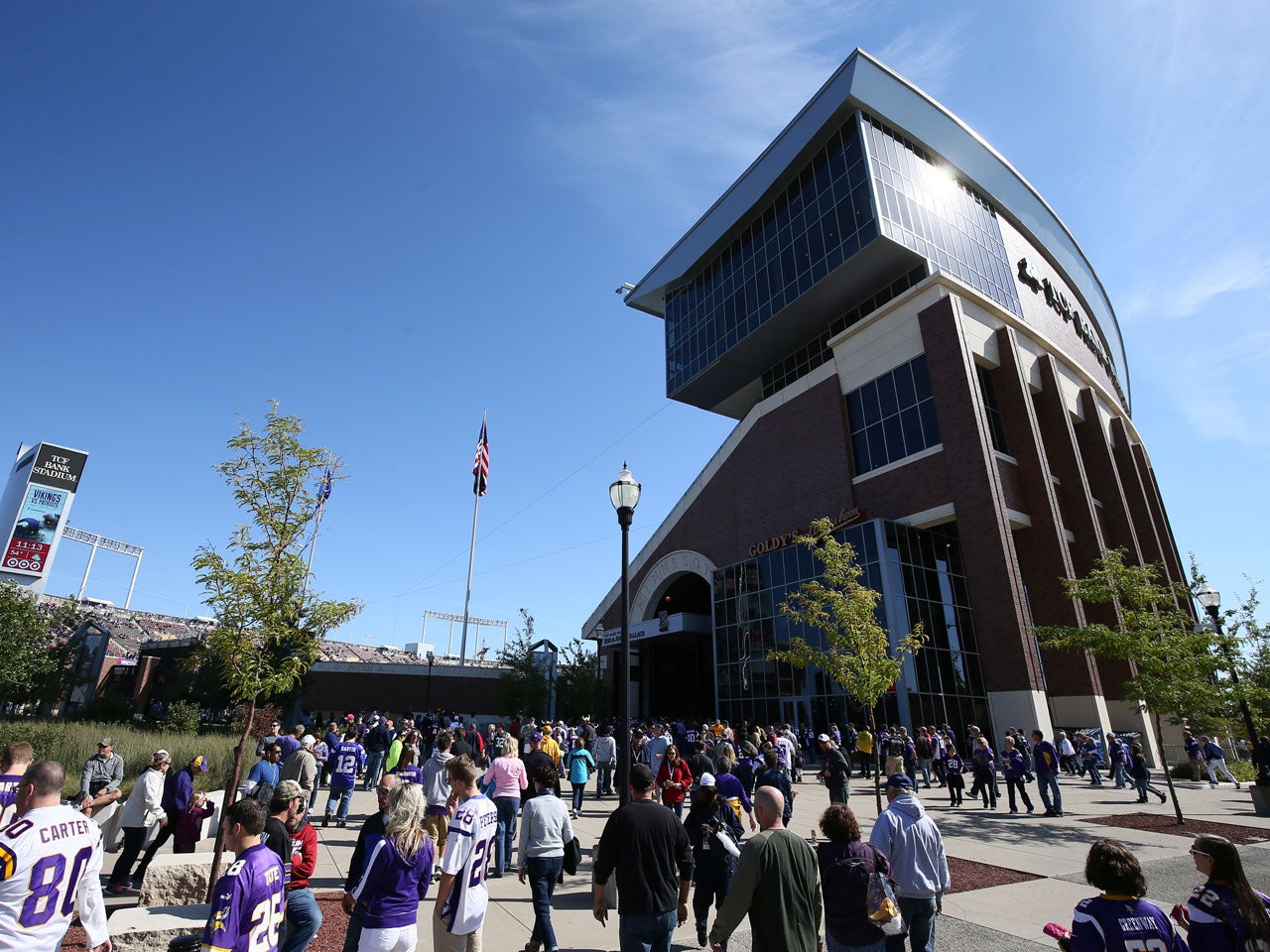 Adrian Peterson not at Vikings' home opener after child abuse indictment
MINNEAPOLIS - Plenty of No. 28 purple jerseys showed up for Sunday's Minnesota Vikings home opener. None were worn by the face of the franchise.
Adrian Peterson did not accompany the team to the stadium for the game against New England, keeping his distance after the Vikings deactivated him because of charges that he beat his 4-year-old son with a tree branch.
Peterson, a popular former NFL MVP, was indicted on Friday and flew to Houston early Saturday morning to turn himself in. He was booked and released and returned to Minnesota. Peterson was deactivated and has not been suspended, meaning he was eligible to come to the game and watch from the sideline.
But the controversy swirling his arrest would have made Peterson's presence at the game a considerable distraction. He is accused of repeatedly striking the boy, and Peterson has acknowledged to authorities that he did so as a means of discipline.
Nick Wright, host of CBS sports radio station 610 in Houston and one of the first reporters to break the Peterson story, said that he's read an account of what Peterson's 4-year-old son told police and described his story as "a heartbreaking story" on "CBS This Morning: Saturday."
"He mentions his reluctance to want to talk to police because 'Daddy Peterson might hit me,'" said Wright. "He references being hit in the face."
Wright also said that, according to the mother's statement to police, the boy told her that "Daddy has a whooping room."
"The child's story is truly, truly troubling, disturbing. I mean, sad is the best way I can put it," Wright said.
Peterson's lawyer issued a statement on Friday that said Peterson was using the same type of discipline he received as a child and did not intend to harm the boy.
The arrest rocked a league that has already been under heavy criticism for the way it handled former Baltimore Ravens running back Ray Rice's assault of his then-fiancee in an Atlantic City elevator and cast Peterson's future with the team into question.
No initial court date has been set and it remained unclear how the Vikings will handle the situation beyond this week. General manager Rick Spielman is expected to address the team's plans early this week after the team has gathered more information on the matter.
In 2011, the Vikings suspended cornerback Chris Cook with pay after he was arrested for allegedly assaulting his girlfriend and barred him from all team activities while his trial played out.
Cook wound up missing 10 games and was eventually acquitted at trial. He never faced discipline from the NFL.
The NFL is looking into Peterson's case as well, and if convicted he could face a minimum six-game suspension under the league's new tougher domestic abuse policy that was implemented after Commissioner Roger Goodell initially suspended Rice for just two games. After a video of Rice punching Janay Palmer in the face surfaced last week, he was cut by the Ravens and Goodell issued a new indefinite suspension.
Two days after the Rice furor reached a fever pitch, Peterson was indicted, putting one of the league's brightest stars at the center of some ugly allegations.
Vikings officials met on Friday afternoon to discuss their approach and ultimately decided to deactivate Peterson to give them some time to assess the situation. While the Ravens were criticized for standing behind Rice and the Carolina Panthers and San Francisco 49ers both had been allowing players accused of domestic abuse to continue playing while the legal process played out.
After the Vikings deactivated Peterson, the Panthers reversed course and did the same with defensive lineman Greg Hardy, who is appealing a conviction for assault and communicating threats.
Peterson's arrest cast a pall over what is typically a festive atmosphere for the first home game of the season. He has been beloved by fans ever since he was drafted in 2007. After knee surgery in December 2011, he returned just nine months later and won the 2012 MVP award.
Many fans showed up to TCF Bank Stadium - the Vikings' temporary home for the next two seasons while a new stadium is being built - still wearing Peterson's jersey on their backs.
But they weren't all necessarily shows of support. One woman was photographed wearing a purple Peterson jersey and carrying a tree branch in her hand by CBS Minnesota anchor and reporter Kim Johnson.
Thanks for reading CBS NEWS.
Create your free account or log in
for more features.