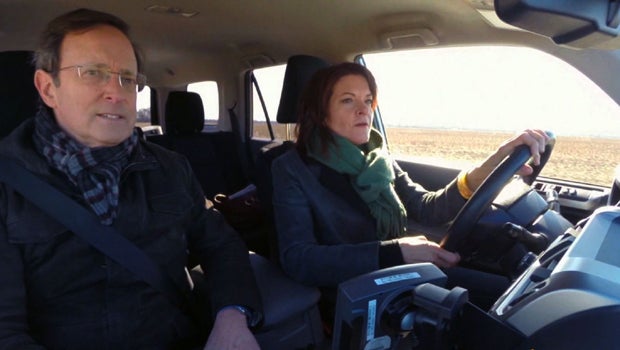 A road trip with Rosanne Cash
The daughter of Johnny Cash has been on the road home recently, and this morning she tells Anthony Mason all about it:
Dyess, Arkansas, was barely on the map when the Cash family moved there in 1935.
Johnny Cash, the musical icon, was just three years old, when his parents were awarded one of the new houses the government had built for farmers struggling through the Depression.
"This area was nothing -- it was just empty land," said Rosanne Cash. "And it was during the New Deal. FDR created this colony here."
WEB EXTRA: Read an extended interview transcript of Rosanne Cash with Anthony Mason.
Rosanne Cash first went back to her father's boyhood home two years ago when Arkansas State University began to restore the five-room building.
She showed Mason what would have been Johnny Cash's bedroom, which he shared with his brother, Jack, and sisters, Louise and Reba: "Four children in this room."
Rosanne had first seen the house as a child in 1968, when the Man in Black returned to Dyess -- what he described as "a beautiful little place."
"I sensed this kind of a weight about it, a sadness," she recalled. "And at 12 I didn't really assimilate what that was about.
"I think it took me until now to understand," she said -- to understand how Johnny Cash's strength grew out of the "gumbo soil" of Dyess, and how his sadness took root there, too.
"He lost his brother here, who was his best friend and his hero," she said. "But even more than that, understanding of what it meant to my dad now, I understand what it means to me."
Born in Memphis, but raised in California, Johnny Cash's eldest daughter had 11 Number 1 country hits of her own in the eighties.
But she spurned Nashville for New York, where she's lived now for more than two decades.
However, returning to her father's Arkansas home started the 58-year-old singer on a longer journey, across the Southern landscape she'd run from and rebelled against.
"It's lonesome, isn't it?" she said while driving. "I pushed it away for so long."
"Why do you feel you pushed it away?" Mason asked.
"I didn't feel at home here. I wanted a bigger world."
With her husband, musician and producer John Leventhal, Cash made a series of road trips across Arkansas, Tennessee, and the Mississippi Delta. A soundtrack would flow from their travels, an album called "The River & The Thread."
WEB EXTRA: Sample streaming audio of tracks from Rosanne Cash's "The River & the Thread" (Blue Note Records) by clicking on the audio embed below. You can also explore the album on Spotify (registration required), iTunes and Amazon.
"I didn't know how deeply I felt about the South until I started writing the songs, or how connected I felt, or the people I loved," she said.
On two unseasonably cold days with "Sunday Morning," Cash retraced part of her journey . . . along Money Road to Money, Mississippi.
They stopped at the grocery store where, in 1955, Emmett Till supposedly flirted with a white woman behind the counter when he was 14 years old. He was later found in the Tallahatchie River.
Till's murder would be a spark for the civil rights movement.
"I mean, to me this is like visiting the Lincoln Memorial," Cash said. "It's a vortex. Robert Johnson's grave is not that far down the road. The Tallahatchie Bridge is literally around the corner."
That bridge, made famous by Bobbie Gentry's song, "Ode to Billie Joe," isn't marked by any road signs, but Cash and her husband had to stop, she recalled.
"We actually self-consciously got our guitars out of the car and sat on the bridge with our guitars, hoping nobody would see us."
"When you were sitting on the bridge playing your guitar, what were you doing?" Mason asked.
"Pretending," she laughed. "Trying to go back in time.
"It was heavy, you know. It's like, this has taken on a mythic stature in our lives, this area, the musicians who are from here. The song 'Ode to Billie Joe,' about what happened on this bridge."
Cash's husband stepped in back of her while she was looking out, and snapped a picture. "As soon as he took it he said, 'That's the album cover,'" Cash said.
A little over a mile away, at a country church where service is held every third Sunday, is what's believed to be the grave of blues legend Robert Johnson.
"There are no signs pointing to his grave, so we wandered around the graveyard 'til we found it," said Cash.
On top of his tombstone Cash left a musician's offering: "I'm gonna leave my super-geeky white triangle medium pick for Robert Johnson. But I hope he doesn't mind. A nod to the master."
Cash's travels also took her to Memphis, where it all began, to the modest house on Tutwiler Street where Johnny and Vivian Cash brought home their first-born child.
"I have a picture of myself sitting right there on that porch with the same door in back of me," Cash said. "Thinking of my Mom pregnant sitting here. She always said she sat on this porch and ate a big bowl of cherry tomatoes every day of her pregnancy. That's all she wanted.
"Kind of sweet, isn't it?"
Nearly 25 years ago, Rosanne Cash rode out of Dixie. But the road she left on has now brought her all the way back.
"In the same way you push away your parents -- you push away a lot of things, your parents' habits, the things they treasure. You go, 'Well, that's not me. I'm original.' We all think we're original! But discovering those things that really connect you to the past and your parents and where they came from . . . I feel stronger for it. I feel whole for it."
"You thought you'd left it all behind
You thought you'd up and gone
But all did was figure out
How to take the long way home."
WEB EXTRA: Read an extended interview transcript of Rosanne Cash with Anthony Mason.
UPDATE: On May 4, 2018, the Arkansas Historic Preservation Program announced that Johnny Cash's boyhood home in Dyess has been added to the National Register of Historic Places.

For more info:
Thanks for reading CBS NEWS.
Create your free account or log in
for more features.