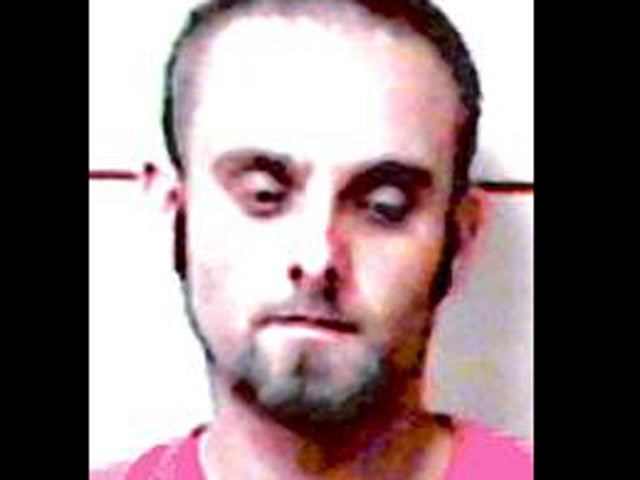 A new model aims to catch domestic violence that is likely to turn fatal
(CBS) It was a double blow to Lisa Holden's family: first, her husband allegedly beat her so badly on March 20 that she took their two daughters and hid in the woods near their Texas home for two days to escape him. Then, after she was taken to the hospital and he was arrested, Josh Holden was able to get out of jail when the district judge lowered his bond from $750,000 to $100,000.
"She called from the hospital hysterically crying," says Cara Boyd, Lisa's younger sister. "She said, 'He's out on bail.'"
Lisa, 27, told a nurse that the man who had allegedly beaten her with jumper cables and a baseball bat, fractured her ribs, stabbed her leg, and told her he would kill her, was free. The nurse didn't waste any time. According to Cara and her mother, Sue Boyd, the hospital staff sprang into action, quickly transferring Lisa to the facility's only locked room.
"I was terrified," says Sue Boyd. "I thought, he wants to finish the job."
Upon release, Josh Holden, 29, was fitted with a GPS monitoring bracelet, and according to Van Zandt County Sheriff Pat Burnett, he drove to the town where Lisa was recovering. Fortunately, he didn't know which hospital she was in, so he just drove back and forth along the road between the city's two medical centers and eventually went home.
"It's appalling, but domestic violence risk assessment is not taken into account enough by judges in bail decisions," says Jacquelyn Campbell, a professor of nursing at Johns Hopkins who helped created a Lethality Assessment Program (LAP) for police to administer on-scene at domestic violence incidents.
According to David Sargent, a former Washington, D.C. police officer who now works with Campbell and the Maryland Network Against Domestic Violence training police how to access risk in domestic violence situations, most courts don't have any kind of standardized way to look at an accused abuser and make an informed judgment about how likely he is to be an ongoing threat to his victim.
The Centers for Disease Control reports that in 2010, nearly 7 million American women and more than 5 million men were the victims of either stalking, rape or physical violence by an intimate partner. And in 2007, according to the Bureau of Justice Statistics, 1,640 women and 700 men were killed by their intimate partner.
It is preventing these fatalities that spurred Campbell and Sargent to action, advocating to for a system that would give judges - and others in the justice system - access to better, research-based, risk assessment. Their system is simple: when police arrive at the scene of a domestic incident, they ask the victim a series of 11 questions that help them determine her risk for future assaults or murder at the hands of her abuser. Questions include: "Does s/he own a gun?"; "Does s/he threaten to harm your children?" and "Does s/he ever try to choke you?"
And instead of simply handing the victim a phone number for services, officers are instructed to sit down with them and call the local women's shelter or hotline themselves, then stay as the woman makes arrangements to receive services.
The Maryland Network Against Domestic Violence reports that since implementing the LAP five years ago, there has been measurable progress. Intimate partner homicides in the state are down 41 percent since 2009, and although in 2004 only four percent of Maryland's domestic violence victims sought services in the community, more recently, 33 percent of the high-risk victims who spoke with a service provider while police were in their home followed through with services.
In 2010, Minnesota's Anoka County Attorney's Office received a grant from the Department of Justice's Office on Violence Against Women to expand the use of a lethality assessment in domestic violence cases.
"We had a disproportionate number of domestic homicides in Anoka County," says Paul Young, division chief of violent crime for the Anoka County Attorney's office and the coordinator of the grant.
That same year, Sergeant Brent Erickson of Minnesota's Anoka County Sheriff's Department attended a training with Sargent, and has since helped his department and several others in the county implement the LAP.
Although Erickson says that although it would be very difficult to quantify how many fatalities the assessment and link to services prevents, but he is certain the program is producing results. According to Erickson, between September 2010 and February 2012, the officers in his agency completed 609 assessments, and 68 percent were determined to be at high risk for homicide at the hands of their partner. Of those, 77 percent had received or were receiving ongoing services from the area's domestic violence assistance agencies.
And after Anoka police began implementing assessments, the county's judges and prosecuting attorneys started asking to see them to help make determinations on bail. Now, according to Young, the sheriff's office includes their lethality assessments in the paperwork they send to the county attorney after making an arrest and the probation office tells the judge if the assessment shows that the suspect before them has a low or high-risk of future violence against the victim.
Although a relatively small number of law enforcement agencies use the LAP, its popularity is growing. In Oklahoma, the LAP study run by Oklahoma University's College of Nursing, in collaboration with Campbell and Johns Hopkins, is one of four finalists for the 2012 "Innovative Initiative of the Year" Award from the Safe States Alliance. According to Janet Wilson, the associate professor who leads the study, judges in Tulsa have started asking for the LAP paperwork to help them make bail decisions.
And in May 2011, Oklahoma's governor signed a law mandating eight hours of domestic violence and stalking training for new police officers, including learning how to use the lethality assessment.
In January, Baltimore's mayor announce that she would expand the LAP from the three districts where it was being implemented to all nine of the city's police districts over the next three years.
Van Zandt County Sheriff's Investigator Kristine Holt told Crimesider that she is not familiar with the LAP, but the county does have some mechanisms to try and keep abusers behind bars and support victims. According to Holt, before a woman can drop charges against an intimate partner she is required to meet with a representative from the East Texas Crisis Center who is based in the sheriff's office. That way, even if she decides to drop charges, she has at least made face-to-face contact with an agency that can help her in the future.

Lisa Holden's family got some comfort last week when Josh Holden was re-arrested on two more counts of aggravated assault against Lisa. At first, bond was again set at $100,000 on each count. But when he appeared in court Wednesday and Judge Teresa Drum learned he had been driving by the hospital where his wife was, she raised the bond, and he is now being held in lieu of $750,000 again.
Thanks for reading CBS NEWS.
Create your free account or log in
for more features.