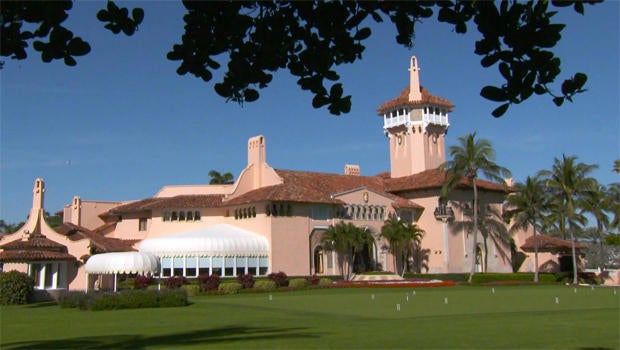 A Gilded Age throwback: Palm Beach, home of Mar-a-Lago
Palm Beach was America's TREASURE ISLAND long before Mr. Trump arrived, as Mo Rocca shows us in our Cover Story:
The first thing you should know about Palm Beach is that it's an island (unto itself).
"It was separate from the rest of Florida," said writer Laurence Leamer. "It was separate the rest of America. It was the most exclusive town in America."
For more than 20 years Leamer has lived in Palm Beach, which he calls "America's first gated community."
Rocca asked, "Achievement, lineage, or money? What confers status here?"
"They would like to think it's culture and lineage, but it's money," Leamer replied. "It's all about money. Your friendship's here defined by money. People look at you, 'I know what that tie is worth. I know what that suit is worth. I know where you belong. And you're a great guy, but you don't belong among the billionaires, okay?'"
Today, Worth Avenue is one of the most glamorous stretches of shopping in America. Just 110 years ago it was "jungle trail" and the site of an alligator farm.
It was Henry Morrison Flagler who transformed Palm Beach. Flagler, the co-founder of Standard Oil, came to this tropical wilderness in the 1890s and envisioned a paradise for the very wealthy.
"At a time when many of his peers would've been thinking about retirement, he's embarking on an enormous project," said Tracy Kamerer, chief curator of the Whitehall Flagler Museum. "The Hotel Royal Poinciana was his first hotel property on the island, the world's largest wooden structure, and it also had the distinction of being the world's largest hotel, ultimately accommodating 1,500 guests."
Vanderbilts, Rockefellers and Carnegies arrived, most (like Flagler) in their own private rail cars, along the railroad which Flagler himself built, opening Florida to tourism.
He also built the famed Breakers Hotel, and then his own spectacular estate, Whitehall. Call it "beaux art in the jungle."
The mansion, says docent Lisa Jensen, was Flagler's wedding gift to his much-younger third wife.
"She liked to throw parties," Jensen said. "She liked to play the piano and sing. And so she really brought some sunshine into his later years."
"What were their ages when they got married?" Rocca asked.
"71 and 34."
"That's sort of a Palm Beach tradition, no?"
"Yes, I'd have to agree with you on that. It is, yeah."
According to Kamerer, Flagler's home and the two hotels he built were really the beginning of Palm Beach society -- a society that soon needed fabulous homes to match its fabulous wealth.
Enter architect Addison Mizner.
He, says preservation consultant Jane Day, created the "Mediterranean revival look" -- a mash-up of European styles that became the architecture of choice for the Palm Beach elite. "You forget you're not in Italy or Europe or Spain," she told Rocca.
"It was a very romantic style. He'll try and mix and match things from different places around the Mediterranean. He wanted it to look as if it had been in the family for generations, so that it didn't look like it was all done in 1919, for example."
Villa Mizner, as the name would suggest, was the home of Mizner himself. Today it is home to the family of Dee and Nick Adams, a direct descendant of President John Adams, and their pet pig, Mona Lisa.
"His idea was to bring the light in, bring the air in, make the windows bigger, but retain that Gothic feel," Nick said.
Panels in the dining room are said to have originally lined Spanish Queen Isabella's 15th-century palace. Tiles from 16th-century Portugual are joined by tiles made to look like 16th-century Portuguese tiles.
Rocca asked, "Can you guess what Addison Mizner might think of Palm Beach today?"
"I think he would say it was very much like he had envisioned it, at least this area here," replied Dee Adams. "'Cause he himself was an eccentric."
For example, Mizner owned a monkey named Johnny Brown that ran around the very premises.
Another Mizner landmark, La Guerida, was home to the Kennedy family. President John F. Kennedy worked on his inaugural address here, in what he called his "winter White House."
Which brings us to Mar-a-Lago, now the winter White House of President Donald Trump.
Built by Post Cereal fortune heiress Marjorie Merriweather Post and her husband, E.F. Hutton, Mar-a-Lago is dazzling even by Palm Beach standards.
Olympia Devine, who has written the Trump-authorized history of the estate, explained an inscription found throughout the estate: "Plus ultra," which means "beyond the ultimate."
"And that is symbolic of how Mrs. Post led her life and what her expectation was for this property," Devine said.
Mrs. Post bequeathed Mar-a-Lago (which means "sea to lake") to the federal government to be used as a presidential retreat after her death in 1973. But then-President Richard Nixon preferred Key Biscayne. And so the costly white elephant was returned to the Post family, who couldn't find a buyer … until a certain real estate developer came along.
CBS News' Maria Shriver visited with Donald Trump in 1986:
Shriver: "You're not going to do anything? No personal Trump touches here?"
Trump: "No. Believe it or not, no."
If Palm Beach was America's first "gated community," says Larry Leamer, then Donald Trump was perhaps its most brazen gatecrasher.
"They despised him from day one," Leamer said. "Did everything to try to stop his arrival in this town. And he didn't care. He was gonna do what he's gonna do."
Mr. Trump bought Mar-a-Lago and turned it into a social club. But unlike Palm Beach's other infamously exclusionary clubs, Mar-a-Lago accepted gentiles and Jews, as well as African-Americans and openly-gay members (as long as they could pay).
Rocca asked, "What do you think motivated Donald Trump to do this?"
"Money," Leamer replied. "But he did it. I mean, a lot of people wouldn't do it. Would they want to start a largely Jewish Club in Palm Beach? Would they do that? Would you do that if you cared about social acceptance? Would you do that if you cared about the WASP elite on the island? You would never do that!"
Along the way, Mr. Trump has picked plenty of fights, over everything from the height of the flagpole on his club's lawn, to the flight path over Mar-a-Lago that he wanted changed.
Getting elected president solved that pesky problem.
Rocca asked, "Are you surprised that this is now the winter White House?"
"Well, it's amazing. I wouldn't have dreamed it," said Bernd Lembcke, the longtime managing director of Mar-a-Lago. "But of course I don't think anyone would have thought that would happen."
"That he would become president?"
"Yes, and it shows, in America, anything can happen. And it's a great thing, you know? It's really fantastic."
Lembcke says Mr. Trump is continuing Mrs. Post's great tradition of hosting, with one significant difference: "Mr. Trump, when he took over and made it a club, he did the same thing: He invited his friends, but for an initiation fee."
"So it's still a home for friends, but friends that pay an initiation fee?"
"Right, yes. And this way, it helps with the cost, you know?"
"I gotta try that with my own friends!"
For at least the last few years, members of Mar-a-Lago have paid $14,000 a year in dues, and a $100,000 initiation fee. But according to Lembcke, "We get a lot of requests for membership. We moved the membership fee up to $200,000, nonrefundable."
The doubling of the initiation fee, effective January 1, has been confirmed, prompting some to question whether Mr. Trump is profiting from his election. The club claims the fee had been $200,000 back before the last recession.
So, does attendance tend to spike when Mr. Trump is present?
"Phenomenally," said Olympia Devine. "You know, instead of five people for lunch, we may have 150 people. It's incredible."
It seems that the relationship between Donald Trump and Palm Beach has changed.
"Before the election, nobody in this island would say a good word about him," Laurence Leamer said. "Now, suddenly, everybody in the island has voted for him!"

For more info:
Thanks for reading CBS NEWS.
Create your free account or log in
for more features.