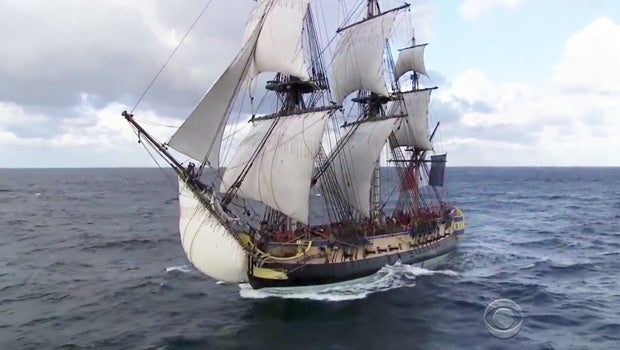 ​A friend of the American Revolution is reborn
"Freedom's Frigate" is the nickname of a sailing ship now on its way to America. It's a replica of the French vessel that helped our country win the war of independence. Before its departure, Mark Phillips went aboard:
As memorials to American wars go, this one goes right back to the first one -- the Revolutionary War. And it is certainly among the most handsome and most intricate history lessons ever built.
A newly-launched replica of the French frigate, Hermione, is now in mid-Atlantic, ploughing her way westward toward the U.S. East Coast. She's retracing the voyage of the original Hermione, whose mission was so crucial in the American War of Independence that she may be one of the most important warships in U.S. naval history, and the most forgotten.
The original was built for speed, and so, according to her crew, is the copy.
"Lafayette said she sails like a bird, and that's true," said Marc Jensen.
Lafayette is the point of this story. The French aristocrat and great friend of George Washington's, the Marquis de Lafayette, was returning to the revolutionary battle aboard Hermione on that 1780 voyage, and he was bringing good news -- that French troops and more fighting ships were also coming to America to support the cause.
They would prove decisive.
French ground troops played a major role in the final defeat of the British at Yorktown, Virginia, in 1781. That victory would not have happened if French warships hadn't beaten off a British fleet in the Battle of the Virginia Capes.
A lot of that has been forgotten as water has passed under the keel of history. The new Hermione was built to refresh peoples' memories.
And stepping aboard is like stepping back 250 years -- pretty fab!
Marc Jensen, a 57-year-old medical publisher from New York and one of several Americans on the mostly French crew, thinks it's pretty fabulous, too. Jensen was smitten by the ship and the history the first time he saw her.
"As an American I knew about Lafayette," he told Phillips, "but I knew nothing about how he got to the States and what age he was, and I found the human part of the story really fascinating."
What started as a love of history has become a love of this re-creation of it.
"I think on some levels we forget and we look at it as an old ship," Jensen said. "We think of her as very slow and ploddish. In fact, at the time she was a racecar, she was a Formula One at the time, and it impressed the other sailors to no end."
And she's still impressing sailors, including her captain, Yann Cariou. He expected to be handed a lumbering antique, or the reproduction of one. But he found something else.
Phillips asked, "As a man of the 21st century, and a man of the sea of the 21st century, are you impressed with what 18th century sail and 18th century marine technology accomplished?"
"Yes, very impressed," Cariou said. "Because when we sail the first time and we discovered immediately how the ship was a fast and seaworthy ship and we said, 'How?'"
"How" has become the operative word on Hermione. How to sail her? A lot of the skills of managing a square rigger had to be re-learned.
And how to build her. Almost all the skills that builders had in the days of great wooden sailing ships had disappeared, and the whole industry that supported shipbuilding had vanished centuries ago. Materials had to be sourced. A new generation of shipwrights had to re-learn long-lost skills.
Luckily they had time. It took 17 years to build the new Hermione as funds had to be raised, mostly from public contributions and by selling tickets to the historic shipyard where the construction slowly took place.
In the end, she cost about $30 million, and nobody's regretted a penny, least of all Bruno Grevallier, who was one of the people who had had the idea after a few too many glasses of wine one night.
Phillips noted, "It's almost more difficult to build -- or is more difficult -- to build a ship like this now than it would have been 250 years ago."
"Sure, and this is one of the reasons it lasted so long," said Grevallier. "The other one is getting the money to do it!"
There is a delicious irony to the story. The reason the Hermione could be rebuilt so accurately is because a sister ship, the Concorde, was captured by the British in 1783.
And the British were so impressed they brought the Concorde to England, where the Royal Navy made line drawings of her to find out what made her so good.
Those drawings are now in the British National Maritime Museum, where Jeremy Mitchell is their custodian.
There was a fundamental British curiosity, if not admiration, for the kind of ships the French were building in that era. Mitchell said the French ships "had a reputation for being faster, for being a more nimble ship. And it was always kudos for a French ship to be captured and then given to a British officer because of that reputation."
The drawings became the new ship. And the Hermione is set on a course to impress America again.
Adam Hodge-LeClair is a 22-year-old history student from Lincoln, Massachusetts. "When the ship arrived in Boston, there was a newspaper article in one of the Massachusetts papers of the period, that describes this arrival, and is talking about this incredibly new modern French frigate that's been copper-bottomed and carries Lafayette, this rock star," said Hodge-LeClair.

He said the Hermione represented the state of the art: "It was like looking at the equivalent of a modern destroyer, top of the line."
The original Hermione was nicknamed "Freedom's Frigate." She was wrecked in a storm in 1793. But now Hermione, and her story, live again.

For more info:
Hermoine will visit the following cities along the East Coast:

Yorktown, Va., June 5-7
Mt. Vernon, Va., June 9
Alexandria, Va., June 10-12
Annapolis, Md., June 16-17
Baltimore, June 19-21
Philadelphia, June 25-28
New York City, July 1-4
Greenport, N.Y., July 6-7
Newport, R.I., July 8-9
Boston, July 11-12
Castine, Me., July 14-15
Lunenberg, Nova Scotia, July 18

National Maritime Museum, Greenwich, England
"L'Hermione: The Frigate of Enlightenment" by Robert Kalbach and Jean-Luc Gireaud (in French)
Thanks for reading CBS NEWS.
Create your free account or log in
for more features.