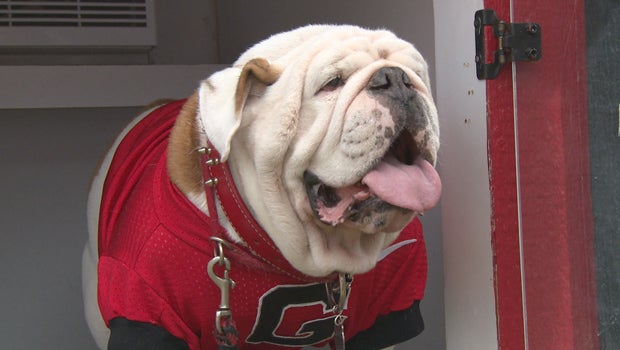 ​A dog's life: Meet University of Georgia mascot Uga
Season after season, Uga is one of college football's most valuable players. Well, not a football PLAYER, exactly, and he's often in the doghouse ... but a key part of the team all the same, as Martha Teichner will show you:
By the time the University of Georgia finally scored its first touchdown against Tennessee, more than 92,000 people were screaming.
But Uga was calm. That's Uga as in UGA, University of Georgia.

Philosophical in his air-conditioned house on the field, snuggled up to a bag of ice, it's as if he knew Georgia would win.
So Uga, just named by USA Today the best mascot in college football, was content to pose for pictures with his fans . . . something he does a great deal of on game days.
One fan, Michael, said he comes to see Uga at every game: "If I can, yes!"
For this particular dog's backstory, let's rewind to Game Day minus two. We find ourselves on Uga's home turf, so to speak -- Savannah, Ga., at Sonny Seiler's house.
In 1956, Sonny Seiler was in law school at Georgia. He had just gotten married. A friend of his late wife Cecelia's gave the couple a white, English bulldog puppy as a wedding present.
"We took him to the Sigma Chi fraternity house before the first home game," Seiler recalled. "Cecelia had made a shirt for him to wear out of a child's T-shirt and sewed a 'G' on the front made from felt. We took him over there never intending to take him to the game. But after several iced teas -- you know how that goes -- everybody's just, 'Let's take him to the game!'"
Next thing, the dog was asked to be Georgia's mascot.
"And so we named him Uga," he said.
For 58 years the Seiler family has considered it an honor to share, unpaid, their family pets with the university. He showed Teichner a shrine to the generations of Ugas, although he said, "We don't call it a shrine. Other people do!"
One photograph showed the retirement of Uga I at the stadium. "And when they said he's gonna retire, the whole stand started yelling,' 'Damn good dog!'
"We're now on Uga IX."
Sonny's Son, Charles, is Uga IX's owner and handler. He was born during the reign of Uga I and grew up with the dogs. "A lot of people say Uga's my brother!" he joked.
How many dogs are famous enough to have a Wikipedia entry?
Uga III presided over a national championship in 1980. In 1982, Uga IV, in black tie, shared the limelight when one-time Georgia star Herschel Walker won the Heisman Trophy. Uga V made the cover of Sports Illustrated in 1997, and then became a movie star, playing Uga IV in the Clint Eastwood film of the bestseller, "Midnight in the Garden of Good and Evil."
JIM WILLIAMS (Kevin Spacey): "No matter what you and I ever do in our lives, Mr. Kelso, neither one of us will be as famous as Uga."
Kevin Spacey played an antique dealer accused of murdering a friend. In real life, Sonny Seiler, a noted trial attorney in Savannah, got him off. In the movie, Sonny played the judge.
These days Sonny is semi-retired, but he's still Uga's lawyer, managing his image.
Uga wears what Georgia's players wear; his jerseys are made from fabric supplied by Nike.
All of the dogs have been related, each one inheriting a lifestyle that's cushy with a capital C. Would you believe Uga's got his own room in Charles Seiler's house?
"When he starts seeing his bag come out of the closet and his box rattle around," Charles said, "and he can hear his car open ..."
"Uga has his own car?"
"He does!" And of course it's University of Georgia red.
The dog also has a special official Georgia license tag with his name on it. "We've got 'em blocked out all the way through Uga XXV," said Charles.
Since bulldogs don't do well in heat, the car is specially engineered so the air conditioning can run full blast all the time, and Uga can ride in 60-degree comfort for the four-hour ride from Savannah to Athens for home games.
When Uga arrives at the hotel on the University of Georgia campus, he's greeted like a rock star, as he makes his way to the Uga Suite.
Before a game, Uga always gets a bath -- oatmeal aloe shampoo on his body, baby shampoo on his face. And what a face!
On game day when the Georgia players arrive at the field, it's called the "dog walk." But Uga rides a golf cart.
In addition to a lawyer and agent, Uga also has a professional publicist -- Sonny's daughter, Swann Seiler - to handle his PR. "Yes, that's right, it takes a village to raise a bulldog," she said.
Teichner asked Sonny, "I suppose there are people who are gonna see this and they're gonna say, 'Man, is that silly!'"
"I don't understand your question," said Seiler.
"This whole mascot idea -- has any of the stuff kind of struck you as being funny?"
"Never has struck me that way!" he said.
"It's not the slightest bit preposterous?"
"I hadn't thought about that," said Charles.
Nope -- Georgia takes its mascots very seriously. And when one dies, he's interred alongside the football field, his epitaph a fitting tribute: "To a dawg who's given full credit for the team's successes, but is never blamed for its losses."
You know the old saying about living the "life of Riley"? Forget about Riley -- he's got nothing on Uga.

For more info:
Thanks for reading CBS NEWS.
Create your free account or log in
for more features.