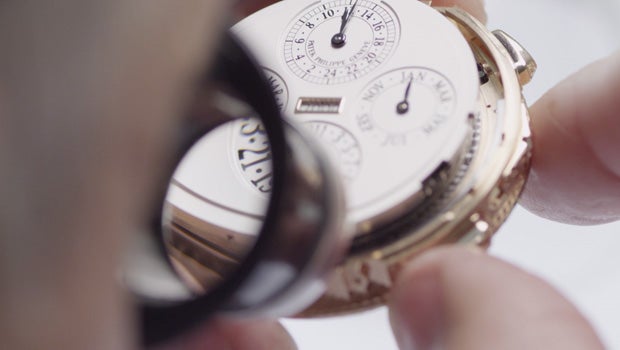 ​A critical time for watchmakers
It's about time to look at the extremes of timekeeping, including the watch on my wrist. Small in every way, except for its $25,000 price tag. Martha Teichner examines the Patek Philippe mystique:
Luxury Swiss watchmaker Patek Philippe is discrete about the famous owners of its timepieces. Ostentatious, they aren't. Expensive, they are.
"We generally start about $12,000, $13,000, and we go up," said Larry Pettinelli, president of Patek Philippe USA. "There are some very complex pieces that are over several million dollars."
He showed Teichner a particular watch with two distinct chimes. Cost? Approximately $400,000.
To understand why, you have to turn it over.
All the fancy mechanical things it does are called "complications." And Patek Phillippe watches tend to be very complicated indeed.
Which is why the company found itself with a problem: People who can repair them, in the digital age, are hard to find. So, the 175-year-old company decided to open its own watch school at its New York City offices.
Around 300 people applied; six were chosen. for their temperament as much as for their technical aptitude.
So what personal characteristics does Patek Philippe look for in order to select students?
"We need people who are committed, so commitment is a big quality," replied master watchmaker Laurent Junod, who heads the school. Plus, "Patience, of course."
"We do a training program here that is two years long. But the learning is not finished. You have to learn all your life."
Right now, four weeks into the course, students are learning to make their own tools. They won't even touch a watch for months.
Michael Morales loves working with his hands, but had no idea what to expect. "My initial thought was I'm gonna be in a small little wooden workshop, like Geppetto, and then develop skills I never had," he told Teichner.
"Straight out of 'Pinocchio'?"
"Yeah, the fairy tale!"
The school is free. Students are paid a small stipend to cover expenses.
Gaman Kwok had been tutoring elementary school kids. "If somebody told me that I will be training to be a watchmaker a year ago, I would, look at them like, 'What? Really?'"
Juan Alonzo was working at a men's clothing store. "I want to be as good as Laurent!" he said of his ambition.
At the end of the course -- if they pass their exams -- Patek Philippe will hire them. They'll move on to a lifetime of silence, and precision, and learning.
"Ever since I was a little boy, I wanted to be a watchmaker," said Jason Bird. After 13 years at Patek Philippe, Bird works on watches like the one he showed Teichner through a microscope. Its precision can tell you accurately what year, what month, what day it is, even in leap years. "It knows it's a leap year so it will automatically go to February 29," he said.
And remembers, it's mechanical -- there's no computer!
In this season of smartwatches, Patek Philippe figures its customers will understand that this is a very smart watch -- and that watchmakers have a future as well as a past.

For more info:
Thanks for reading CBS NEWS.
Create your free account or log in
for more features.