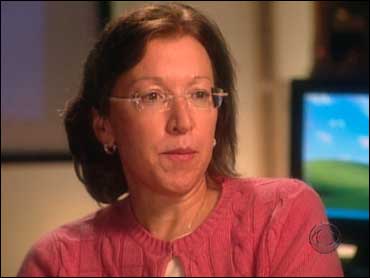 "85 Broads" Invests In Women
"When somebody says, 'Well, what do you invest in?' I could say, 'Well, you know, I own stocks or bonds or mutual funds,' but I say that I have invested in other women," Janet Hanson says.
Hanson knows a good investment when she sees one, CBS Evening News anchor Katie Couric reports. For fourteen years, she worked at the Wall Street powerhouse Goldman Sachs, and became the firm's first female sales manager and eventually, vice president. But when Hanson quit to be a stay-at-home mom, she realized she was missing a lot more than her six-figure salary.
"I felt really cut off. And I felt a horrible sense of disconnection," she says, adding that she got very depressed.
---

Read More About "85 Broads"
Janet Hanson explains the importance of networking

---
"And so I made a little promise to myself that if I ever kind of got it together, that I would start a network so that this didn't happen to other women," Hanson says.

She kept her promise. And what began as a way for her and 30 of her former Goldman Sachs gal pals to stay in touch, has turned into a unique online global network of over 16,000 members. Their mantra? The only way to shatter the so-called glass ceiling is to stand on each other's shoulders.

"Women have to learn how to become better negotiators for themselves, which is hard to do. So they need to see other women doing that successfully," Hanson says. "And the whole mission behind this network is that women cannot succeed if they don't leverage each other's massive intellectual fire power."

85 Broads — a play on her former Goldman Sachs address, 85 Broad Street — is one club that does discriminate. It's women only, and not just those looking for careers on Wall Street. Take the story of Bridget Altenburg, a West Point grad who did three tours in the Balkans. After leaving the military, she found herself in an unfulfilling civilian job. Enter 85 Broads.

"So I emailed Janet and said 'Do you have any advice for me?' I think she emailed me back within 30 seconds and said, 'I will be your employment agent, I will find you a job,'" Altenburg says.

Through networking with other members, Hanson discovered Sears was looking for someone with Altenburg's leadership qualities. And within two weeks, she had a job in the customer service department.

"I'm the director of operations, so it is pretty powerful," Altenburg explains.

85 Broads also takes a special interest in students, with mentoring initiatives at close to 200 graduate and undergraduate campuses worldwide. She calls it co-mentoring.

"Co-mentoring is the most respectful way to come at a relationship. I no longer wanted to see myself as a mentor and, because they were younger, they were mentees," Hanson says. "And so I said, let's start out as equals and go from there."

But if Hanson needed proof of the true value of her network, it was when it became her own lifeline, after she was diagnosed with breast cancer in 2002.

"The emails that I got back from women in their 20's and 30's who had been diagnosed with breast cancer — with ovarian cancer, with cervical cancer — and I said, 'This is really why this network exists,'" Hanson says.

Hanson says she's spent her entire net worth — almost $7 million — to create and maintain 85 Broads. But this former investment banker says it's the best trade she ever made.

"I think people feel that perhaps that's foolish because what's the return? What's the return profile on your investment?" Hanson says. "But it's really important to me because my legacy will be proving to women that investing in each other is the only way to go."
Thanks for reading CBS NEWS.
Create your free account or log in
for more features.