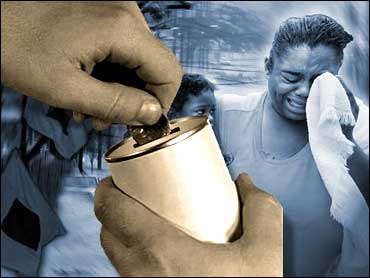 49 Charged In Katrina Fraud Scam
Forty-nine people have been indicted in a scheme that bilked thousands of dollars from a Red Cross fund designated for Hurricane Katrina victims, federal authorities said.
At least 14 suspects worked at a Red Cross call center in Bakersfield and are accused of helping family and friends file false claims for aid money, said Mary Wenger, a spokeswoman for U.S. Attorney McGregor Scott in Sacramento. Six have pleaded guilty to federal wire fraud charges, she said.
The fake claims drained at least $200,000 from the fund, with an average payout of about $1,000, Red Cross spokeswoman Devorah Goldburg said. The total could rise as the investigation continues.
The Bakersfield site is the largest of three Red Cross centers set up to handle hurricane calls. Others are in Niagara Falls, N.Y., and Falls Church, Va. Operators provided qualifying victims with a personal identification number they then presented to receive aid funds from Western Union, authorities said.
The Red Cross contacted the FBI after it performed an audit of the call center and discovered an unusually high number of claims were being paid out at Western Union outlets in the Bakersfield area.
"It was the Red Cross that found this problem," Jack McGuire, the national group's interim president, said Wednesday on NBC's "Today." "We put into effect these call centers to speed up delivery of support to people that needed it. As part of that, we put into place mechanisms to look for fraud up front and to find fraud after the fact."
None of the indicted employees worked directly for the Red Cross.
Officials with Fort Lauderdale, Fla.-based Spherion, which operates the call center, have said the company didn't have time to run background checks on its 1,200 workers.
The indicted employees were providing PIN numbers to their friends and family who would then go to Western Union to collect the funds, Scott said after the first eight indictments were announced in October.
"Sometimes they'd give a victim a PIN number and turn around and call a buddy with the same PIN, and there'd be a race to Western Union," Scott said Oct. 4.
McGuire said $200,000 was a small percentage of the approximately $1.4 billion Red Cross provided to Katrina victims. And he said Red Cross was working to improve its delivery and anti-fraud systems for the future.
McGuire, executive vice president of the charity's Biomedical Services, was named to serve as interim leader after President Marsha Evans announced her resignation Dec. 13.

Thanks for reading CBS NEWS.
Create your free account or log in
for more features.