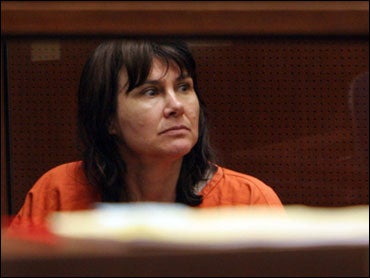 48 Hours Mystery: One of Their Own
Produced by Ira Sutow, Taigi Smith, Greg Fisher and Avi Cohen
The arrest of a cop was shocking news in the City of Angels.
It wasn't just any cop. Stephanie Lazarus was a well respected, highly decorated female detective with the Los Angeles Police Department. And it wasn't just a minor crime. She was charged with the murder of Sherri Rasmussen, a young nurse, 23 years after the killing.
"A Los Angeles police officer arrested for murder is just - it's a bombshell! I mean, you just don't get those kinda cases!" says Andrew Blankstein. "People were really stunned by this."
Blankstein and Joel Rubin cover the police beat for the Los Angeles Times and are consultants to "48 Hours."
"Nobody saw this coming. Nobody says she was a cop that they saw on the edge," Rubin says. "As far as we can tell, people in the department saw her as, you know, a cop's cop, a good cop."
"She's been a longtime patrol detective," Blankstein adds. "She was with the art theft detail in commercial crimes… which is theft of high-end art in L.A .And in doing those kind of investigations… it gets a lot of press, a lot of attention… If the police and prosecutors are going to be believed, she's harboring a secret about murder for 23 years!"
At first glance, Stephanie Lazarus has no obvious connection to the victim in this murder case - Sherri Rasmussen, a highly regarded nursing administrator.
Sherri came from a very close-knit family. Her parents, Nels and Loretta Rasmussen, adored their three daughters and their growing family.
"…Sherri was the glue that held the family together all the time…..and made everything that much better," says Sherri's younger sister, Teresa, tells "48 Hours Mystery" correspondent Maureen Maher.
But in February 1986, Sherri would be attacked, beaten and shot to death in her Los Angeles home.
"We were an ordinary family, you know... You never think something like this is gonna happen to you," says Teresa. She says she never could have anticipated that only just now - more than 20 years after her sister's murder - there's been arrest.
"It doesn't make the pain any less," she says. "You start the grieving process all over again, one more time."
The pain is most obvious when the family visits Sherri's grave.
"I don't believe that you can understand the grief… a part of your life has just been taken away forever," Nels Rasmussen tells Maher in an exclusive interview.
Her parents say Sherri excelled at everything she did. She became a nurse when she was only 20. At age 27, she was named director of critical care nursing at Glendale Adventist Medical Center, where she sometimes lectured.
"She liked taking care of people and making sure things were done right, that people were cared for properly," says Loretta Rasmussen.
"She said, 'I'm gonna elevate the stature of nursing in the nation,'" Nels recalls. "And she was on her way."
On top of a successful career, in early 1986, Sherri was extraordinarily happy, having just married the man she loved. Her new husband was John Ruetten, a young engineer she'd met in 1984.
As it would turn out, John was the single link to the woman accused of murdering his new bride.
That is because Stephanie Lazarus was Ruetten's ex-girlfriend. And according to Sherri's friends and family, Stephanie was not willing to give up the man she'd first met in college several years before the murder.
"Sherri was competition," Teresa says. "If she could get Sherri outta the way, then possibly John would be free to be with her again."
John is the one who discovered his wife's body.
"He was in a daze," Teresa explains. "He was sort of the deer in the headlights look, you know?"
John Ruetten has had little to say publicly since his wife's murder in 1986.
He briefly addressed mourners at a hospital memorial service for Sherri, telling them, "I just want to thank you all for coming and I want you to know that Sherri was the best professional in the world - she was the best wife that anybody could ever have."
"To me, he's kind of a central character that we really know the least about," says Blankstein.
"There's a lot of questions left unanswered," adds Rubin.
Questions like: what did John Ruetten know? Or suspect? He says that early on, he told detectives to talk to his ex-girlfriend - an L.A.P.D. cop.
"John is really the only person that has this connection to both women that can tell us what was going on to some extent?" Maher asks Rubin. "You would think, yeah," he replies.
But police were off chasing other leads, and Sherri's friend, Jayne Goldberg, says that Ruetten just quietly faded out of sight, leaving her quite angry.
"I would have expected that John would have been much more involved in the investigation… and demand answers," she says.
Especially, as months - and then years - went by with no resolution to the case.
"He should have been her advocate. She would have been his," Goldberg says. "Why wasn't he camped outside the police station? I don't understand it!"
In the winter of 1986, the dramatic spike in street crime was beginning to strain the Los Angeles Police Department as cops were called to investigate yet another killing; this time in a quiet, gated community in Van Nuys, the scene of Sherri Rasmussen's murder.
"There was a terrible struggle. She had been beaten badly about her face and there was blood on the walls. The place was a mess," according to Joel Rubin, a Los Angeles Times police reporter who has been looking into how police investigated this case 24 years ago.
"The presumption," Rubin explains, "is the attacker hit Sherri over the head - perhaps stunning her … which perhaps gave the attacker time enough to pull out the gun and shoot Sherri."
Rubin learned that investigators back then wasted little time theorizing what had happened.
"…the lead detective in the case very quickly hatched on the idea that Sherri Rasmussen had happened upon two men as they were trying to burglarize the house and that they killed her after being discovered. The crime scene includes… two pieces of electronics equipment stacked at the foot of the stairs. And they pointed to that as indication this was a burglary gone bad.
"…a few weeks later, two men tried to commit a similar burglary in the area and it bolstered their theory," explains Rubin.
Police even had sketches drawn of those two men, who they considered suspects in Sherri's murder. But there seemed to be little evidence that could tie anyone specifically to this crime. There were no witnesses and no gun. Even fingerprints they found led nowhere. But the Rasmussen family just wasn't buying any of it.
"...it wasn't a robbery," Nels Rasmussen tells Maureen Maher. "They couldn't convince me of it."
That's because Nels had his own idea about who was responsible for his daughter's killing. At the time, he didn't know her name - just that she was his son-in-law's ex-girlfriend - an L.A. cop.
She was his No. 1 suspect from day one of the murder because of a troubling story Sherri had told her father and some of her closest friends in the weeks leading up to her murder.
"She told me that John's ex-girlfriend had come to her office at the hospital - dressed provocatively…" says Jayne Goldberg.
"…and confronted Sherri about John and said that if she couldn't have John, nobody could," Nels recalls.
"And she said if this marriage doesn't work out, I want you to know that I'll be waiting to pick up the pieces," Goldberg continues. "At the time, I didn't realize how significant it was."
Mark Overland, Stephanie Lazarus' attorney, says that never happened. Overland confirms that a confrontation did occur at the hospital, but he tells a completely different version of what his client said to Sherri.
"…that you should tell John to leave me alone, since you two are now engaged," he says.
"So she went to say your fiancé is pursuing me?" Maher asks. "Yes," Overland replied.
But another one of Sherri's friends, Peggy Crabtree, who had worked in nursing with her, says Sherri told her about some alarming behavior by Stephanie Lazarus, who seemed to be showing up everywhere.
"John's ex-girlfriend kept appearing in places that Sherri would go. She couldn't go out to the store or go to the gym without having this woman show up," Crabtree explains. "Sherri was clearly fearful and unhappy that she just couldn't get this person out of her life."
"To me, it would border on harassment," says Nels.
When asked if Sherri thought there may have been something going on between John and Stephanie, Nels replies, "She had suspicion."
"… clearly the message wasn't getting through that the behavior of his ex-girlfriend wasn't acceptable. And it was creating enough stress and unhappiness for Sherri, that she was considering breaking up with John," says Crabtree.
Even more unsettling, Nels said at one point, Sherri told him she was being followed by someone in disguise.
"…she said the person that was following her was dressed like a boy… That sounds like she thought the person was a woman… but had eyes that could penetrate you and she said would make you think that they could see right through you."
John Taylor, the Rasmussen's attorney, says he has a pretty good idea who Sherri was describing.
"It's very telling. One of the things that Sherri told her father is she believed she was being followed by somebody who had either crazy or wild looking eyes," Taylor tells Maher. "Look at some of the photographs now of Stephanie Lazarus and maybe it's not that far off."
"What's the timing on when the stalking incidents began for Sherri with Stephanie?" Maher asks.
"I think immediately before they were married, and then after they were married," says Taylor.
Lazarus' attorney calls the stalking charges nonsense and says that it never happened. More importantly, he claims it's highly unlikely that any of the so-called stalking behavior that Sherri told her friends and father about can be used by prosecutors against this decorated cop.
"Evidence of any prior contacts is not gonna come in at trial," Overland says. "That's all hearsay. It's unreliable. That's why it's inadmissible."
"And you will be able to keep it out? Are you confident of that?" asks Maher.
"Unless the judge makes an error," he replies.
"Do you believe that Stephanie was obsessed with John?"
"Absolutely not," Overland says. "Infatuated? Yes. Obsessed? No."
For more than two decades, Nels Rasmussen has been on a frustrating quest to uncover the truth about his daughter's murder. But in 1986, he says he got nowhere trying to talk about it with Sherri's husband, John.
"I was unable to get much outta John," he tells Maher.
"Do you think he was holding back on information?"
"I have no idea what's going on in that boy's mind."
In fact, he was holding back. Years later, John would finally admit he had sex with Stephanie after he became engaged to Sherri.
"Did you think he was involved in Sherri's death in some way?" Maher asks Nels. "I do not believe that John had any involvement whatsoever."
Apparently, neither do the police, who reportedly eliminated John as a suspect early on. But Nels says he tried - unsuccessfully - to get the lead detective to focus on John's ex-girlfriend.
"That first week, the first five days, I mentioned it so many times that… he kind of lost his cool with me saying that there was no need to go there because there was nothing there," Nels recalls.
Says Taylor, "He kept pressing them to follow up on what was a very obvious lead to him - eventually to the point where the investigating detective told him, 'You're watching too much TV.' It's sloppy police work. It's negligent police work. It's incompetent police work."
"Is it possible it was a cover up?" Maher asks Taylor "Yes!" he replies.
It was about 6 p.m. when Sherri Rasmussen's husband, John Ruetten, returned home from work.
Los Angeles Times reporter Joel Rubin explains what happened next.
"He drives up to the townhouse. Her car is not there… He sees broken glass that's shattered from the sliding door. He comes up the stairway, opens the door…and finds his wife's body on the floor. Sherri's found with three bullet wounds - two in the upper torso area… and then a third one to the abdomen area."
Alan Tarsky, Sherri's neighbor in 1986, spoke to John Ruetten just moments after he discovered Sherri's dead body.
"When he came in from the garage, her body was the very first thing that he saw," Tarsky tells Maureen Maher. "His face was gaunt. He simply said, 'Sherri's dead. She's dead."
Shocked and curious, Tarsky became an eyewitness.
"I actually kind of snuck in while the police were still running in and out at the time… I saw the results of this disaster," he says. "There were signs that obviously there had been a struggle because chairs were turned over... The pool of blood that was in the living room was at probably three feet across at least."
Although he was a close neighbor, living about 20 feet away, not a single detective ever questioned Tarsky, never knocked on his door to ask if he saw anything. "In all these years, I've never been contacted by police," he says.
Police also never interviewed Sherri's sister, Teresa, who was among the last to see her alive.
"I saw her the day before she died. They didn't even talk to me," says Teresa.
Detectives also failed to contact close friend Jayne Goldberg.
"The police never came to me. They never questioned me," she says. "Why aren't the police coming to me, and saying, 'Do you know anybody who Sherri had a problem with?'"
Sherri had confided in Goldberg about all the problems she was having with John's ex-girlfriend.
"You know, that somebody recently came to her office and discussed her husband with her," Goldberg continues. "And then Sherri's murdered? It was the first thing I thought of."
But investigators still continued down the road of a botched burglary, even though the only missing items from Sherri's home were her car, which was a gift from John and, according to Goldberg, her marriage certificate.
"And I thought, 'Hmm…her marriage license and her car that she got when she was engaged?' Those two things are gone. It's just so symbolic," says Goldberg.
"When detectives did their walkthrough, there's nothing else in the house that's disturbed. So it raises questions about whether this was, in fact, a burglary," says Los Angeles Times police reporter Andrew Blankstein.
Detectives stuck to that botched burglary theory even as the trail went cold for more than two decades.
"You have to look back into the investigation to see if there's anything you missed. And in this case it was Stephanie Lazarus," says Burt Luper, a retired detective who spent 27 years working for the Los Angeles Police Department.
Now an investigator on Stephanie Lazarus' defense team, even he believes she was an obvious suspect.
"She should've been looked at right away," Luper says. "Who knows what would've come of that? We don't know. We'll never know because nobody did it."
"As a result of not looking at her, we've lost valuable evidence that may have exonerated her…" says defense attorney Mark Overland.
But Stephanie Lazarus was an unlikely suspect. She was just a beat cop at the time, but would go on to be a star detective in her department. The UCLA graduate eventually married another detective. She had survived thyroid cancer and even raised money to start a daycare program for members of the L.A.P.D. And eventually, she adopted her own little girl.
Steven Lazarus, Stephanie's younger brother, says there is absolutely no way his sister committed this brutal crime.
"When you know Stephanie and you know her devotion to law enforcement and to her family and humanity, it doesn't make sense, nor do I believe it," he says.
"To the best of anyone's knowledge, was Stephanie ever looked at? Was she ever questioned?" Maher asks reporter Joel Rubin. "No," he says. "The lead investigator at the time told me he never considered her a suspect."
That detective, Lyle Mayer, spoke to reporters in 1986 about the burglars he suspected of the crime. He's retired now and reluctantly spoke to "48 Hours" about that original investigation.
Mayer emphatically denies nearly every point made by Sherri Rasmussen's family and friends. He refused to go on camera, but told Maher that Nels Rasmussen never told him that Sherri was having a problem with John Reutten's ex-girlfriend. He also denies that John Ruetten ever told L.A.P.D. to check into Stephanie Lazarus and flat out denies any accusation of a cover-up.
Rasmussen family attorney John Taylor says, "Lyle Mayer's got a lot of explaining to do."
"He absolutely claims John never brought up the name Stephanie Lazarus, to L.A.P.D. ever… never mentioned any of the altercations," Maher says to Taylor.
"Within two days of the murder, there was a crime scene walk-through and John Reutten gave Lyle Mayer - at least told him - you should look at my ex-girlfriend… and he identified her as being a Los Angeles police officer."
"So is Lyle Mayer lying?"
"He has a selective memory."
Mayer does admit Stephanie's name came up during his investigation, but he says it was months after Sherri's murder and he felt there was no sufficient reason to question her. As for Mayer's failure to interview critical witnesses, he firmly denies those accusations.
"He says he spoke to hundreds, hundred of witnesses and that he absolutely canvassed the neighborhood. Do you think that's true?" Maher asks John Taylor.
"I think that there would have been a paper trail that would reflect the hundreds of interviews," Taylor replies. "I think he's fabricating that."
The Los Angeles Police Department would not comment on any portion of this case. Whatever the shortcomings of the original investigation, forensic investigators did manage to collect one crucial piece of evidence: a saliva sample taken from a tiny bite mark on Sherri's arm.
"When they re-open the case, the saliva sample is sent out to a DNA lab for testing," Rubin says, "and the DNA testing comes back as belonging to a woman."
The DNA belonged to a woman. The results were mind blowing and totally destroyed the theory that Sherri was killed by two male burglars.
Rubin says, "It led police to suspect one of their own… Stephanie Lazarus."
Twenty-two years had passed since Nels and Loretta Rasmussen's daughter, Sherri, had been brutally murdered.
"You never get over it and such heartache and such pain," says Loretta. "We thought that it was a lost cause," says Nels.
Little did the Rasmussen's know L.A.P.D. cold case investigators had quietly re-opened Sherri's case and had found that the bite mark on her arm contained female DNA. In 2008, a detective called Nels with the news.
"I was ecstatic," Nels tells Maher. "I told Loretta, 'We're gonna get it solved.'"
Nels says for the first time in two decades, a detective from the L.A.P.D. finally listened to him; that he believed an L.A.P.D. cop had murdered his daughter.
"He said, 'You know, if we get the DNA, and it doesn't match, we're back to base one.' And I say, 'You don't have to worry about that. You get the DNA and you've got yourself an arrest.'"
The new detectives immediately started trailing Det. Lazarus.
"At the point they find out that Stephanie Lazarus could be one of the suspects, next step [is] they have to get a surreptitious DNA sample," explains Los Angeles Times police reporter Andrew Blankstein.
To get a sample of Stephanie's DNA, detectives secretly followed her to a local retail outlet where she discarded a cup and a straw. Detectives then quickly collected the evidence and the samples were sent to a lab.
The results of the DNA test were stunning.
The DNA from the bite mark pointed directly at Stephanie Lazarus. The test indicated there was a 402 quadrillion-to-1 chance that the DNA belonged to someone other than Stephanie Lazarus. That's 402,000,000,000,000,000-to-1.
"It came back and it was exactly who I'd been pointing to for 23 years," Nels says getting emotional. "I never felt so good in my life."
As soon as the match was made, a team of more than a dozen L.A.P.D. officers secretly planned Stephanie's arrest. It was a covert operation, with an intense degree of risk. In fact, Stephanie Lazarus worked directly across the hall from the detectives investigating her for murder.
Reporter Joel Rubin describes it as "an incredibly trying situation. He says, "The idea of arresting a cop for murder is a pretty dramatic event and doesn't happen very often."
While plotting Stephanie's arrest, detectives feared she might be wearing her service weapon. Rubin explains they came up a plan to disarm her that began with a visit from a fellow detective.
"She is approached by a colleague who says, 'Hey, I just got word that over the weekend an arrest was made. This person is telling us that they have information about one of the cases that you're working."
Within minutes, Stephanie Lazarus made her way toward the jail, where she thought the suspect was waiting. If the detective was armed, she would have to remove her weapon before interviewing the suspect.
"She walks through the security point, at which point she's confronted by robbery/homicide detectives who say, 'Stephanie we need to talk to you," Blankstein explains. "It ended with her arrest.
Stephanie soon learned there was no suspect and that she had been set up. On June 5, 2009, more than two decades after Sherri's death, Det. Stephanie Lazarus was charged with the first-degree murder of Sherri Rae Rasmussen.
Prosecutors now believe a jealous Stephanie Lazarus took the day off from work and showed up at Sherri Rasmussen's condo. They believe she was armed with a .38 caliber Smith & Wesson revolver
Sherri's family believes Lazarus was there to confront the woman she thought had stolen her boyfriend, John Ruetten.
"There are indications of a prolonged struggle. There are indications that Sherri's wrists had been bound," says Rubin.
Investigators believe that at some point Det. Lazarus finally got the upper hand.
"Perhaps she shot her once or twice then bound her wrists, and then dealt the third and fatal shot at point-blank range," says Rubin.
As for the bite mark that contained the critical piece of DNA evidence, Blankstein explains, "Possibly, as the gun is being held up, there's an effort to try to wrestle for the control of the gun. And at some point during that struggle, prosecutors believe that the suspect bit Sherri Rae Rasmussen in the left inner forearm."
View excerpts of the Los Angeles Coroner's autopsy report
Nels Rasmussen has waited 24 years for a break in this case and says he is 100 percent confident that Stephanie Lazarus killed his daughter.
"Beyond a shadow of a doubt… this girl is guilty," he tells Maher.
But defense attorney Mark Overland says the prosecution's case against his client is no slam dunk.
"Do you believe that she is innocent?" asks Maher.
"Absolutely," Overland replies. "The bottom line is, this DNA evidence is flawed."
Stephanie Lazarus seems to be facing insurmountable odds given the DNA evidence prosecutors say they have against her. But her attorney, Mark Overland, is not deterred, preparing to challenge what is the state's strongest evidence.
"Is it your intention to try and impeach the DNA?" Maureen Maher asks Overland. "Well, we are looking into it," he says.
The swabs taken of the bite mark on Sherri Rasmussen's arm were kept in a vial and sealed in an envelope in 1986.
"The whole purpose of the envelope is to preserve the integrity of the specimen," says Overland. He claims the envelope had been misplaced for a long time, possibly years, but eventually was found in the L.A. County Coroner's Office.
Where was it all that time?
"It's hard to say where it was because we don't have any logs or records as to where it was," Overland explains. And he says that evidence may have been mishandled, or even worse, tampered with.
"This is approximately the way the envelope was found in the coroner's office," Overland tells Maher, showing her the vial protruding from the envelope.
Asked if the vial was sealed, Overland says, "No. This DNA evidence is flawed… The bottom line is, because of this tear, you can't say that this is the evidence that was recovered from the scene."
If he can discredit the DNA evidence, Overland feels he can win Stephanie's acquittal.
Overland says there isn't any other physical evidence to tie Stephanie to Sherri's murder. But prosecutors maintain they do have a circumstantial case, as well.
"Stephanie Lazarus reported a gun stolen to the Santa Monica police just two weeks after the murder of Sherri Rae Rasmussen," reporter Joel Rubin explains.
"The weapon that was reported stolen was a 5-shot snub nose Smith & Wesson .38 caliber revolver," adds reporter Andrew Blankstein.
Ballistics tests and gun shot residue found at the crime scene have led prosecutors to believe that gun was, in fact, the murder weapon.
"Prosecutors and cops believe that perhaps she reported the gun stolen so as to obviously make it untraceable," says Rubin.
"For all they know, it could be at the bottom of the Pacific Ocean," says Blankstein.
But Stephanie's attorney bristles at any suggestion that his client's gun was used to kill Sherri. "The exact type of gun that was used in committing the homicide has never been identified," says Overland.
That's because in order to link a gun to this crime, you have to be able to test it. And Stephanie's gun is gone. There are dozens of different gun models capable of firing the .38-caliber bullets recovered from the crime scene and Overland says any one of them could have been used to commit this murder.
"And that she just happened to have her gun stolen a couple of weeks later," Maher comments.
"Well, I mean, I don't like the way you phrase that, 'that she just happened to,'" Overland says. "She had her gun stolen a couple of weeks later. And she made a report on it."
As for John Ruetten, he remarried and has a family. He remains the mystery witness… the link between both the victim - his late wife - and the alleged murderer - his ex-girlfriend.
Reutten declined to speak with "48 Hours."
"He's obviously cooperated with detectives," Rubin says. "But relatively little is known about him."
"Is he the big witness we're going to want to hear from?" asks Maher.
"I would think so, yeah."
After years of silence, Sherri's mom, Loretta, says she finally heard from John the day of Stephanie's arrest.
"He called… and told me he was sorry that, because of him, that Sherri lost her life. And I really didn't care to talk to him," she says.
Even today, Sherri's younger sister, Teresa, says her dad, Nels, struggles with feelings of guilt "that he couldn't do more."
"We decided early on that we weren't gonna let the memory of Sherri die," Nels tells Maher. "I feel a responsibility to see this through to the end."
Says Taylor, "The family has many questions as to what Los Angeles police did back in 1986."
The Rasmussens have called for a police investigation into what went wrong back then.
Their attorney, John Taylor, says, "They owe that to the family."
"Has anyone in the department officially said, 'it was negligent? We didn't do our job?'" Maher asks Rubin.
"They're walking a tightrope here," he says. "But they are going pretty much as far as they can go up to that point without just coming out and saying it."
But the whole L.A.P.D. isn't about to stand trial; Stephanie Lazarus is. Since her arrest on June 5, 2009, she's been in jail in protective custody.
"I don't think she's seen her daughter, now, for the time that she's been in custody," says Overland.
Stephanie's been unable to pay the $10 million bail set by the judge; an amount of money that has outraged her brother, Steven Lazarus.
"It makes no sense," he says. "She has a right to a reasonable bail. It's a bit mind boggling to me, of how many people just think she's guilty."
Steven says people shouldn't be so quick to judge his sister.
"Just keep an open mind and watch and let the trial take place," he says. "She's entitled to her day in court."
"It's not a forgone conclusion that Stephanie is guilty of murder?" Maher asks Overland.
"Well, not only is it not a forgone conclusion," he says. "Let's have the government prove otherwise."
Stephanie Lazarus' trial is expected later this year. If convicted, she faces a possible 27 years-to-life sentence.
Thanks for reading CBS NEWS.
Create your free account or log in
for more features.