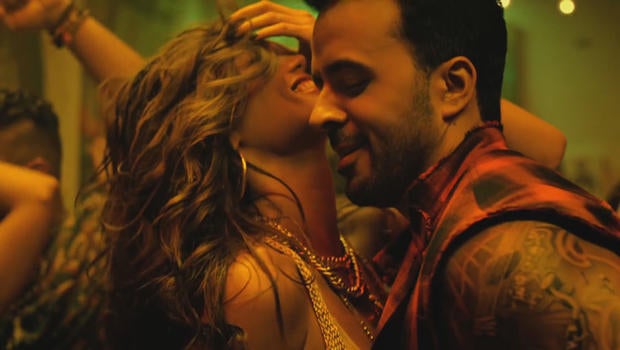 2017's most popular songs, books, movies and more
"Sunday Morning" reviews the most popular of pop culture of the past year:

Top Selling Books of 2017

1. "Wonder" (Knopf Books for Young Readers), R.J. Palacio's 2012 story of a fifth-grader struggling with a facial disfigurement, now the basis of a feature film.
2. "Milk and Honey" (Andrews McMeel), Rupi Kaur's collection of poetry and prose on surviving abuse, violence and loss.
3. "Diary of a Wimpy Kid: The Getaway" (Amulet), the 12th book in Jeff Kinney's popular series of children's books.
4. "Origin" by Dan Brown (Doubleday), the latest in the author's series of thrillers featuring symbologist Robert Langdon.
5. "You Are a Badass: How to Stop Doubting Your Greatness and Start Living an Awesome Life" (Running Press), a how-to guide by "success coach" Jen Sincero.
Sources: The NPD Group/NPD BookScan (Through 12/24/17)
---
Top Songs of 2017
"Shape of You" by Ed Sheeran

2. "Despacito" by Luis Fonsi & Daddy Yankee, featuring Justin Bieber
3. "That's What I Like" by Bruno Mars
4. "Humble." by Kendrick Lamar
5. "Something Just Like This" by Coldplay & the Chainsmokers
Source: Billboard Hot 100
---
Top Trending YouTube Video of 2017
"Until We Will Become Dust" by "Oyster Mask," performing on the Thai singing competition "The Mask Singer 2," which has been viewed more than 200 million times.
Top Google Searches of 2017:
1. Hurricane Irma
2. iPhone 8
3. iPhone X
Most Followed on Instagram
Selena Gomez (@selenagomez), with 130 million+ followers.
---
Top Grossing Movies of 2017 (U.S. box office)
"Beauty and the Beast" - $504 million

2. "Star Wars: The Last Jedi" - $483 million
3. "Wonder Woman" - $412 million
4. "Guardians of the Galaxy, Vol. 2" - $389 million
5. "Spider-Man: Homecoming" - $334 million
Source: Box Office Mojo (Through 12/30/17)
---
Top Television Programs of 2017
Most-Watched Television Broadcasts of 2017:
1. Super Bowl LI (FOX) - 112.0 million
2. NFC Playoff-Sun (FOX) - 48.5 million
3. AFC Championship (CBS) - 48.1 million
4. NFC Championship (FOX) - 46.3 million
5. NFC Wildcard Game (FOX) - 39.5 million


Top Primetime TV Shows of 2017:
1. "The Good Doctor" (ABC) - 17.4 million
2. "This Is Us" (NBC) - 16.4 million
3. "Young Sheldon" (CBS) - 16.4 million
4. "America's Got Talent – Tuesday" (NBC) - 16.0 million
5. "America's Got Talent – Wednesday" (NBC) - 14.7 million

Source: Nielsen (1/1/17-12/24/17)
Thanks for reading CBS NEWS.
Create your free account or log in
for more features.