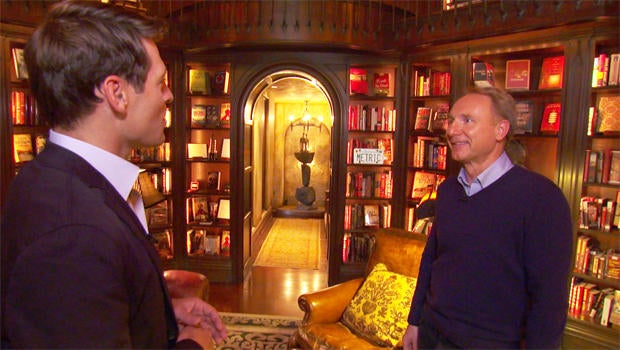 To "Da Vinci Code" author Dan Brown, success is no riddle
Dan Brown has found spectacular success writing CHAPTER AND VERSE about religion and intrigue. And there are plenty more books where these came from, as Tony Dokoupil discovered:
Dan Brown's library is filled to the rafters with hundreds of editions of his bestselling thrillers. He calls it his "Fortress of Gratitude."
He has more than 200 million books in print in 56 languages. "The Da Vinci Code," the book that made him an international star, is one of the bestselling novels of all-time.
The film version, and two others in the franchise, star Tom Hanks as Harvard professor of "symbology" Robert Langdon.
But with all that success has come a wave of criticism. Brown's been attacked by religious groups and readers for his depictions of Christianity.
"The Vatican basically called all the Catholic Churches and said, 'You boycott this book, and you go and you preach the gospel and you say that Dan Brown is telling lies,'" Brown said.
"Do you consider yourself anti-Catholic, or anti-religion?" Dokoupil asked.
"Absolutely not. Religion does an enormous amount of good in the world. At the same time, there are factions in every religion that take the metaphors and the myth of scripture and they hold them up as literal fact. And that is the danger of any philosophy, or any religion."
Now, Brown is at it again with a new novel, "Origin" (out this week), that puts God on the edge of extinction.
"Traditionally, all the gods fall," Brown said. "And my question is, 'Are we naïve to believe that the gods of today will not suffer the same fate?'"
"Would that be a better planet?"
"I personally believe that our planet would be absolutely fine without religion, and I also feel that we are evolving in that direction," he replied.
Brown's own evolution began at Phillips Exeter Academy, the prestigious prep school in New Hampshire, where his father taught math … and taught his son to put his faith in science.
Dokoupil asked, "How important do think math, your father, this classroom has been to your work?"
"Absolutely integral. Absolutely critical."
His mother, who passed away this year, was the school's music teacher and played the church organ; Brown learned to read music as he turned the pages for her.
As an Episcopalian, she taught her son to place his faith in God.
When asked when religion stopped being his truth, Brown said, "I remember the moment that I started the journey to find out what my truth was."
It happened when Brown was 13 years old: "I went to my priest and I said, 'Hey, there's a problem here. You're talking about Adam and Eve and the seven days of creation, and I'm learning about evolution. Which story is true?' And this particular man said, 'Nice boys don't ask that question.'"
That question now powers his writing.
He says one lesson Exeter taught him was "not to use too many adjectives, to get to the point."
But for decades Brown's career wandered … first to music ("I hit Los Angeles at about the time that the rap craze hit, and really nobody wanted to hear the kind of songs I was writing"), and few wanted Brown's early books, either. He wrote three novels and, under a pen name, a joke book called "187 Men to Avoid."
Dokoupil asked, "In the early days, was that your bestselling book?"
"That was my only selling book," Brown laughed.
He also started teaching back at Phillips Exeter, teaching English in the afternoon. And in the mornings, he wrote "The Da Vinci Code" in a little office above a friend's bookstore.
In the book, Robert Langdon has to solve a series of riddles and codes, much like Brown did as a child on Christmas morning. "My brother and sister and I would come down to the Christmas tree and there would be nothing there. There would just be an envelope with a code," he said.
His father's puzzles inspired his work. Published in 2003, "The Da Vinci Code" has sold more than 80 million copies.
"I was out in Portland, Oregon, on tour," he recalled. "And The New York Times list came out. And I'm just sort of waiting to hear if I'm on it. I walk into the hotel and the concierge says, 'Mr. Brown, you have a fax.' He held it up. It was just a giant number one."
The first call he made was to Mom and Dad.
"It's still meaningful to you today?" Dokoupil asked.
"It is, because we're talking about my parents. And I do believe that for most of us, the approval of our parents trumps everything."
But some fellow writers haven't been as kind. Stephen King, for example, has called Brown's writing the intellectual equivalent of Kraft Macaroni and Cheese.
"I like mac and cheese," Brown said. "We would all like to say, 'Eh, I don't read my reviews. I don't mind getting a bad review.' I think that's a lie. I think if you're a creative person you want everyone to love what you do. I'm trying to write books that taste like ice cream but have the nutrition of vegetables. I want people to enjoy these books. I'm not trying to emulate William Faulkner. I never said I was."
Still, the writer's life has been a good one. The 53-year-old and his wife live like figures in one of his own novels. Their home is full of codes, secret rooms, even a few hidden passages.
To Dan Brown, success is no riddle. His mom never had a chance to read the new book. But his father gave their parental approval.
And what was his book report? "He told me, 'Dan, this is the best book you've ever written.' I don't know if he's right. But that's what he said!"

For more info:
Thanks for reading CBS NEWS.
Create your free account or log in
for more features.