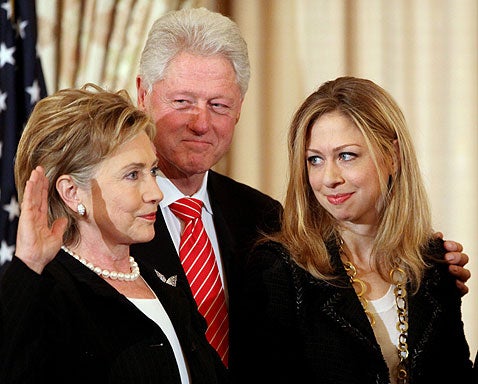 New leaked emails add fuel to Clinton Foundation controversy
The CBS News battleground tracker indicates if the election were held today, Hillary Clinton would get 288 electoral votes -- 18 more than she needs to become president.
Her campaign is under new pressure because of apparent leaked emails from WikiLeaks that raise more questions about payments to the Clinton Foundation. A former aide called money paid to former President Bill Clinton, "Bill Clinton Inc."
Bill Clinton's huge speaking fees have been known for years, but what this memo reveals is just how deliberately his top aide worked to arrange for donors to his charity to hire him to speak as well, and even give him lavish gifts, reports CBS News correspondent Nancy Cordes.
Clinton will campaign in North Carolina Thursday – a battleground state critical for Trump – where early voting has already started. She's focused on getting people to the polls.
"We cannot stop for a minute. No complacency here. Nobody flagging. We've got to get everybody out to vote," she told the crowd at a rally in Tampa.
Clinton will campaign for the first time Thursday with First Lady Michelle Obama, who has turned out to be one of her most powerful advocates.
"Decent men do not demean women," Michelle Obama said, campaigning for Clinton in Phoenix, Arizona.
They're hitting the trail as a hacked 12-page memo posted by WikiLeaks reveals how former Clinton White House aide Doug Band worked to obtain "in-kind services for the President and his family – for personal travel, hospitality, vacation and the like."
Band laid out how his company, Teneo, helped secure business for the former president from donors who were simultaneously giving to the Clinton Foundation, including two paid speeches to Barclays totaling more than $700,000. Laureate International Universities paid him $3.5 million to serve as honorary chairman.
In all, Band said he personally helped secure more than $50 million for the former president.
The memo was a response to an audit of the foundation, prompted by concerns expressed by Chelsea Clinton that Band and Teneo were "hustling" business at the Clinton Global Initiative.
In a separate email to Podesta, Band complained he was being held to conflict-of-interest policies that the former president did not have to adhere to, writing: "Oddly, wjc does not have to sign such a document even though he is personally paid by 3 CGI sponsors, gets many expensive gifts from them, some that are at home etc."
The former president has since severed his ties with Teneo, which said in a statement that it "worked to encourage clients, where appropriate, to support the Clinton Foundation because of the good work that it does around the world."
These hacked WikiLeaks emails also show the Clinton campaign aides have long been concerned about how this web of donors and clients would look to the public.
Thanks for reading CBS NEWS.
Create your free account or log in
for more features.