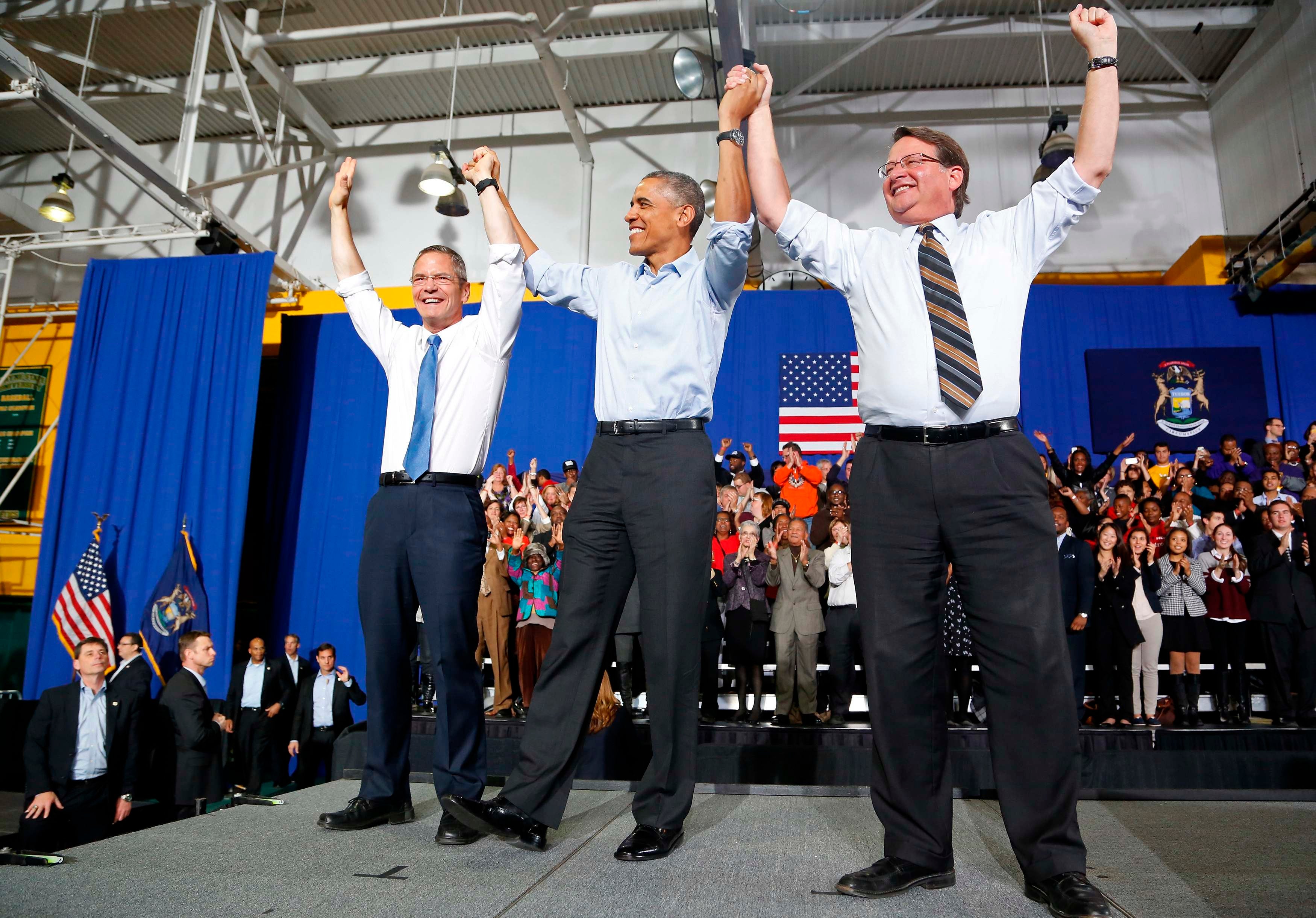 How Obama and Clinton candidates fared on Election Day
Wary of President Obama's low approval ratings heading into the midterm elections, the White House limited his exposure on the campaign trail. Steering clear of the many Democratic Senate candidates running in red states where the president was particularly unpopular, Mr. Obama stuck to only blue states where he was more likely to help rather than hurt.
Did the president ultimately hurt the nine candidates he campaigned with in the lead-up to Election Day? That's hard to say. He certainly didn't help much: Five of the nine candidates lost their races, and that number could rise to six if Connecticut Gov. Dannel Malloy does not eke out a last-minute win in his re-election race.
Plus, all the time he spent fundraising for Democrats did not result in their maintaining Senate control. The upper chamber is now firmly in the grasp of Republicans.
Of course, the president wasn't the only high-profile Democratic surrogate who came out to help those in his party. Former Secretary of State Hillary Clinton did 45 events for 26 candidates in the two months before Election Day. Her win record was ever so slightly better than Mr. Obama's: 11 of the candidates won, 13 lost, one (Louisiana Sen. Mary Landrieu) is headed for a runoff, and another (Colorado Gov. John Hickenlooper) was still locked in a toss-up race early Wednesday morning.
One Republican in particular was not about to let Clinton get away with such an unsuccessful record in the 2014 elections. Sen. Rand Paul, R-Kentucky, made it personal when he tweeted, "You didnt think it could get worse than your book tour? It did. Courtesy of the U.S. voters." He linked to a Facebook page that shows Clinton campaigning for and sometimes arm and arm with six Democratic Senate candidates and incumbents who lost on Tuesday, with the damning hashtag, "HillarysLosers."
Paul, one of the several Republicans who has already begun trying to tear Clinton down before there are any official candidates in the 2016 election, is unlikely to let the meme go in the coming months.
Mr. Obama only ventured out of Washington in the final weeks of campaigning. On the stump, he would argue the economy was faring better under his and other Democrats' leadership and that only Democratic candidates would look out for all Americans by working to pass legislation to raise the minimum wage and ensure equal pay for men and women.
"Mary Burke doesn't believe that the minimum wage 'serves no purpose' -- as one Republican said. She knows the difference it can make to some hardworking mom who's working already and having to take care of her kids. And she's trying to make ends meet. That makes a difference to her," Obama said last week at a rally for Burke, the Democrat who was running to replace Wisconsin Gov. Scott Walker, a Republican who had already survived a recall election in 2010 following his initial election in 2010.
Burke ended up losing to Walker by about 8 percent.
Mr. Obama also made a trip to heavily Democratic Maryland, where he won nearly 62 percent of the vote in 2012, to help Democrat Anthony Brown in his surprisingly tight re-election bid.
Despite Mr. Obama telling voters that Brown had "devoted his entire career to fighting for you," Brown got clobbered in the governor's race by Republican Larry Hogan, who was winning by nine points early Wednesday morning.
Mr. Obama's effect on the election was mixed. Just under half of voters (46 percent) said the president was not factor in the vote they cast for House candidates, according to CBS News exit polls, compared to 39 percent who said President George W. Bush was not a factor in their votes in 2006. But those who were voting based on their feelings for Mr. Obama were far more likely to cast their ballot as a negative statement than a positive one: One-third of voters said their vote was in opposition to the president, and only 20 percent said their vote was in part to show support of the president. Mr. Bush's numbers were 36 percent and 22 percent respectively in 2006.
Thanks for reading CBS NEWS.
Create your free account or log in
for more features.