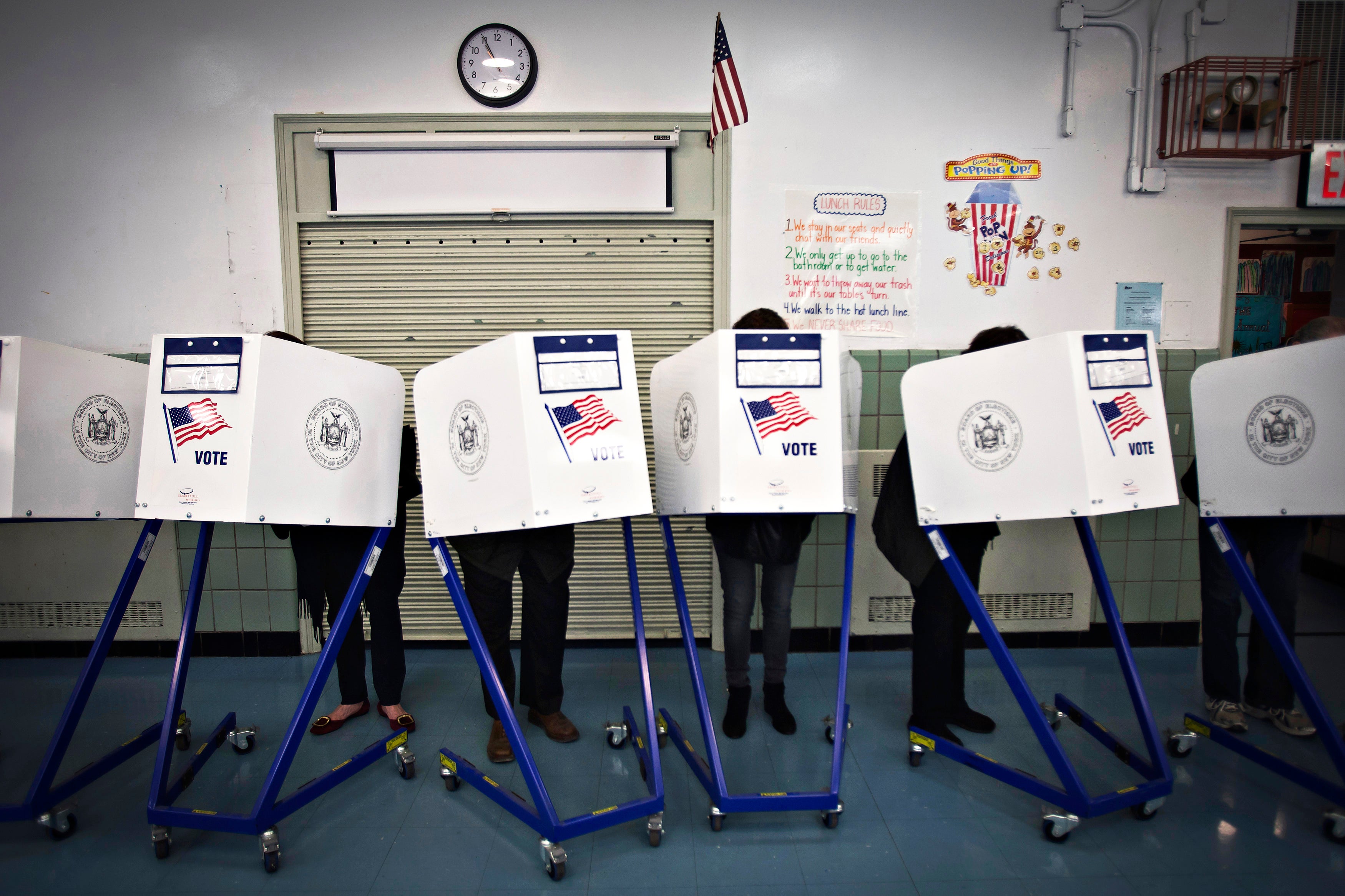 2014 Midterm Elections: GOP takes control of the Senate
Republicans are projected to win control of the Senate for the first time since 2006, according to the CBS News decision desk.
The GOP is projected to pick up four key Senate seats previously held by Democrats, in Iowa, Colorado, North Carolina and Arkansas. Republicans are also projected to pick up three more Senate seats -- as expected -- in Montana, South Dakota and West Virginia. The GOP needed six pick-ups to win control.
Additionally, the Republican Party is projected to hold on to two key seats in Kansas and Georgia.
Meanwhile, in Kentucky, Senate Minority Leader Mitch McConnell is projected to defeat his Democratic challenger, Kentucky Secretary of State Alison Lundergan Grimes. Now that he's secured a sixth term in office and Republicans have taken control of the Senate, McConnell is likely to be the chamber's next majority leader.
The CBS News decision desk also projects that the GOP will keep control of the House, with a 226 to 171 majority.
Most of the competitive governor's races remain hotly contested, even though polls began closing at 7 p.m. ET. But CBS News projects that Republican Scott Walker has won re-election as Wisconsin governor in his third election in the last four years. He was first elected in 2010, and then faced a recall election in 2012 after he moved to strip Wisconsin public workers of their collective bargaining rights.
In Georgia, Republican Gov. Nathan Deal is projected to defeat Democrat Jason Carter, the grandson of former President Jimmy Carter. In Ohio, Republican Gov. John Kasich is projected to win re-election.
In Arkansas, the CBS News decision desk is projecting that Republican Rep. Tom Cotton will defeat Democratic Sen. Mark Pryor, giving Republicans their first major Senate pick-up of the night. Republicans are projected to score another major victory in Colorado, where Rep. Cory Gardner is projected to defeat Democratic Sen. Mark Udall.
Additionally, in North Carolina -- this year's most expensive race -- Republican Thom Tillis will oust Democratic Sen. Kay Hagan, CBS News projects. And in Iowa, Republican Joni Ernst is projected to defeat Democratic Rep. Bruce Braley in the competitive race to replace retiring Democratic Sen. Tom Harkin.
In a victory for Democrats, incumbent Sen. Jeanne Shaheen of New Hampshire is projected to win re-election, defeating Republican Scott Brown.
In West Virginia, Republican Rep. Shelley Moore Capito is projected to defeat Democrat Natalie Tennant. Capito and Tennant were vying to replace retiring Sen. Jay Rockefeller, a Democrat. In South Dakota, CBS News is projecting that Republican Mike Rounds will be the next senator from South Dakota, replacing retiring Democratic Sen. Tim Johnson.
In Montana, Republican Steve Daines is projected to defeat Democrat Amanda Curtis in the race to replace incumbent Sen. John Walsh, a Democrat. Walsh dropped his re-election bid after evidence emerged that he plagiarized a paper.
In what's sure to be a relief for Republicans, incumbent GOP Sen. Pat Roberts is projected to defeat his independent challenger Greg Orman. The race became unexpectedly close after the Democratic challenger dropped out of the race, leaving Orman as the main contender against Roberts.
Republican scored another victory in Georgia, where David Perdue is projected to win the Senate race to replace retiring Republican Sen. Saxby Chambliss, after a close contest against Democrat Michelle Nunn.
Democrats had high hopes for Nunn, and earlier in the evening, the demographics of the Georgia electorate appeared to be in her favor. About 30 percent of the electorate Tuesday was African-American, the same as in 2012, and they broke 93 percent to 6 percent for Nunn.
The competitive race could have also stemmed from the candidates' efforts to side-step important issues. Half of Georgia voters say that health care reform - on which Nunn has avoided taking a position - has gone too far. Meanwhile, 57 percent of voters favor raising the minimum wage, an issue on which Perdue has not taken a definitive stand.
Over half of Georgia voters disapprove of the job Mr. Obama is doing as president, but at the same time, a substantial 44 percent plurality say that the president did not factor into their vote today. Additionally both Mr. Obama and Republicans in Congress receive negative marks. As many as 59 percent are dissatisfied or angry with Mr. Obama, and 64 percent feel that way about congressional Republicans.
Voters who have gone to the polls so far this Election Day are dissatisfied with both President Obama and the Republicans in Congress, exit polling shows. They are also very pessimistic about the economy, with 38 percent saying they are very worried about the economy and another 40 percent saying they are somewhat worried about it. Only 35 percent feel the economy is getting better, while a nearly equal 31 percent say it is getting worse. Nearly two-thirds believe the U.S. economic system favors the wealthy. And half of voters believe the economy will be worse for the next generation.
Thanks for reading CBS NEWS.
Create your free account or log in
for more features.