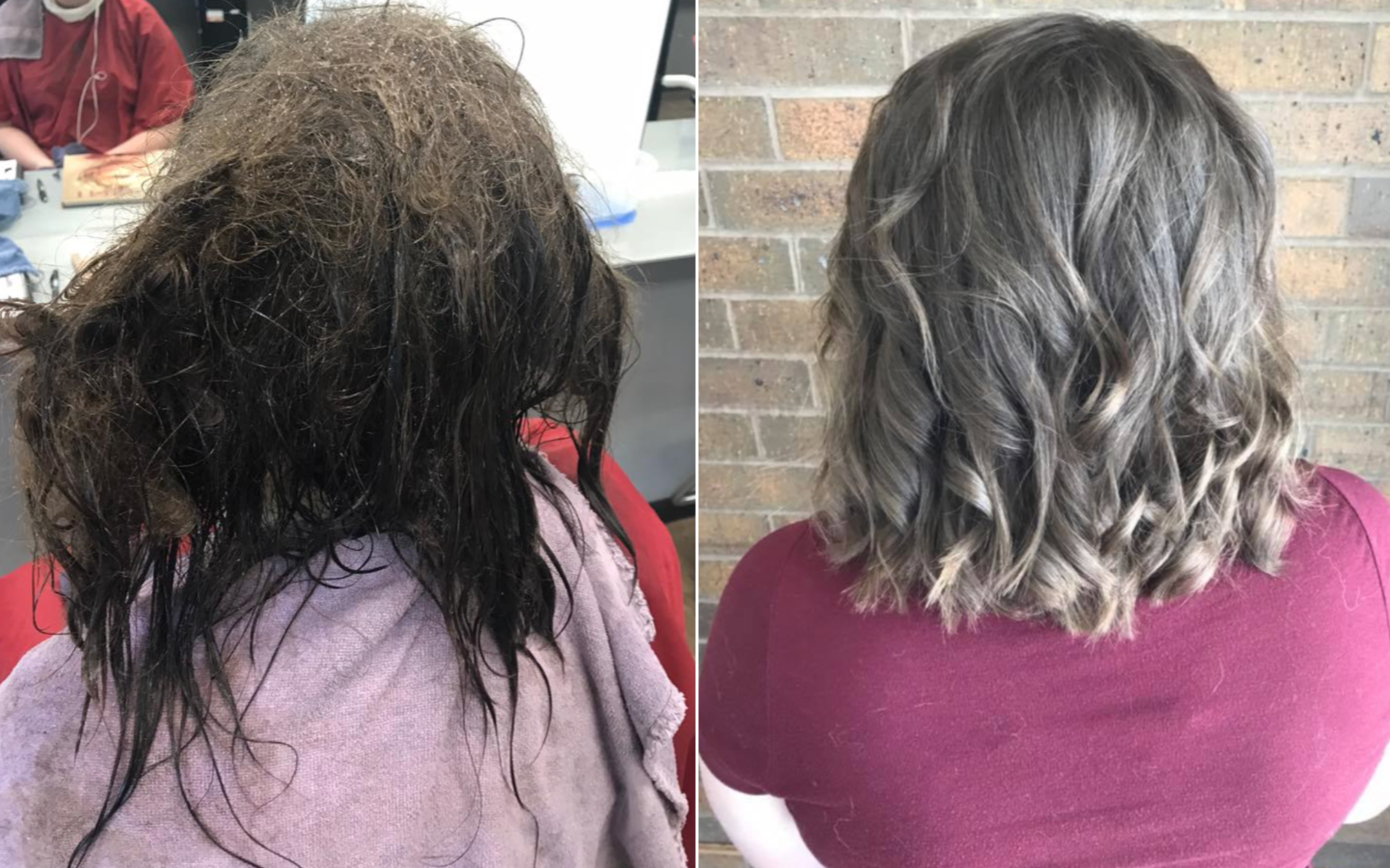 16-year-old girl's hair transformation shows impact of depression
When a 16-year-old girl walked into a hair salon with matted and tangled hair last week, hairdressers weren't sure they'd be able to help.
The teenager spent 8 hours sitting inside a classroom at Capri College in Waterloo, Iowa, as a cosmetology student attempted to comb through it. But there was more work to be done, so the teen was told to come back.
She returned the next day, taking a seat at 20-year-old Kayley Olsson's station. Frustrated, she shrugged her shoulders and whispered, "Just shave it."
From the outside, the teenager knew most people wouldn't understand how her hair got this way. For months, the girl couldn't bring herself to brush it. Some days, she couldn't even force herself to get out of bed, except to use the restroom.
"I feel worthless. This is worthless," the high schooler told Olsson.
Olsson knew what the problem was — she, too, suffers from depression.
"We're going to try as much as we can without having to use the clippers," she assured the teen. "I can't promise anything, but I'm going to try my hardest to keep the length of hair that you want."
Slowly, Olsson began to comb out the knots, one section at a time.
As she was making small talk with the girl, she discovered the teen's parents had gotten a divorce a few years ago and she has been struggling with depression ever since.
"She started explaining to me how she feels and told me how she used to be involved in so many sports — every sport you could play—but in the last two years mental health just took over."
Olsson continued to work, slowly, careful not to pull on her hair too hard.
Five hours later, she managed to brush out all of the girl's hair. She washed and blow dried it, gave it a trim and even curled it. And for the first time, Olsson saw the girl smile as she looked at herself in the mirror.
"I feel like she was put in my chair for a reason," Olsson said.
Before the girl walked out, she told Olsson school picture day was coming up.
"This time, I will actually smile for my school's pictures," she added. "You made me feel like me again."
"It was the best tip or amount I could have ever gotten," Olsson said.
Thanks for reading CBS NEWS.
Create your free account or log in
for more features.