How A COVID-19 'Rapid Response Team' In Chicago Is Working To Fix Decades Of Neglect In Black, Latinx Communities
By Dorothy Tucker, Samah Assad, Carol Thompson
CHICAGO (CBS) -- For more than 40 years, Ronald Macon has called Auburn Gresham home.
He's one of more than 47,000 people who live in the South side community. At 11 a.m. every Tuesday, Macon, along with hundreds of other residents, head to East 79th and Halsted to pick up food and PPE at a distribution by the Greater Auburn Gresham Development Corporation.
"I come here to participate in the gathering around here and meet other people, but mostly to get the food that they have here," said Macon, who lives in a senior citizen home nearby. "It's a very wonderful thing that they're doing in the community."
Macon knows his community is one of those hardest hit by COVID-19. The first death in the state happened there, and since March, 36 people died, according to CBS 2's analysis of Cook County Medical Examiner data.
"I'm so humble and so grateful to these people here," he said of the distribution volunteers. "With the pandemic, this is the most grateful thing. It's like a godsend."
The distribution is among several events part of the efforts by Chicago's Racial Equity Rapid Response Team. Mayor Lori Lightfoot announced the creation of the team in early April, which includes a partnership with community organizations like the Greater Auburn Gresham Development Corporation, Austin Coming Together and South Shore Works.
Specifically, the group of community leaders is tasked with developing strategies to slow the spread of COVID-19 and combat the pandemic's disproportionate effect on Black and Latinx communities.
In early April, CBS 2's mapping and data analysis uncovered Auburn Gresham, majority Black, was one of five hotspots with the most COVID-related deaths. Today, citywide, the numbers are still startling: more than 1,000 people out of the 2,619 who died, or 42 percent, are Black.
But Carlos Nelson, a member of the Rapid Response Team, and CEO of the Greater Auburn Gresham Development Corporation, said he wasn't surprised by the devastating losses in his community. This is the outcome of decades of systemic unequal access to food and health care in Black and Latinx communities, he said, but it's still difficult to stomach the reality.
"We knew that if a situation like this occurred, we could be devastated, and that's exactly what happened," Nelson said. "This pandemic reared it's evil head and highlighted a lot of the challenges, unfortunately, that we've had to deal with for decades."
After CBS 2's reporting, Lightfoot announced Auburn Gresham, along with Austin and South Shore, would be the focus of the Rapid Response Team's work. Today, the deaths are even higher than they were four months ago. Deaths in Auburn Gresham increased from six to 36. South Shore, which had seven deaths, now has 114. And deaths in Austin, which were five, are now 20 times greater than in April. A total of 121 deaths happened there, as of July 29.
Chicago COVID-19 deaths by neighborhood
You can explore COVID-19 deaths across Black and Latinx communities in the maps below by zooming in and clicking on each point or neighborhood. Click the arrow at the bottom of the map to switch to a new map. You can also click the button at the top for more information about each map.
So how does the team measure success and growth? Through efforts like the food distribution, fueled by the Greater Chicago Food Depository, to combat food deserts in underserved communities. The distribution at 79th and Halsted can be found in the parking lot of a shuttered Save-A-Lot – symbolism for hope in a community that needs more grocery stores, Nelson said.
Boxes of fresh produce and meat line the lot, feeding up to 1,200 people each week and another 1,000 people through a drive-through option.
The volunteers distributed more than 1 million pounds of food to 14,500 families since March. The team also delivered nearly 4,000 meals to seniors. In addition, more than 125,000 masks were given out to residents.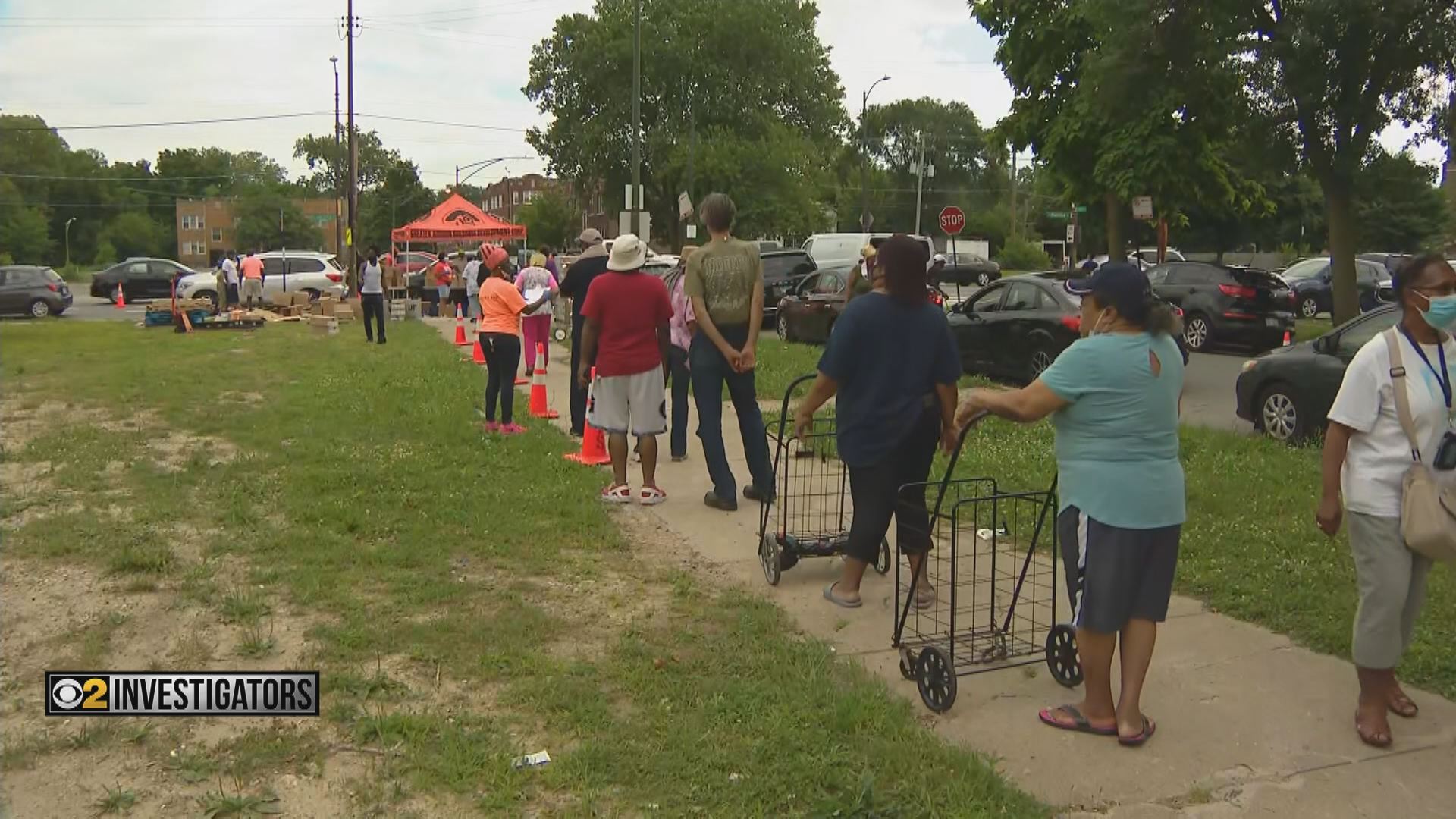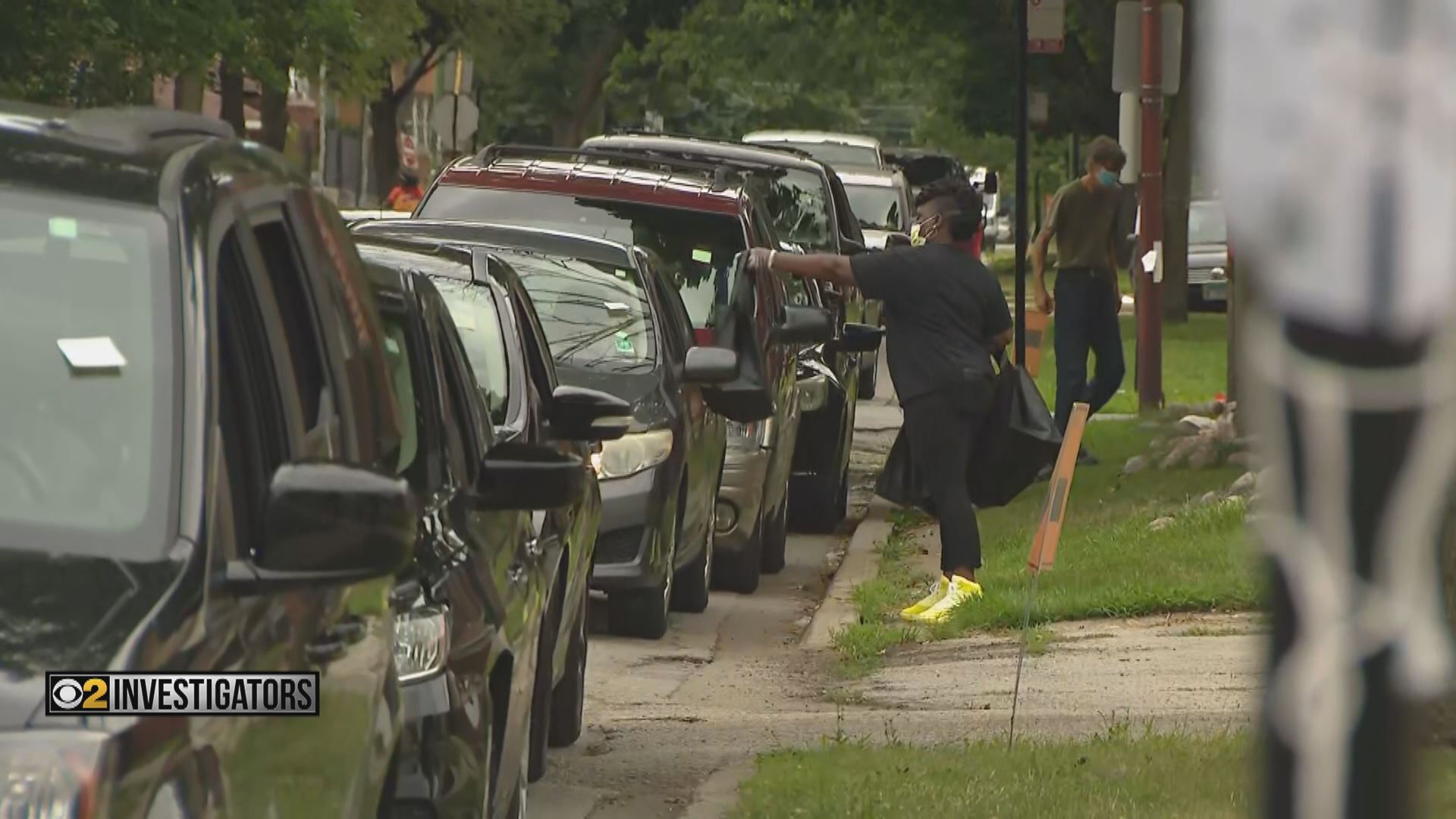 And recently, with an increase in cases in Chicago's Latinx communities, the Rapid Response Team also expanded its efforts to Pilsen, Belmont-Cragin and Little Village. Since March, more than a quarter of those who died in Chicago are Latinx, as of July 29. Little Village, with 121 deaths, is the community with the second most deaths in the city.
"Over the last couple of months, we have seen the numbers in the Latino community really go through the roof," said Luis Gutierrez, a member of the Rapid Response Team and CEO of Latinos Progresando. "One of the things that the task force has done is let the data really lead the work that's happening within the task force."
In the targeted communities, six new testing sites were opened. Specifically, to reach more residents, there are four static testing sites and two mobile testing sites per day. More than 1 million masks and 6,000 boxes of food have been distributed.
The team also focused on increasing awareness about COVID-19 through the distribution of more than 250,000 flyers.
"So we went from a community that had very little access to masks and gloves and sanitizer, for example, to a community that has been working really hard to make sure everyone has access to those things," Gutierrez added.
The Rapid Response Team also leveraged its relationships and networks in the community to secure financial aid at a time when the pandemic left nearly 1.5 million unemployed in Illinois.
In Auburn Gresham, for example, $380,000 was distributed to 250 families to help pay rent, mortgage and utility bills.
"Many of the folks that come through are not individuals that are destitute or homeless," Nelson said. "These are middle income families that have been challenged by COVID-19. Income loss and wage loss, and little access to food."
The disparities also include lack of Internet access for many families. In Austin, the team distributed 500 laptops and worked with Comcast to provide families with Internet at a reduced cost, said Darnell Shields, Executive Director of Austin Coming Together.
"Because of the disparities that exist in those communities, there was a greater toll taken on those communities," Shields said. "And a lot boils down to lack of resources, and it boils down to structural racism, and strategies and policies rooted in structural racism, that don't allow communities that are primarily Latinx and Black to thrive."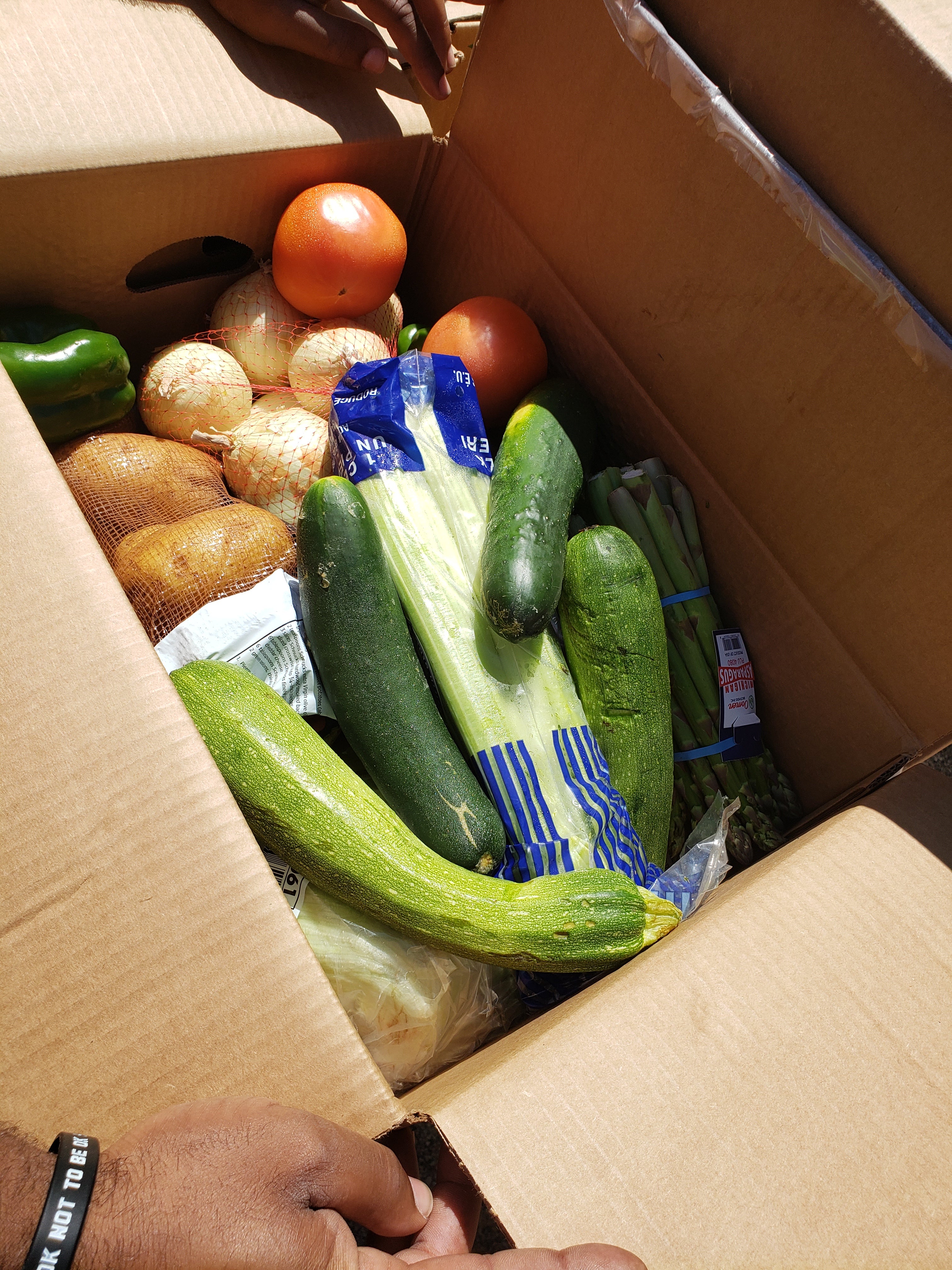 Anton Seals, Jr., Executive Director at South Shore Works, said the multi-community coordination and efforts are key to ensuring there are equitable resources to match the needs of the city's most vulnerable.
"So all across the South and West sides, there's a united force between both Black and Latino communities from the grass roots up around what this city can reimagine itself to really be," Seals said.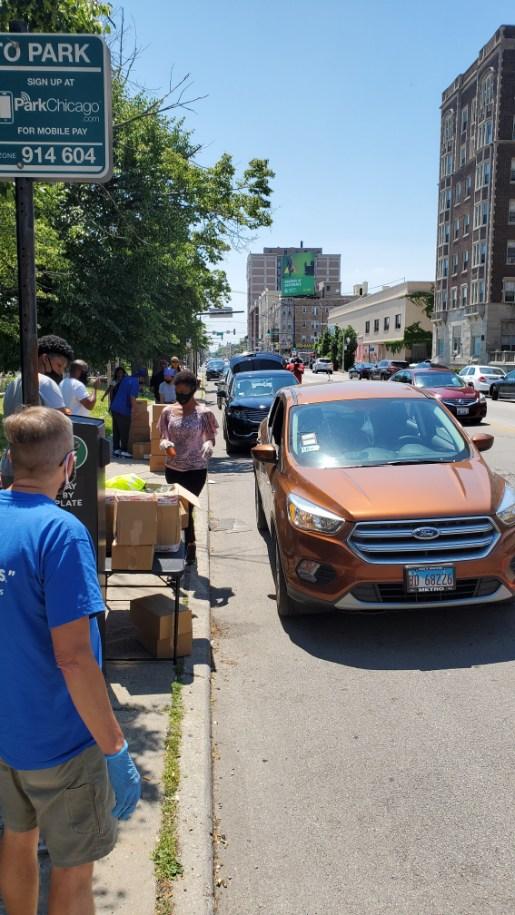 "Many of our communities are not asking for handouts," he added. "We are demanding our fair share because we're paying into, in particular in this city, where the majority of city which are Black and Latino that drive the tax base. What we're asking for is our fair share back."
Gutierrez said although the Rapid Response Team is having an impact, "it's going to take some time for us to really address particularly the underlying issues that have gotten us to this point."
The community leaders acknowledged these underlying issues – decades of disinvestment in Black and Latinx communities – can feel like an uphill battle. From securing the funds and limited resources, to scouring to find locations that can house these resources, the challenges are evident.
"Every one of the non-profits on the task force, for lack of a better way of putting this, has now basically opened up small warehouses, because we're now charged with having to solicit for donations around personal protective equipment," Gutierrez said. "Then receiving those donations and then reallocating those donations to community residents, local businesses, local non-profits.
"Most of the non-profit organizations that I know that are doing this, are, for example, doing this with their own vehicles," Gutierrez continued. "We are looking for donations of trucks, pickups, vans, anything that can help us move some of this equipment into our offices and out into the community as quickly as possible."
The efforts also pose a challenge for the people doing the work – challenges that existed before the pandemic even began. For Gutierrez's organization, the needs have grown, but his staff has not.
"We need funding to resource our staff," Gutierrez said. "We still have the same amount that we did pre-COVID, and we were dealing with a lot of these issues pre-COVID. Now, we're coming to our staff and we're asking them to take another step in the name of the city of Chicago, and while they're willing to do it, it's a huge burden to put on staff that was already stretched thin."
Chicago isn't alone in the efforts to address the systemic inequalities that have taken a toll on its communities.
Community leaders in New York also launched its Taskforce on Racial Inclusion & Equity in April, which included longer-term strategies. Several already started, including new programs to help minority business owners navigate the government contract process, as well as a mediation project to help landlords and tenants settle rent disputes outside of court.
While the team in Chicago isn't sure how long their current resources will last, they too are eyeing long-term solutions for their communities.
Last month, Lightfoot announced $11 million in funding for two developments in the city's South and West sides, including a rehab of a vacant building on 79th and Halsted – not far from the distribution giveaways. It will be full-service health and wellness center.
"[It's] really about saving lives in the community," Nelson said.
It's unclear how long the Rapid Response Team will be able to continue to sustain the community through its work. Shields admitted there's an underlying fear of the long-term and whether the team can do all they can for their communities before resources run dry.
"There's always a fear of that -- that resources are limited," Shields said. "And there's always a sense of, sort of, repositioning things to be able to address what is most currently at risk at that particular time in terms of the data."
But Shields said he tries not to let that fear bog down the work that drives him every day.
"I don't operate from a place of fear, I operate from a place of faith," he said. "What time we have, we do all we can to stand up things that are permanent that can remain even if the task force does dissolve."
As deaths in communities like Auburn Gresham continue to increase, Nelson said it'll take time to undo decades of neglect – and efforts like the food distribution that will continue to take place every Tuesday, from 11 a.m. to 1 p.m., through August. It's open to residents from all communities. Efforts like these, Nelson said, have helped feed thousands.
But for him, and the Rapid Response Team, the work is just beginning.
"We've got a long way to go," Nelson said, "I must say."
Thanks for reading CBS NEWS.
Create your free account or log in
for more features.