Natural Gas Explosions Have Destroyed Nearly A Dozen Maryland Homes
BALTIMORE (WJZ) -- Natural gas provides heat to thousands of Maryland homes, and while it's normally safe, recent incidents from Baltimore to Boston have raised concerns.
In Maryland alone, gas explosions have destroyed at least eight homes and three apartment complexes in the past five years.
The latest tragedy happened on October 17 when seven firefighters were injured during a gas-fueled explosion at an apartment building on Bowleys Lane in Northeast Baltimore. It remains under investigation.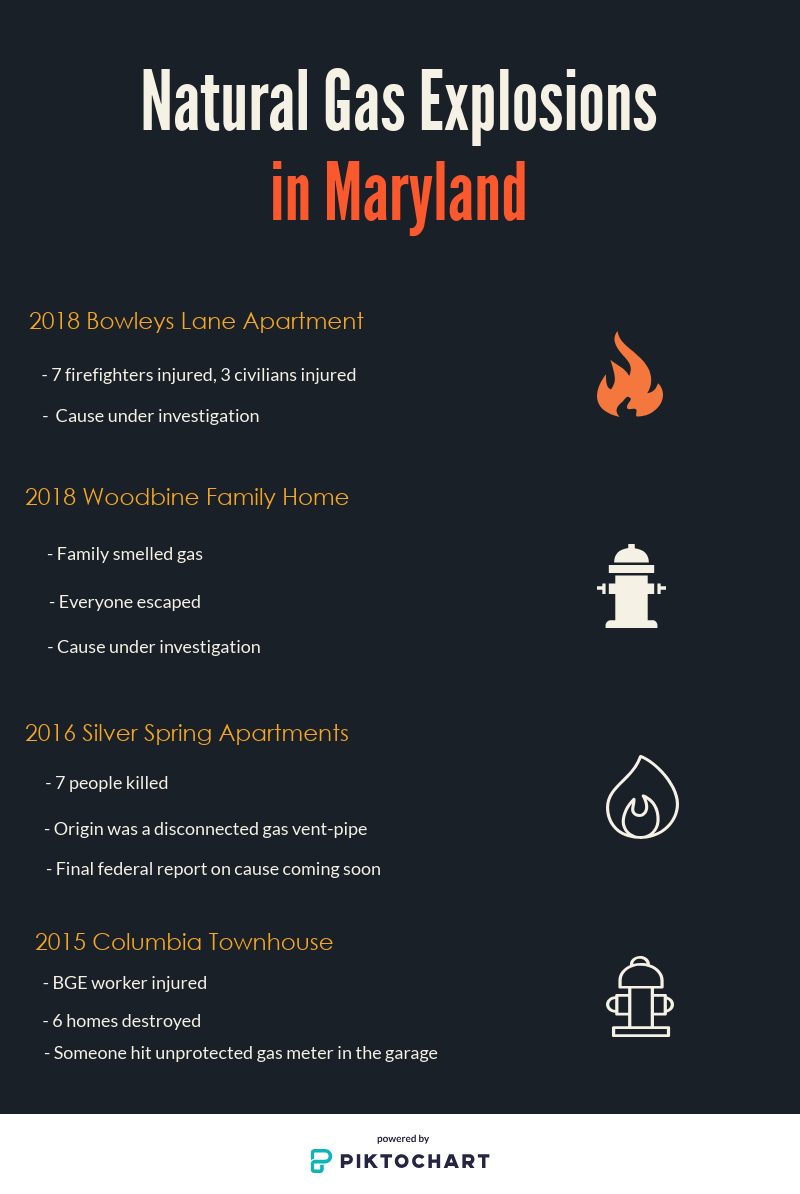 Witnesses said the fire started in a utility closet, and it took BGE almost ten hours to shut off the gas. Workers had to dig up the street.
Others include a home that exploded in Woodbine earlier this year. A family was able to get out safely minutes after smelling gas.
In Columbia in 2015, someone hit an unprotected gas line with their vehicle, sparking a fire that damaged six townhomes.
Then in 2014, 8-year-old Troy Douglas was killed during a gas explosion that nearly leveled a rowhouse in East Baltimore. He was buried in debris while walking home from school.
BGE spokesman Justin Mulcahy said the company's workers respond to 30,000 calls for gas odor every year.
"[We} respond withing the industry standard, which is within an hour, almost 100 percent of the time," Mulcahy said.
BGE has taken steps after incidents, including an initiative to protect gas meters following the Columbia fire.
The company is also closely monitoring the investigation into explosions in Massachusetts in September. More than one hundred buildings were damaged there after a gas pipe replacement project gone wrong.
'It Looked Like Armageddon': 1 Dead After Gas Explosions, Fires
The initial report from federal investigators revealed contractors working for the gas company Columbia Gas were never told to de-activate pressure sensors inside old cast iron gas mains they were replacing with new plastic ones.
As those sensors detected a drop, the pressure automatically increased throughout the system to make up for it, rising 12 times higher than the gas lines were ever designed to handle, causing the blasts.
NiSource owns Columbia Gas, and it also operates in Maryland serving more than 30 thousand customers in the Western part of the state including in Washington, Garrett and Allegany Counties. Columbia also maintains more than 650 miles of gas pipeline in Maryland.
The company told WJZ that safety is its "number one priority" and outlined steps to reassure customers here.
"Columbia Gas has invested more than $120 million to modernize and upgrade its distribution system in Maryland since 2007. Of that amount, approximately $80 million was dedicated to replacing over 72 miles of aging bare steel and cast iron pipe. In 2018 alone, we plan to invest over $25 million, with $21 million dedicated to upgrading aging underground infrastructure. Columbia Gas continues to expand the use of safety devices including excess flow valves that will restrict the flow of gas to a residence or business in the event of a large pressure differential indicating a gas leak or damage. Columbia Gas performs an annual leakage survey on its bare steel and cast iron mains. This effort goes beyond the requirements of federal code, which only requires a leakage survey every three years outside of business districts. This provides us with the ability to discover system leakage more quickly than if we were only meeting the minimum federal standards."
BGE's representative said the company has also been following the Massachusetts tragedy.
The company is also upgrading old cast iron pipes with modern plastic ones.
"We're monitoring that situation to see what comes out of it -- to see if there's a best practice that could be implemented, a lesson learned. That's something that we'll continue to keep an eye on," said Mulcahy. "The whole industry is taking a very close look at it."
He allowed WJZ rare access to BGE's secure center in South Baltimore, where staffers monitor gas pressure around the clock.
Bill Thompson, the supervisor for gas system control, called the operation "mission critical for BGE."
"Our controllers are looking at real time data as far as pressures, flows of gas," Thompson said.
The company says it has numerous safeguards to make sure there's no surge in pressure into homes--like what happened in Massachusetts.
Although BGE would not give specifics, citing security.
As for the Oct. 17 apartment explosion in Baltimore, the company provided this statement on why it took so long to shut off the gas:
"In the event of an incident, such as a fire, it is sometimes not possible to safely access normal shut-off mechanisms. This requires BGE to work closely with on-site responders, such as the police or fire department, to develop an alternative shut off plan that keeps the community, responders and BGE crews safe. Depending on the location, BGE would need to assess the existing infrastructure, requiring identifying all other utilities (water, telecom, etc.), and mobilize the properly trained and outfitted crews. Once on site, work can be extensive, such as excavating an existing gas main. This can require heavy equipment digging through pavement or sidewalks. Once the main is exposed, specialized equipment must be used to safely shut off the gas. It is imperative to do the job safely, which can lead to the impression that things are progressing slowly. As always, BGE's priority is to keep the public and its crews safe. We're continuing to coordinate closely with the fire department on its investigation into the cause of the fire and subsequent explosion."
Learn more about how to stay safe if you smell natural gas, click here.
Follow @WJZ on Twitter and like WJZ-TV | CBS Baltimore on Facebook
Thanks for reading CBS NEWS.
Create your free account or log in
for more features.