Fremont Police Officer Involved In Deadly Shooting Following Chase on Hwy 84
NEWARK (CBS SF) — A robbery suspect was shot and killed by a Fremont police officer after he led the officer on a short car chase, the California Highway Patrol said Wednesday.
The CHP said the shooting, involving a Fremont police officer, happened at about 2:48 p.m. following a chase that ended on eastbound state Highway 84 west of the Newark Boulevard / Ardenwood Boulevard exit.
"The next thing you know it's, 'Shots fired, shots fired, shots fired,'" Paula Craig, a former law enforcement officer, told KPIX 5.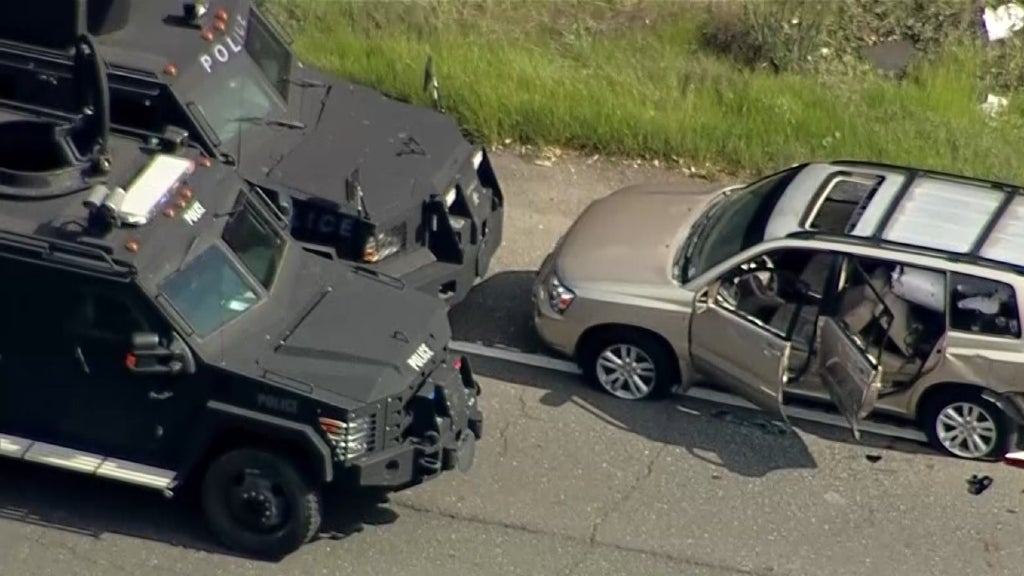 CHP later confirmed the vehicle being pursued had been reported stolen and was associated with an armed robbery. CHP also said the suspect was in possession of a firearm at the time of the incident.
Craig had been listening to her scanner when she heard a Fremont police officer had spotted the wanted suspect.
"He had fled CHP and now was city streets, and that officer just happened to be there," said Craig. "He stopped at Panda Express and played chicken with the officer and then went on and then he stopped in front of Ross and as the officer tried to exit, he took off. He really didn't intend to stop for the officer so he stopped for the officer to try to get out of the car, and then moved."
Craig captured video of the aftermath, adding this narration, "The suspect is unresponsive, but he's too close to the gun so they sent the K-9 up."
The incident blocked all lanes of 84 and created a massive backup on eastbound lanes of the Dumbarton Bridge.
Video from KPIX Chopper 5 appeared to show a body under a yellow tarp and officers pointing rifles toward a disabled SUV on Highway 84. Two heavy police vehicles were in front of the SUV that had all its doors open. Some blood was seen on the pavement towards the rear bumper of the car.
A magnified detail of the video also showed a firearm on the ground near the rear bumper of the car.
Upwards of two dozen police vehicles were massed at the scene of the shooting at one point.
"Nothing like that before, there were so many cop cars responding and the undercover cars, and they were just coming, blasting down," said long-time Newark resident Wayne Chung.
City of Fremont spokeswoman Geneva Boques confirmed a Fremont officer was involved. Separately, Fremont police said the incident was not within their jurisdiction and that the Hayward California Highway Patrol would be the lead investigating agency.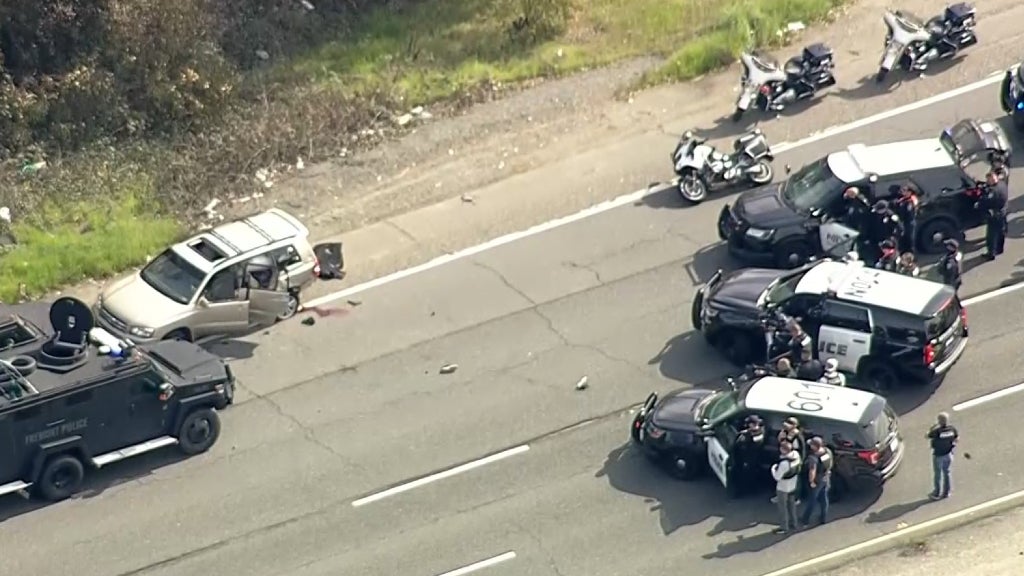 There was no immediate word on the identity of the suspect killed in the shooting or the nature of the armed robbery the vehicle was allegedly linked to.
All lanes of Highway 84 reopened late Wednesday night.
Thanks for reading CBS NEWS.
Create your free account or log in
for more features.