Mother, Son Identified As Victims Of Horrific San Jose 101 Crash
SAN JOSE (CBS SF) -- A 61-year-old San Jose woman and her 34-year-old son were killed early Sunday morning when their car was sent careening into the guardrail on Highway 101 after they were crashed into by a suspected drunk driver.
The Santa Clara County medical examiner's office identified the victims as 61-year-old Rosa Garza and 34-year-old Francisco Garza. Relatives told KPIX 5 they were travelling to the airport in San Francisco with Rosa's daughter for a 10-day family vacation when the crash occurred.
Investigators say the Garza's car, a Nissan Rogue, was struck from behind as they exited the freeway onto to on-ramp with Highway 280.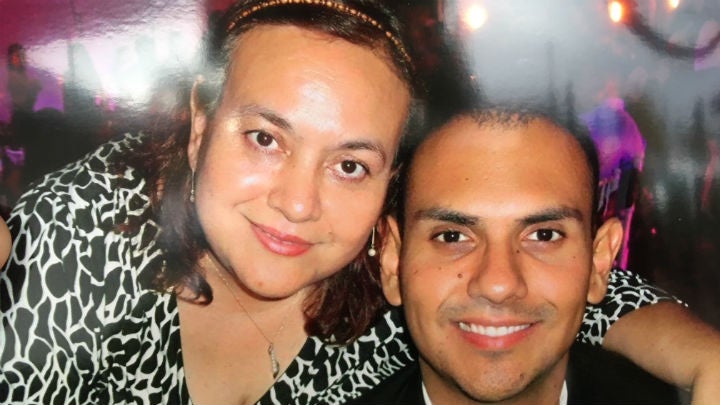 "That collision caused the Nissan Rogue to veer off to the right side and collide with the guardrail. The damage to the Nissan Rogue suggests the car overturned at least one time," said CHP Officer Ross Lee.
Rosa, seat-belted in the back seat behind her daughter, died at the scene of the crash. Her son Francisco who was driving was rushed to the hospital where he later died.

Rosa's daughter survived the crash with minor injuries but says she will be forever scarred by losing her mother and brother.
The California Highway Patrol said one of the drivers -- 21-year-old Esteban Aguilar Jimenez -- has been arrested on suspicion of driving under the influence. He also faces gross vehicular manslaughter charges.
Investigators said Jimenez was driving at a high rate of speed when his Dodger Charger tried to overtake the Garza's car and crashed into the vehicle at 4:10 a.m.
Jimenez had three passengers in his car. All three were treated at the hospital with injuries ranging from serious to moderate.
Sunday's crash was the second deadly collision in the Bay Area over the Thanksgiving holiday according to the CHP. The CHP says a total of three people died during the busy Thanksgiving travel holiday in the Bay Area.

"Anytime we have people choosing to use alcohol -- drink alcohol -- there's a reason we don't call these accidents. These are preventable collisions. They're 100 percent preventable," Officer Lee said.
Thanks for reading CBS NEWS.
Create your free account or log in
for more features.